Renault and Nissan are fighting over a compact electric platform
Renault and Nissan are fighting over a compact electric platform
When it came to the twin pair of Renault 5 and electric Micra, everyone quickly agreed, but things are different in the C segment
Renault boss Luca de Meo and Nissan boss Makoto Uchida announced their deal on Monday: they had agreed on a new form of cross-shareholding.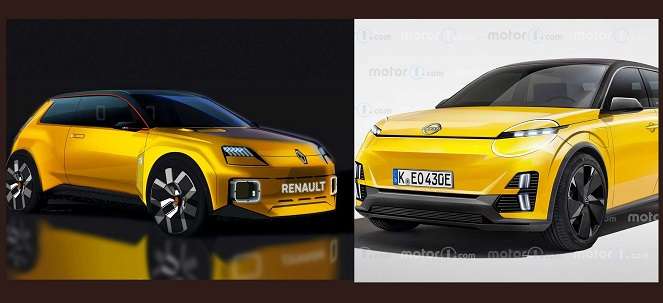 After that, Nissan no longer has to feel disadvantaged: Both companies hold 15 percent of the shares of the other company, and both have equal voting rights. But an electric platform for the C-segment now seems to be the touchstone of the renewed alliance, as Autocar reports.
Among other things, De Meo and Uchida have agreed that each brand should be able to play to its strengths. The brand that brings more competence to a project should be given the lead, explained de Meo. That gives Renault the lead in the development of the small electric car duo Renault 5 and Nissan Micra, both of which are to be built in Renault's ElectriCity in France.
After the production of the small combustion car Nissan Micra ended in 2022, Nissan wanted to give up the B segment in Europe. But Renault's proposal for an electric Micra was convincing: "This proposal came in and we were able to convince our designers and teams that it could become a cult model for Nissan in Europe," said Ashwani Gupta, Nissan Chief Operating Officer.
It becomes more difficult with the C segment. This is important for Nissan. The Qashqai, built in Sunderland, Britain, was the best-selling model in Great Britain in 2022 and is also selling well elsewhere in Europe. However, Renault also said when announcing its Renaulution plan that it wanted to focus more on the C segment in the future (report at Motor1). Because more money can be made in the compact segment than in the A and B segments, where Renault is traditionally strong with Twingo, Clio, Zoe, and Captur.
Currently, the compact combustion engines (like the Megane and the Qashqai) are based on the CMF-C platform and compact electric cars (like the electric Megane and the Nissan Ariya) are on the technically related CMF-EV platform. From 2026, however, they want to forge a new platform for the segment. And that's where the argument begins.
De Meo said to avoid having "four hands on the wheel". It would be better if the project was taken over by one of the two brands. Since the European market is important for Renault and the cars could be built in Europe, de Meo would like to take on the project. But Nissan also feels competent in the C segment. "We are strong in the C-segment with SUVs," said Uchida when asked who would develop the platform. "We want to keep that kind of core." And there it is again, the old dispute between Renault and Nissan.
Related Post