The electric Ford Puma will arrive in 2024 with 350 km of autonomy and a price of $30,780
The electric Ford Puma will arrive in 2024 with 350 km of autonomy and a price of $30,780
Ford is ready to launch an electric version of the compact SUV Puma. A widely accepted model that next year will have a 100% electric variant of which we now know more details.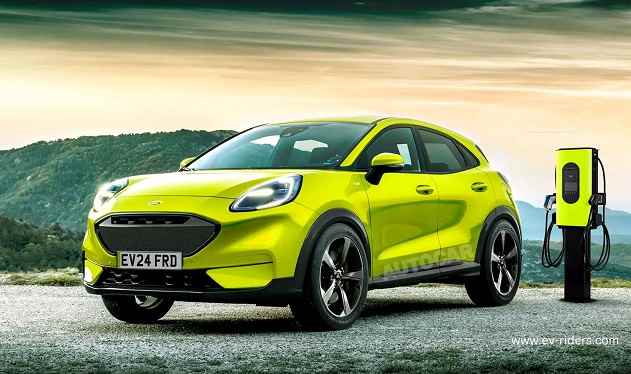 That will be Ford's third electric car for Europe, following the Mustang and the upcoming Explorer, and as reported by Autobild, it will not use a dedicated platform but rather Ford's "Global B" architecture, which will all likelihood be upgrading to a "multi-energy platform."
This model shares the platform and technical characteristics with the E-Transit Courier van, so it is expected both vehicles have similar specifications.
The goal is a range under the WLTP standard of about 350 kilometers, according to information from Autobild, which indicates that Ford will install a battery of around 50 kWh. Some somewhat modest figures will not allow the Puma to stand out in the mechanical aspect.
That means that Ford will bet heavily on aesthetics to convince customers. The electric Puma will be very similar to the restyling of the thermal Puma, which will be released in 2023 and will have new features such as slightly redesigned headlights.
The main difference between the two will be the use of a completely blind grille, although, other elements such as the bumpers or the tires also be specific and improve the aerodynamic coefficient of the vehicle.
Regarding the price, although there is still a long way to go before its arrival, the information places it at around 36,000 euros ($30,780). A cost that Ford will try to make profitable thanks to a production that will take place in Romania, which has the challenge of facing the increasingly competitive Chinese groups.
The electric Puma will be the smallest electric car in the Ford range, and everything indicates that the Fiesta will not occupy that space since the version with a combustion engine is out of all markets in favor of SUVs.
An arrival could overlap with that of an Explorer, which is scheduled to start sales this year but delayed for six months, possibly due to some adjustment in the choice or supplier of the batteries.
Related Post