Presented the Audi Activesphere Concept, an electric crossover that combines off-road and coupe traits
Presented the Audi Activesphere Concept, an electric crossover that combines off-road and coupe traits
The Audi Activesphere has already been presented to society. This prototype, which anticipates the arrival of a large 100% electric crossover (4.98 meters long) called to indirectly replace the TT sports car is the fourth member of the "Sphere" concept car saga after the Grandsphere, Skysphere, and Urbansphere.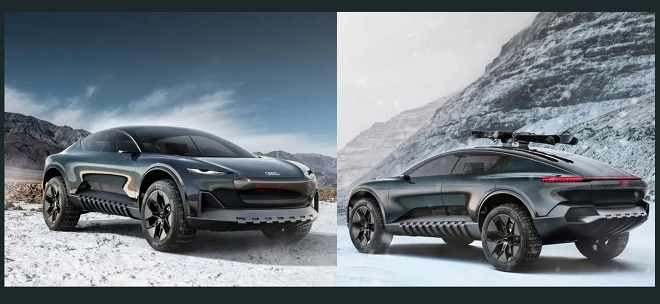 The 100% electric nature of the vehicle is quickly apparent from its proportions, as it has a very long wheelbase and very short overhangs.
The slim light clusters with high-precision micro LED technology blend perfectly with the dynamic lines of the Sportback-style body, contrasted with the raw look of the skid plates and 22-inch wheels with all-terrain tires. As in other Audi electrics, the Single frame grille is blinded.
Conceived to offer "maximum versatility for an active lifestyle, both on and off the road", the Audi Activesphere Concept draws its inspiration from California car culture, combining the practicality of an SUV with the elegance of a coupé.
The car promises maximum aesthetics and is full of contrasts: cool and warm colors, manual and automated driving mode, cutting-edge and aerodynamic, very simple but at the same time very technological," explains Marc Lichte, Design Director at Audi.
The interior is extremely minimalist as well as avant-garde. created using sustainable materials, and the cabin has four individual seats to maximize space.
It is interesting to note that with the push of a button, the car transformed into a pick-up with the passenger compartment separated from the open cargo area.
The Audi Activesphere Concept uses the EPP platform
The commitment to technology is not only evident through the use of elements such as digital mirrors, as the car also has a level 4 autonomous driving system.
The air suspension allows the height of the body to be raised by 21 centimeters in front and 25 centimeters behind, improving the angles of attack (18.9º) and departure (28.1º).
The Audi Activesphere Concept is based on the modular PPE platform, the same one that will debut in the A6 E-Tron and Q6 E-Tron next year.
This ultra-modern architecture developed jointly with Porsche, integrates an 800-volt electrical system, which allows it to charge at 270 kW of direct current power, going from 5 to 80% charge in just 25 minutes.
Of course, it has Quattro all-wheel drive, as it uses two engines capable of delivering 442 hp (325 kW) and 720 Nm. Its 100 kWh battery, the same one we should find in the A6 E-Tron, gives it a maximum range of 600 km.
Related Post