The Polestar 4 will be a very sporty electric crossover that will cost $48,172
The Polestar 4 will be a very sporty electric crossover that will cost $48,172
In the last fifteen years, SUVs have swept the main world markets, ostracizing minivans and sedans both in the United States and in Europe, the truth is that many predict that this trend is inexorably nearing its end. due to the transition of the industry to zero-emission mobility.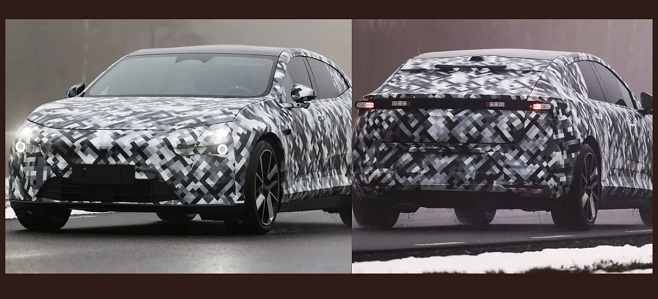 Aerodynamics is a key factor to maximize the autonomy of an electric car, which is why some experts agree that the cars of the future will not be SUVs or sedans but vehicles with an extra height to be able to house the batteries under the floor without losing habitability, but with a silhouette similar to that of a fastback.
Currently, we can find numerous models that opt for this formula: Citroën ë-C4, Genesis GV60, Ford Mustang Mach-E, and Jaguar I-Pace. The next brand to join this trend will be Polestar, which, although it has already made its first steps with the Polestar 2 (a liftback with plastic protections and a raised body), will take the final leap with the Polestar 4.
As can be seen in the spy photos that illustrate this article, the Swedish firm is already testing its fourth model on the open road. Although the test unit is completely camouflaged, it cannot hide its striking silhouette and its beautiful proportions, halfway between those of a hatchback, a sports sedan, and a "coupé" SUV.
The Polestar 4 will be presented this year
Framed in the D segment (medium crossovers), the Polestar 4 will have a wide wheelbase, a forward windshield, a very inclined rear window, and overhangs reduced to a minimum. The CEO of Polestar, Thomas Ingenlath, confirmed at the time that its starting price will be at a competitive $48,172.
"Aerodynamics will play a much bigger role in the design in general, I think the electric age will bring much more aerodynamically friendly designs. The combination of sitting in a very sporty but higher cabin gives you that feeling of being elevated. I think that concept will be interesting."
The Polestar 4 will be the company's first model based on the PMA platform, derived from Geely's SEA platform. Its technical specifications are still unknown, although it may incorporate an 800-volt system, which will allow it to offer short charging times. It will have versions of rear and all-wheel drive.
Related Post