BYD Yangwang U8. The brutal 1,300 hp electric SUV that points to the Mercedes EQS SUV
BYD Yangwang U8. The brutal 1,300 hp electric SUV that points to the Mercedes EQS SUV
This morning a new model of the new Yangwuang brand has been presented in China. A premium division of BYD that arrives intending to scratch sales to German brands in segments such as sports cars but also profitable SUVs. And its first representative has not left anyone indifferent due to its design and characteristics. So is the Yangwang U8.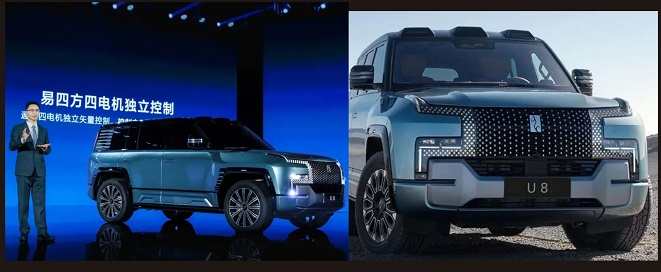 It is a true SUV with a 5.3-meter-long body, making it larger than the 5.12-meter-long Mercedes-Benz EQS SUV or the Land Rover Defender 110, which, including the spare wheel, stays on the 5.01 meters long.
It has a 3050mm wheelbase, which should translate into plenty of room for the batteries, but also space for the occupants and a good share of cargo in its trunk. It has 20-inch wheels with 275/60 tires.
Unlike other models in its segment, such as Mercedes itself, the U8 is designed to leave the asphalt and venture into the unknown.
One of the keys to this is the new 'Yisifang' technology, also known as the e⁴ platform, which will be used for the first time in the YangWang U8, which involves installing a system of four independent motors in each wheel that can rotate without depending of the steering wheel, That allows you to make a 360 degree turn without leaving the site, and enjoying great maneuverability and features such as the famous "crab mode".
That also gives you independent control of each wheel to get out of sticky situations or even maintain control of the vehicle in the event of a wheel blowout, which according to BYD, responds 1000 times faster than the traditional wheel drive system with four wheels.
Its adventurous capabilities are also reflected in an IP68-certified propulsion system, which means that's designed to be waterproof, and together with body sealing technology, that allows it to even float and traverse small rivers without problems.
BYD Yangwang U8: technical characteristics and prices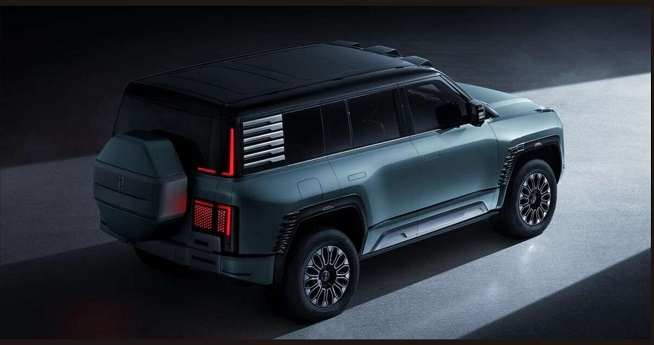 In terms of power, BYD is not far from short in this regard, and in the U8 we find a brutal propulsion system made up of four electric motors of 220-240 kW each, with a maximum torque of 320-420 Nm per unit, which gives us a maximum power of 1,304 hp and a devastating torque of 1,680 Nm.
That makes it possible to launch this giant on wheels up to 100 km/h in just 3 seconds. A figure is worthy of a supercar.
The details of its battery or its autonomy have not been published, something that will be done in the coming days, but it is known that it will mount BYD Blade batteries, which should exceed 120 kWh and 600 km of approved autonomy.
A premium proposal will be located in a range of prices that start at 800,000 yuan, 108,693 euros in exchange, up to 1.5 million yuan, or 203,000 euros in exchange.
Related Post