Mitsubishi is the first Japanese brand to fall from the push of the electric car in China
Mitsubishi is the first Japanese brand to fall from the push of the electric car in China
Some manufacturers were unprepared for the emergence of the electric vehicle in China, and this has already started to have an impact. 
This is the situation with Mitsubishi, which despite being a pioneer, has lost sight of its goals and has been forced to shut down its operations in China as a result of the decline in demand for its models.
The biggest auto market in the world is still setting the pace for the switch to electric vehicles, with adoption rates rising even as demand for automobiles with internal combustion engines declines.
Data from the China Association of Automobile Manufacturers show that during the first five months of the year, sales of BEVs (pure electric vehicles) surpassed 2 million, an increase of 51.5% over the previous year.
At the same time saw a 7% decline in traditional petrol or hybrid vehicle sales, according to CAAM, and according to analysts, They will gain momentum in the upcoming months.
Analysts predict that sales of battery electric vehicles, excluding plug-in hybrids, will increase by another 27% this year and account for 32% of all sales. According to predictions by 2025, this market share will be 50%.
This transformation is based on the emission standards that the Chinese government implemented as part of a long-term plan to reduce its emissions and reliance on foreign energy sources. The administrations have allotted billions of euros in aid for the purchase of electric vehicles and to limit the sales of cars with diesel engines.
Read Also- The CEO of Dacia makes it clear that the electric Dacia Sandero will not have a range of 500 or 600 km
The electric car claims its first Japanese victim in China. Mitsubishi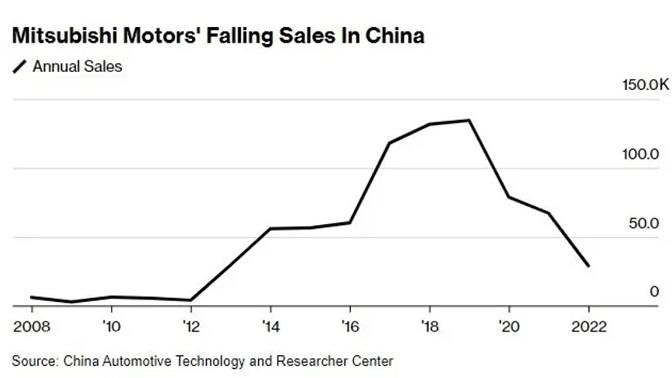 This situation conflicts with both funding from sizable conventional groups and the conservative stance of Japanese manufacturers, who have shied away from an industry where electric vehicle makers have expanded in recent years.
Mitsubishi has been among those who have suffered the most as a result. The Japanese company registered 134,500 units in China in 2019, which helped it hit a sales milestone. However, the line has been going straight down ever then, adding just 34,500 units in 2022.
Despite the situation, Mitsubishi unveiled the Airtrek electric SUV as a new electric option. However, sales of only 515 units in the first half of 2023 indicate that the response has been almost nonexistent.
Factors that may soon be seen elsewhere caused Mitsubishi's Chinese business to cease and stop its operations in that market.
Related Post