2024 Lexus TX: Price, Features and Release Date
2024 Lexus TX: Price, Features and Release Date
This vehicle ushers in a new era for crossovers with three rows of seats, claims the manufacturer.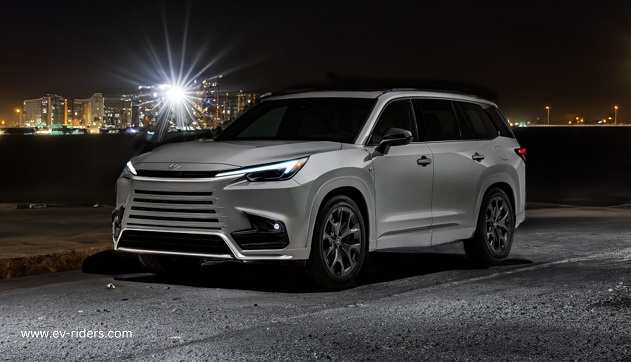 The premium SUV lineup from Toyota is getting updated. The 2024 Lexus TX, a family concept vehicle with distinctive design language and a plug-in hybrid version accessible in its mechanical offering, is one of the new models that made its debut in the United States.
The 2024 Lexus TX debut shortly after the new Lexus GX crossover, which foreshadows the innovations the upcoming Toyota Prado would offer, was unveiled. These most current Toyota models like others only recently released in the US, are built on various TNGA platforms.
Architecture designed to accommodate electric powertrain technologies for the future SUV. The three rows of seats inside are in a 2+2+2 arrangement, providing enough for six people. It also has a large range of luxurious and comfortable features.
Lexus has been working on the 2024 Lexus TX, but this is the first time it has been made public. Although it has many similarities to the Toyota Grand Highlander, it also has unique features that give it its personality. Let's get all the information.
2024 Lexus TX Redesign
The aerodynamic lines of the Lexus RX served as inspiration for the design of the Lexus TX 2024, a crossover with three rows of seats.
The new 2024 Lexus TX features a somewhat less extravagant appearance than previous Lexus models. The grille-shaped bumper is located below the bodywork, and the horizontally barred radiator grille integrates into it.
The front is the most striking, with a grill that flows into the rest of the bumper without a frame or chrome accents and headlamps that include LED daytime running lights that resemble an inverted ticket.
The marker lights seem encircled by black trim, and the primary headlights have an associated lighting signature that links to a stripe on the hood line. There are four trim options to pick from Standard Premium, Luxury, and F Sport Performance.
There will be 7-exterior colors available to customize the car, and the wheels might be 20 or 22 inches depending on the model.
Although the front of the TX receives the most attention, the rest of the car offers solutions that are more typical of what we have come to expect from the brand.
2024 Lexus TX Exterior
As a result, the car has a strong, aerodynamic appearance with very straight lines and features that draw attention to its musculature, such as enlarged fenders and jutting skirtings. While the backlights extend the length of the car, the 20 or 22-inch wheels stick out.
The Lexus TX has the following measurements: 5,159 mm in length, 1,989 mm in width, 1,781 mm in height, and 2,949 mm in wheelbase. With these figures, there is plenty of room inside for 6 or 7 people. That offers a typical bench or captain's chair in the second of its 3-rows seating.
When the second and third seats are folded down, the boot's volume rises to 2,747 liters from its starting capacity of 569 liters behind the third row.
2024 Lexus TX Exterior Dimensions
| | | | |
| --- | --- | --- | --- |
| | TX 350 | TX 500h | TX 550h+ |
| Length | 203.1 in (5,160 mm) | 203.5 in (5,170 mm) | 203.1 in (5,160 mm) |
| Width | 78.3 in (1,989 mm) | 78.3 in (1,989 mm) | 78.3 in (1,989 mm) |
| Height | 70.1 in (1,780 mm) | 70.1 in (1,780 mm) | 70.1 in (1,780 mm) |
| Wheelbase | 116.1 in (2,949 mm) | 116.1 in (2,949 mm) | 116.1 in (2,949 mm) |
| Wheels (standard) | 20 inch | 22 inch | 22 inch |
| Tires (standard) | 20" – 255/55 | 22" – 255/45 | 22" – 255/45 |
2024 Lexus TX Interior
A Lexus-style interior greets us as we enter the doors. Although the materials and finishes are outstanding, don't anticipate a revolutionary design—quite the opposite. We would discuss a fairly traditional interior if it weren't for the 14.2-inch screen and the 12.3-inch digital cluster.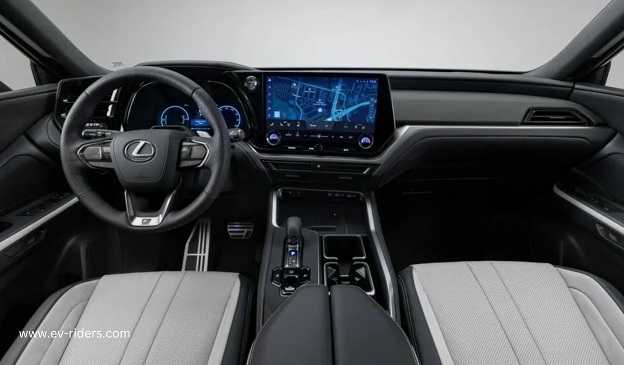 The Lexus TX can have options such as a head-up camera, ambient lighting with several colors, or a 21-speaker Mark Levinson premium sound system.
The Lexus TX will be available with three distinct powertrains in terms of mechanics.
There is a 12.3-inch multimedia screen and head-up display inside the Lexus TX.
The second-row seats in this row can be captain's chairs with a detachable center console for further comfort. It features a wireless Apple CarPlay and Android Auto connectivity, six power outlets, and a 21-speaker audio system.
7 USB-C PORTS
Every seat has a standard USB-C plug, ensuring everyone's smartphones, tablets, and other electronic devices may be charged throughout the whole journey.
Read Also- 2024 Honda Accord Price, Features and Release Date
2024 Lexus TX configurations
The first is a 2+2+2 with second-row captain's chairs and a center console in the middle, and there will also be a 2+3+2 with a center-row bench for those who want to maximize capacity.
In any event, a vehicle like this, which can accommodate 6 or 7 people and their stuff, has to have room behind the third row. The TX excels with its 569 liters of capacity, or up to 1,625 if the 3-row is folded down.
2024 Lexus TX Performance Specs
| | | | |
| --- | --- | --- | --- |
| | TX 350 | TX 500h | TX 550h+ |
| Engine | 2.4L Turbo Gas | 2.4L Turbo PHEV | 3.5L V6 PHEV |
| Horsepower | 275 hp | 366 hp | 406 hp |
| Torque | 317 lb.-ft | 409 lb.-ft | – |
| Transmission | 8AT | 6AT | CVT |
| Drivetrain | FWD/AWD | D-4 AWD | D-4 AWD |
| Fuel Economy | 21 mpg | 24 mpg | 30 mpg, 31 mi. EV range |
2024 Lexus TX Performance Specs
2024 Lexus TX Engine and Powertrain
You may purchase the new family SUV with a gasoline hybrid or plug-in hybrid drivetrain.
The TX 350, which features a 2.4-liter turbocharged four-cylinder and produces 275 horsepower and 430 Nm of torque. The front wheels get power from an eight-speed automatic gearbox, and either the front or integral traction is available.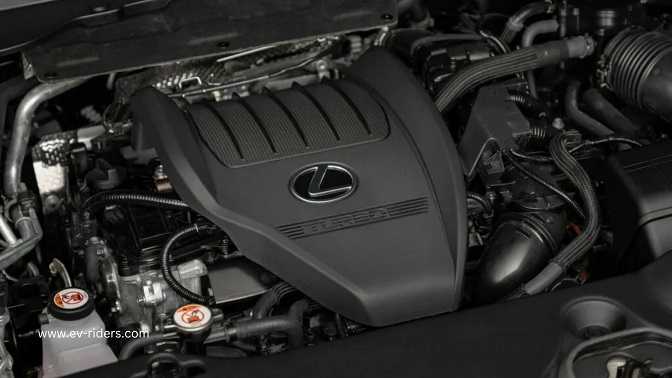 The same gasoline engine used in the traditional hybrid model TX 550h and modified electrical components are used in TX 550h. It has a Direct4 AWD four-wheel drive system and a six-speed automatic gearbox. There are 554 Nm and 366 horsepower.
The TX 500h F Sport Performance, which has a hybrid powertrain that combines the 2.4 turbo engine with electric power, is at the top of the list.
366 horsepower and 555 Nm of torque are combined. The overall traction is Direct4, and the combined consumption is 10 km/l. The mechanism of directional rear wheels is distinctive in this variant.
The PHEV, which is the most powerful vehicle in the lineup, combines a 3.5-liter V6 gasoline engine and an electric motor to produce 406 horsepower. CVT and the same Direct4 AWD system.
The apex model is the TX 550h+, a plug-in hybrid vehicle that can provide 406 horsepower while operating entirely on electricity for up to 53 kilometers. It does this by combining a 3.5-liter V6 with a generator and battery (the specifics of which were not given).
2024 Lexus TX Specifications by model Prototype
TX350
2.4L Turbo Gasoline Engine (T24A-FTS)
8-speed automatic transmission
Available Drive: FWD/AWD
TX 500h
GA-K platform
2.4L Turbocharged Hybrid System (HEV) Engine (T24A-FTS)
6-speed automatic transmission
Available Drive: Direct4 AWD
TX 550h+
3.5L Plug-in Hybrid (PHEV) V6 Engine (2GR-FXS)
CVT transmission
Available Drive: Direct4 AWD
2024 Lexus TX Safety Features
The TX integrates the Lexus Safety System+ 3.0 which includes technologies such as
Dynamic radar cruise control for all speeds
lane departure assist
Pre-collision system
Pedestrian detection
lane departure alert with steering
traffic sign assist
Proactive driving assist
The option to add helpers is available, including the sophisticated parking system, which makes parallel and perpendicular parking very simple, and the Traffic Jam Assist, which, as its name implies, is highly useful in densely populated areas.
2024 Lexus TX Release Date
Manufactured at Toyota's Princeton, Indiana plant, the TX 350 and 500h will go on sale in the United States in the second half of 2024, with the 550h+ joining soon after. for more information you can visit lexus official page website.
2024 Lexus TX Trims and Price
| Trims | Price |
| --- | --- |
| TX 350 Standard | $55,000 |
| TX 350 Premium | $57,000 |
| TX 350 Luxury | $63,000 |
| TX 550h+ Standard | $62,000 |
| TX 550h+ Premium | $64,000 |
| TX 550h+ Luxury | $66,000 |
| TX 500h F Sport Pro | $66,000 |
2024 Lexus TX Trims and Price
2024 Lexus TX Colors
Interior Colours
Exterior Colours
Cloudburst Gray
Wind Chill Pearl
Caviar
Matador Red Mica
Nightfall Mica
Incognito Celestial
Silver Metallic
SPACE TO LEFT
Every seat in the TX has been created to feel like a private sanctuary for leisure, whether you want to sit in the front, the rear, or somewhere in the middle.
The heated and ventilated second-row captain's seats provide a high level of individualized comfort. To design the TX's convenient third row, Lexus engineers spent countless hours examining everything from hip angles to footrest locations.
Read Also- 2024 Toyota Tacoma TRD Pro Price, Specs, and Release Date
MORE SPACE FOR CARGO
The 2024 Lexus TX provides additional options with a total load capacity of about 97 cubic feet when the second and third rows are folded. This SUV has 20.1 cubic feet of cargo space behind the third row, which is large enough to fit seven carry-on bags of average size. 
Easy entry provides by a power liftgate with a kick sensor and for enhanced comfort, an optional motorized split third-row seat opens up extra cargo room at the press of a button.
MOTOR POWER – 2024 Lexus TX Towing Capacity
Three alternative powertrains, each able to tow up to 5,000 pounds, will be available in the new 2024 Lexus TX. The 2.4-liter inline 4-cylinder turbocharged engine combines elegance and responsiveness.
A potent turbocharged powerplant is electrified and tailored to give the most exhilaration in three rows of seats available in the TX F SPORT Performance. As a Plug-in Hybrid Electric Vehicle (PHEV) with all-wheel drive, the 2024 Lexus TX Luxury offered improved performance and economy.
Canclusion
Overall the 2024 Lexus TX is a remarkably adaptable vehicle that is customized to satisfy the unique requirements and customers' tastes.
what you think about new 2024 Lexus TX, and it's no longer a secret that Tesla is working on a new 2024 Lexus TX giving it a new face. we can now see what to expect from the 2024 model.
If you've read until now thank you very much, please do consider bookmarking www.ev-riders.com for more articles about EVS and the latest car news.
Related Post