5 Things didn't know about the 2023 Kia EV6 GT after the performance test
5 Things didn't know about the 2023 Kia EV6 GT after the performance test
We introduced the newly released Genesis Hyundai in Kia cars. And the car behind me today is the Kia EV6 GT, the most powerful GT.
We want to give you five things that you probably didn't know about this 2023 Kia Ev6 GT.
I've been test-driving this car for the past few days. I would get used to this power by this time, after putting about 700 into this car, you don't get used to this power. And We put about 700 into this car. And we found a few things about that car.
So let's get to it. Today's article shows you all about today's 2023 Kia Ev6 GT.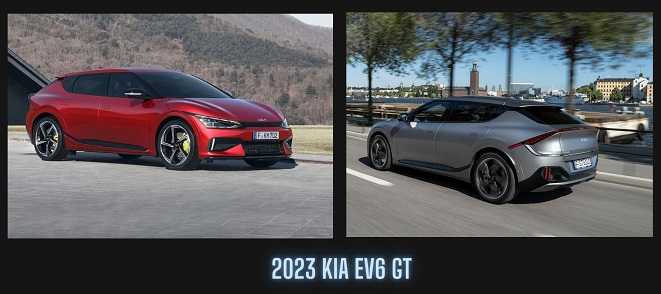 Strut Brush
The first thing is not visible from the outside. So let's go and pop the hood because it's underneath the engine bay.
There are two of them. These strut braces are found on the left and add extra rigidity to the chassis on the right.
The feedback from the steering wheel is important on a high-performance card like this.
2023 Kia EV6 GT
This 2023 Kia EV6 GT has 585 HP with a performance of zero to 60 in 3.4 seconds and 0 to 100. this car is under 2.99 seconds.
Any test drive was able to come under 3.5 seconds from zero to 100. That is for the extra steering rigidity.
It's not the bar that we know of that connects these two, but that brace alone is good enough technology to increase and upgrade this EV six GT.
Hyundai Motor Group introduced that first on Elantra N. And that technology is brought straight to 2023 Kia EV6 GT.
How was this car able to do 2.99 seconds?
That is with a little bit of a secret. You have to put in a secret command for that.
Drift Mode
What that is or how that was all possible is you have to put in like a secret command, fire up the car, put the power in, go into the 2023 Kia EV6 GT mode, press hold the VDC.
So the VDC gets completely turned off. It says tracking a stability control is disabled.
Next is pressing the brake pedal quite strongly. Pull both of the shifters towards you. It says drift mode activated, and the drift mode allows the most slip and at the same time the grip the most slip.
Sometimes it just gets confusing going to any other mode. The drift mode goes away, but the VDC stays on.
It works in sport mode too. So let's try on sports. Go on to the sport. Turn the VDC off completely, and press it once it says traction and stability control limited.
So that is what that means. But press it, hold for a few seconds, and traction and stability control is disabled, drain again, press in quite strong pull pedals in both of them, and wait for a few seconds. The drift mode activated once again. So it works both in sport mode and 2023 Kia EV6 GT mode.
Limited Slip Control
Let me explain about the most slip and most grip at the same time. The third point is not quite visible.
The third point is LSC's limited slip control. And that is why and how the car is fastest with the drift mode on.
The drift mode allows you to or 86 GT to have the full slip on all of each wheel.
That LSC launch slip control enables that sweet spot and finds the sweet spot for the maximum grip and stability, pulling out the best zero to 60 times in 2.99 seconds.
We've test driven this car in all modes eco, normal sport, and GT mode. The drift mode enabled the most grip out of each wheel.
Keep in mind that drift mode completely disables the ECS. So there is no computer aiding your drive helping.
So engage the drift mode unless you know what you're doing and what you want to do, perhaps when you want to do the drift.
The rear of the 2023 Kia Ev6 GT
so let me give you the rear look too. But the differences are just so subtle. However, there is one rear diffuser, the vertical one the reflector as well. And don't forget about that GT badge.
1.36 G
The fourth point is drift mode and all this EV6 GT can pump out 1.36 G to the driver and flicker like crazy 1.36 g and a ridiculous amount of G force right there.
That is all possible from that 585-ish is like the maximum Gforce that you would get on tracks.
Wheel and tires
Actually inside the car, and this time it is visible. Michelin Pilot sport fours specifically built for this heavy 2023 Kia EV6 GT.
It has sound absorbent inside of the tires and it comes with performance as well.
That is quite obvious and mention that Ford podcaster one more time with the 20 beautiful 21-inch wheels.
Rear Strut bar
So let's go to the fifth point and the day that is inside the car. Alright, It looks like this V12 goes right there.
You can use the power source using the V twelve. It's inside the car on the second-row seat as well.
We can see it immediately by popping that open. Imagine what that is. It is the straw bar that we know of.
So this is the straw bar that connects these two points with this rigid firm steel. that is the Wolfer for the Meridian sound system.
That is how serious this 2023 Kia EV6 GT is. And they also have reinforced this plate right here to install the rear struts.
It also has harder spring rates on the rear. So the 2023 Kia EV6 GT has more tendency to oversteer compared to regular ones.
Hence the straw bar on the rear. That is just absolutely insane. I mean, first, we saw that on Elantra N from Hyundai Motor Group.
The Elantra was sticking out right here covering up half of the trunk storage. That's not the case with the 2023 Kia EV6 GT.
2023 Kia EV6 GT Specifications:
Price: $82,600
Battery: 77.4 kWh
Power: 585 hp / 740 Nm / 430 kW Drive
AWD Consumption: 20.9 kWh/100 km
Acceleration: 0 to 100 km/h in 3.5 seconds
Top speed: 260 km/h
Range: 342 km mix / 365 km city / 312 km highway
Length: 4695 mm
Width: 1890 mm
Height: 1545 mm
Wheelbase: 2900 mm
Ground Clearance: 155 mm
Turning circle: 11.6 m
Front suspension: Independent type McPherson
Rear suspension: Independent multi-link
If they would have put it somewhere right there. Just like if they have done it with the Elantra. But that's not it with EV six GT.
They have the sound absorbent over here too. So keeping it EV six, keeping it the family car, but being the fastest Korean car out there just yet, absolutely insane.
All right, That's the five points that you didn't know about EV six GT. I hope you guys enjoyed the article.
If you don't forget to put down your comment below. We'll be back with more newly released Genesis, Hyundai, and Gia courses, and see you in the next article.
Related Post