Mercedes announces its own fast-charging network
10,000 charging points are to be created worldwide
Mercedes announces the construction of its own fast charging network. It should be open to all vehicle brands, but only Mercedes customers can reserve a charging point.
The HPC network should offer around 10,000 charging points worldwide by the end of the decade.
The fast-charging network hubs are to be set up in major cities near main thoroughfares and conveniently located shops.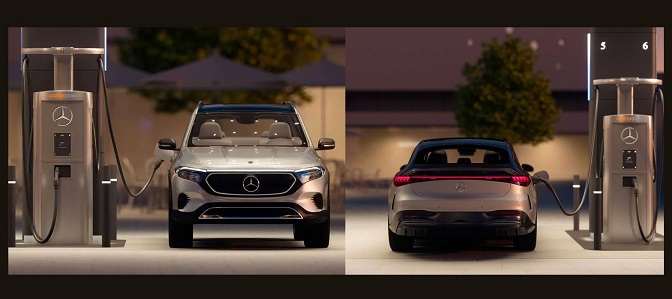 According to Mercedes, the first charging park will be built in North America in 2023. Europe, China, and other core markets are to follow.
Depending on the region and location, the charging stations will offer four to twelve, but sometimes up to 30 high-power chargers with a charging capacity of up to 350 kW.
Intelligent charging management should ensure that each vehicle is operated with its maximum charging capacity.
Loading should be possible from both sides, and there should be plenty of free space around the vehicle. The charging points will be covered.
That is preferably ensured through green electricity supply contracts or certificates.
Photovoltaics should also be used in part, but only for the needs of the station itself, i.e. for lighting, video surveillance, and the like. Mercedes wants to pay attention to nearby restaurants, cafes, and toilets.
For security reasons, the stations are equipped with surveillance cameras.
The network is expected to include more than 400 charging parks and over 2,500 fast chargers by 2027 in North America.
The North American network is expected to cost around one billion euros. About half of the capital for this comes from Mercedes and its partner MN8 Energy, an operator of solar energy and battery storage systems.
The second partner is a fast-charging network operator: 
the company called ChargePoint is supposed to help set up the stations.
You have to make sure that the fast-charging network keeps up with the number of electric cars, said Mercedes boss Ola Källenius.
"We don't want to watch and wait until it's built. That's why we are building a global fast-charging network ourselves. It should become another differentiator for Mercedes-Benz owners and an asset with value-added potential for our company."
At first, it was thought that others would set up the charging infrastructure, such as energy companies, said Development Board member Markus Schäfer, according to tagesschau.de. But that didn't happen.
However, 10,000 charging points worldwide are no more than a drop in the ocean.
For comparison: Tesla already has over 35,000 Superchargers fast-charging network worldwide. Even compared to the plans of the federal government – one million publicly accessible charging points by 2030 in Germany alone – 10,000 charging points worldwide will hardly be noticeable.
Källenius admits that; he was primarily concerned with the reservation options for Mercedes customers.
He also refers to the million charging points that are available worldwide via the Digital Charging Solutions (DCS) network.
This charging network was originally initiated by BMW. In addition to Mercedes, BMW, and Mini, it is also used by Audi, Hyundai, and Kia, among others.
Related Post