New Mitsubishi Outlander PHEV midsize SUV
New Mitsubishi Outlander PHEV midsize SUV
The Mitsubishi Outlander Phew's complete specifications and pricing have been made public in the United States for 2023.
The difference between the base model and the flagship is $10,000, depending on the level of luxury.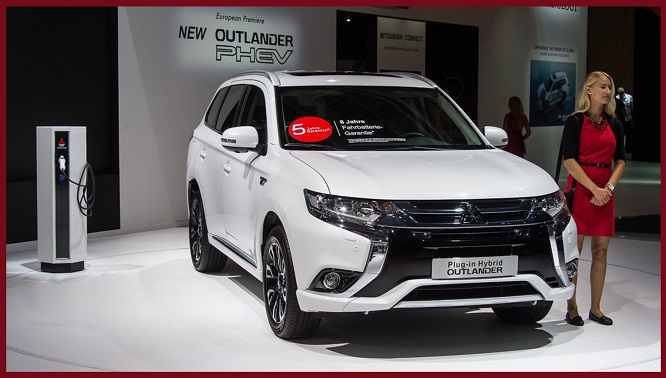 The Outlander PHEV is the world's best-selling plugin hybrid SUV, and the Allnew Outlander PHEV combines everything that has made the gasoline-powered 2022 Outlander so successful bold styling, advanced vehicle architecture, Award-winning interior, seven-passenger convenience, and legendary Mitsubishi SUV capability.
To this, the PhUV model adds an all-new version of Mitsubishi Motors plugin hybrid electric drivetrain boasting more power and torque, greater all-electric range, and the latest and most sophisticated version of Mitsubishi's confidence-inspiring super all-wheel control.
The seven-passenger 2023 Outlander PHV offers up to 38 miles of all-electric range, up to 420 miles of overall range, and is the only plugin hybrid on the market with available DC fast charging capability which can fill the 20-kilowatt hour battery pack to 80% capacity in just 38 minutes.
The Outlander PHEV features Mitsubishi's new innovative pedal technology that's similar to full-battery electric vehicles.
This system further differentiates the Outlander Phgv from other plugin hybrids and highlights the vehicle's electric first design philosophy.
All models are equipped as standard with a new generation of the brand's signature super all-wheel control, allowing for greater vehicle control and increased driver confidence.
The twin-turbo motor system utilizes the gasoline engine and front motor to drive the front wheels, and a standalone rear-mounted motor to drive the rear axle, both a combined 248 torque and achieve a 64 miles per gallon equivalent rating.
The fourth generation Mitsubishi Outlander's range distinctive exterior was crafted under the Japanese if dude philosophy, translating as authentic and majestic.
This ethos is reflected in the vehicle's bolt proportions, muscular fenders, and the chisel lines of the next-generation dynamic shield grille.
The use of strong horizontal design lines emphasizes width with specially designed 18-inch and 20-inch alloy road wheels, creating a powerful road presence matching the bold upmarket interior.
The New Mitsubishi Outlander plugin hybrid EV interior men's luxurious fixtures and materials with impressive family practicality.
The Outlander's interior design team focused on improved seat comfort, reduced noise, vibration, and harshness levels, and high-quality materials usage and key touch points throughout the cabin.
The all-new Mitsubishi Outlander plugin hybrid EV features wireless Apple CarPlay and Android Auto.
An intuitive nine-inch central infotainment touchscreen is the standard range wide and all models feature a stunning twelve three inches full-color digital instrument cluster from the entry-level outlander Es starting at 39 $845 to the range-stopping 40th-anniversary edition starting at $49,995.
The Outlander PHEV is the best-equipped, most connected vehicle the brand has ever sold in the US.