8 most affordable reliable SUV under 25k must buy in 2023
8 most affordable reliable SUV under 25k must buy in 2023
Eight Affordable reliable SUVs under 25K for 2023. All of these I'm going to mention here are below 25K for the 2023 model. Now, they are the lowest trim level in most cases, and they come with either a CVT or an automatic transmission. So there is a bit of a trade-off, but the price is a big selling point. Let's get started.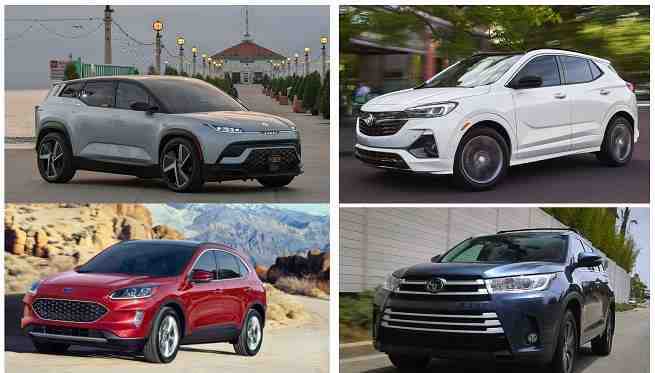 1- Hyundai Kona 2023
That is the Se trim level. The MSRP is 23 to 85. You have to add on the destination fee of $1,300 either way.
Combined fuel economy 32 miles per gallon. They updated the Kona for 2022 with new styling, more room, and improved technology.
This year for 2023, it gets a price bump, knocking it down to second place among the most affordable SUVs on this list the 2023 Se.
Standard CVT transmission pairs with Hyundai's 147-cylinder and front-wheel drive, combined again for 32 miles per gallon.
Mixed driving, it also gets an eight-inch dashboard display, a wireless Apple CarPlay Android Auto, automatic emergency braking, and hands-on lane centering,
2- Reliable SUV under 25k Chevrolet Trailblazer LS
The reliable SUV under 25k 2023 Chevrolet Trailblazer LS 23,295. All these include an additional destination fee. 
Combined fuel economy 30 miles per gallon.
It's a subcompact SUV powered by a 137 HP turbocharged 1.2-liter three-cylinder engine that works with CVT.
That comes with wireless Apple CarPlay Android Auto smartphone connectivity and important active safety features.
Including automatic emergency braking and lane departure warning with steering assist.
3- Kia Celtis LX MSRP
The reliable SUV under 25k Kia Celtis LX MSRP 24 135 mixed driving number of 29 miles per gallon. 
Interestingly, this has all-wheel drive as standard on the base trim level. The next higher trim, the S trim, curiously, has standard front-wheel drive and optional all-wheel drive.
The LX is powered by a 146-cylinder that works with the CVT. The LX's long list of standard features includes 17-inch alloy wheels and an eight-inch touchscreen multimedia system with Apple CarPlay Android Auto connectivity.
Standard safety features like automatic emergency braking and a blind spot warning system were added last year. So you'll have it again this year.
4-Mazda CX Thirty S
The reliable SUV under 25k Mazda CX Thirty S 24,225$. Combined fuel economy 29 miles per gallon. 
The all-wheel drive-only Mazda CX 30 gets some key powertrain and safety updates this year.
This one is powered by a 2.5-liter four-cylinder engine paired with a six-speed automatic transmission.
It now makes 191 horses, up from 186, and fuel economy goes from 26 to 29 combined this year.
The generous list of standard features on the S includes an 8.8-inch display with Apple CarPlay Android Auto, an eight-speaker sound system, and a push-button start with keyless entry.
5- Corolla cross L
The reliable SUV under 25k Corolla cross L for 2023 starts at 24 395. Combined fuel economy 32 miles per gallon. 
It slots between the CHR and the Rav four in the brand's SUV lineup. As its name implies, the Corolla Cross shares a platform and powertrain with the popular.
Corolla compact car that powertrain a 169 liar four-cylinder engine and a CVT.
An eight-inch touchscreen display with wireless Apple CarPlay and Android Auto connectivity comes standard on the base L, as do advanced safety features like forward collision warning with automatic emergency braking and adaptive cruise control.
6- Mitsubishi outlander Sport S
The reliable SUV under 25k Mitsubishi Outlander Sport S starts at 24 495. Combined fuel economy 27 miles per gallon. 
A design that dates back to the 2011 model year, the Sport was one of the early subcompact SUVs in the market, and it remains one of the most affordable.
Under the hood of the Base S models, a two-liter four-cylinder which makes 148 HP paired with a CVT all-wheel drive, now comes standard across all trims.
The S features a seven-inch center display, while a larger eight-inch display with Apple CarPlay and Auto auto requires upgrading to higher trims.
7- Honda HRV LX
The reliable SUV under 25k 2023 Honda HRV LX trim level at 25045 combined. Fuel economy is 28. It was redesigned for 2023. 
This new one sports a longer and wider exterior, a more powerful engine, and improves safety tech.
The standard powertrain is a two-liter four-cylinder mated with a CVT that now makes 158 HP, up from 141.
The power bump comes with a fuel efficiency tradeoff, knocking the SUV's EPA rating combined from 30 down to 28 for front-wheel drive models.
8- Volkswagen Tows
At 25,450, the 2023 reliable SUV under 25k Volkswagen Tows combined fuel economy of 31 miles per gallon. And like the Corolla Cross mentioned earlier in 2022. 
Volkswagen's smallest SUV is powered by a turbocharged 1.5-liter four-cylinder that makes 158 horses with front-wheel drive.
The engine is paired with a traditional eight-speed automatic rated at 31 miles per gallon combined.
Optional all-wheel drive swaps the eight-speed for a seven-speed dual-clutch automatic.
The Base S gets a standard 6.5-inch touchscreen and lacks Apple CarPlay Android Auto connectivity, which only comes standard on the Se and higher trims for 2023.
The Tous adds standard forward collision warning with pedestrian detection and automatic emergency braking to its base trim. Connect with your local dealership and price and test drive at least three different vehicles. 
Related Post