Toyota & byd Confirm EV Partnership | Toyota ev news
Toyota & byd Confirm EV Partnership | Toyota ev news
Ultimately the customers would tell us what is the best powertrain at the right time for them all-electric zero emissions.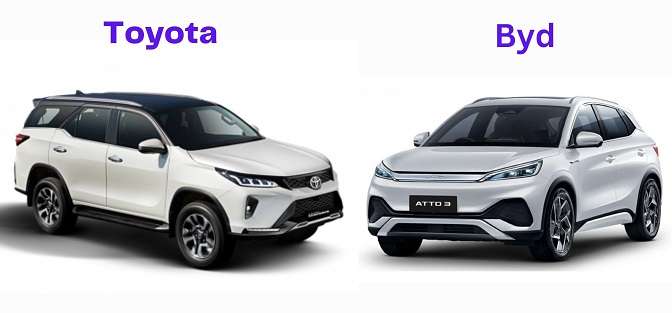 It's no secret that the future of the automotive industry is electric, and Toyota doesn't want to be left behind, in fact, the company has recently made a serious push toward electric vehicles, and they seem to be going about.
It is the right way to kick-start their EV production Toyota has partnered up with Byd, the number one EV company in China, In this way, they can produce and sell EVS to an already established local company and also take advantage of Byd's Battery Technology.
Join us as we look (Latest Toyota ev news) at Toyota & Byd ev partnership with byd what it means for the company Byd has come a long way from its humble beginnings as a manufacturer of rechargeable batteries founded in 1995.
Latest Toyota ev news
The company has since expanded into the automobile industry and become a major player in the market, but it wasn't an easy road for Byd when it first entered the automobile industry.
They met with skepticism and ridicule from industry insiders and experts even Elon Musk (CEO of Tesla) laughed at the ID of Byd being a potential competitor when they brought a battery-powered car to the market in southern China three years before.
Byd refused to let the naysayers bring him down instead they focused on Innovation and technology.
Today they're leaving their competitors in the dust Elon Musk isn't laughing anymore as Byd has surpassed Tesla in China and is dominating the EV Market in 2008.
Byd launched its first mass-produced electric vehicle f3dm, while the f3dm was not a commercial success.
Foundation and Future
It laid the foundation for Byd's future success in the EV Market Byd's breakthrough came in 2015 when the company introduced the Byd Tang a plug-in hybrid SUV that boasted a range of 80 miles on a single charge.
The Tang quickly became a best seller in China selling over 30 000 units in its first year on the market, Byd continued to invest heavily in EV technology and expanded its product lineup introducing new models such as the byd kin and the E6 electric taxi and the song Max EV the company also entered into Partnerships with other companies including Daimler and Toyota to further Advance its EV technology Toyota has seen an opportunity in this and has decided to partner with byd to produce EVS.
Collaborations
That is not the first time the two companies have worked together, Toyota and Byd have enjoyed a joint research and development partnership since 2020.
Allowing collaborations like this to happen more to the point Toyota is particularly interested in tapping into Byd's impressive Battery Technology.
It's rumored that the new Sedan will use Byd's renowned lithium phosphate blade batteries, which are considered to be some of the best in the business not only are these batteries slim and compact, which is a huge plus when it comes to EV design, but they also perform similarly to the batteries found in Tesla's Chinese-built model 3s by leveraging Byd's Battery tech Toyota can not only save on development costs but also benefit from the superior performance of these batteries one of the fruits of this partnership is the all-electric bz3 sedan that Toyota recently unveiled in China.
What feature is added to the New Model
That new model is equipped with Byd's powerful battery and motor train setup, which promises impressive performance and efficiency following the successful launch of the bz4x SUV in 2022.
The bz3 electric sedan is the second EV by the Toyota byd partnership, the new model is being sold in China through a joint venture company called Far Toyota and is available in three variants.
What's even more unconventional about this launch
The first deliveries of the bz3 happened at the same time as the official launch itself, this is a bold move, especially given the intense competition in the EV Market, but it speaks to Toyota and Byd's confidence in the quality and appeal of their new electric sedan,
The all-electric bz3 sedan received a warm welcome in China on its first day on the market, the bz3 secured an impressive 5000 orders.
According to fought Toyota, the automaker's joint venture in China, this comes as no surprise as the bz3 is an exciting addition to Toyota's electric vehicle lineup unveiled last October.
The bz3 is the automaker's second fully electric model in its bz or Beyond Zero series, while the electric sedan is based on Toyota's Tnga platform, which it shares with the bz4x SUV.
Motor and control system Features
It features a Lithium-Ion Lfp blade battery electric motor and electric control system from Byd one of the key differences between the bz3 and Toyota's electric SUV is the sedan's low center of gravity which promises to deliver exceptional handling and a smooth ride Additionally.
Interior, Range, and Price
The bz3 boasts an upgraded interior including the automaker's largest 12.8-inch suspended media navigation system far Toyota launched the first bz3 model in March with an impressive 616 kilometers roughly 382 miles Cltc range and a starting price of just 189800 RMB or $12000.
This combination of range and affordability makes the bz3 an attractive option for Chinese drivers looking to make the switch to electric vehicles.
The bz3 is offered in three versions,
elite,
Pro-long-range,
Pro-long-range premium models.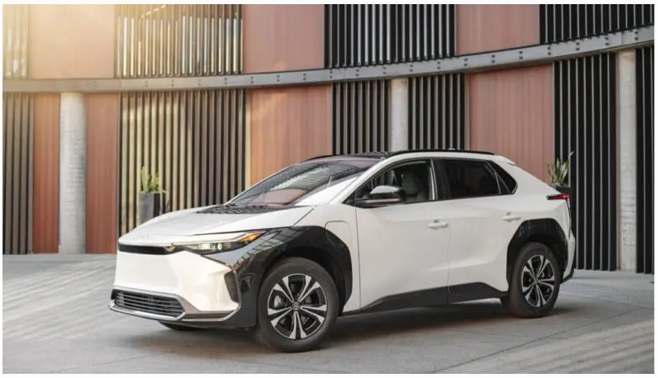 Charging capabilities
The bz3 boasts impressive charging capabilities with the 49.9 km kilowatt-hour battery pack capable of achieving fast charging speeds of up to 70 kilowatts,
Meanwhile, the larger 65.3-kilowatt-hour battery can be fast charged even quicker with a maximum DC charging speed of 90 kilowatts.
These charging speeds allow for quick and convenient recharging of the vehicle's batteries making it a practical option for long-distance travel.
It can charge from 30 to 80 percent in just 27 minutes with a DC fast charge making it ideal for drivers who are always on the go in terms of range.
The bz3 is no slouch either, the smaller battery pack can take drivers up to an impressive 517 kilometers on a single charge, according to the Cltc test cycle, while the larger battery pack boosts that range to an impressive 616 kilometers.
Of course, these figures may be lower on the Wltp cycle, but they still represent a significant improvement over many of Toyota's previous electric models under the hood.
The bz3 is powered by two rear-mounted single-motor options
The lower output motor produces 135 kilowatts, while the higher output variant delivers an impressive 180 kilowatts both options offer a peak torque figure of 303 newton meters making for a zippy and responsive Driving Experience styling-wise.
The bz3 is a departure from Toyota's more conservative sedan models with a low coefficient of drag of just 0.218, the car boasts a sleek and modern design that's sure to turn heads on the road inside the vehicle's electric powertrain allows for a completely flat floor providing extra space and comfort for passengers.
The company may be inspired by the success of its first electric sedan to sell more EVS Toyota has faced challenges in the shift to fully electric vehicles after a lackluster bz4x launch, this partnership with byd seems to be helping the automaker gain momentum, and many are optimistic that the new CEO koji sato who took over this month can steer the company in a New Direction after his predecessor.
Akio Toyota was reluctant to embrace EVS fully, Toyota does not intend to bring the bz3 to the U.S., but it's planning a new three-row SUV as part of its strategy to introduce 10 new EV models by 2026.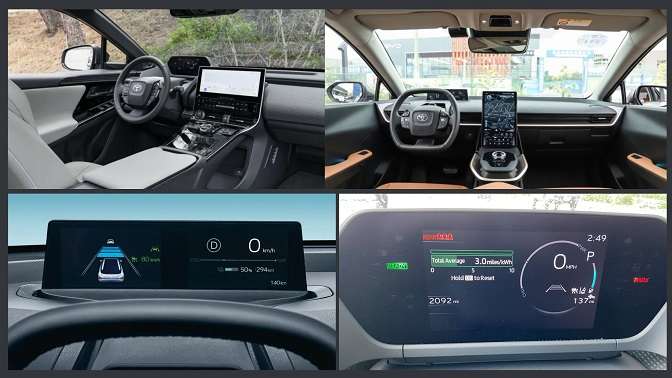 Designing, Safety, Driving  
The bz3's interior is a marked departure from Toyota's more traditional styling featuring a sleek and minimalist design that's sure to impress the car's floating gear selector, and the large vertical screen lends.
The cabin has a futuristic feel, while the unusual shape of the steering wheel adds a touch of quirkiness to the overall design behind the steering wheel a high-resolution Dash screen provides drivers with all the key information.
They need to include details about the selected gear speed battery state of charge range, and more.
The screen also displays safety features like cruise control distance and Lane keep assistance monitoring making it easy for drivers to stay informed and in control while on the road as more and more Chinese consumers turn to new energy vehicles or Navs sales of electric cars have been surging.
Market Strategy
Any V sales in China Rose by an impressive 26.2 percent year-over-year in q1 of 2023 with 1.69 million units sold, these vehicles now account for a significant 26.1 percent of total vehicle sales in the country in this crowded and competitive market.
The Toyota bz3 faces some stiff competition one of its main Rivals is the Tesla Model 3, which is also sold in China in two variants.
The rear-wheel drive version and the dual motor all-wheel drive performance model with a range of 556 kilometers based on the Cltc test cycle
The Model 3 is a popular option among Chinese consumers its base price of 229 900 RMB or $33414.24 is slightly lower than the bz3, but the performance variant comes in at a higher price point of RMB 329 900 or $47948.49.
Of course, Toyota's partnership with Byd should give the bz3 an edge in the market Byd currently holds the most market share in China's nav Market selling both pure electric vehicles and plug-in hybrids with their combined experience and resources, Toyota and Byd may be able to carve out a strong position in this growing and dynamic Market.
What do you think about this, let us know in the comment section.
Related Post