8 Reasons Why We Should Wait For 2024 Tesla Model 3
8 Reasons Why We Should Wait For 2024 Tesla Model 3
The EV Market is exploding with new models introduced every other day, and Tesla is already falling behind the competition in some areas for 2024.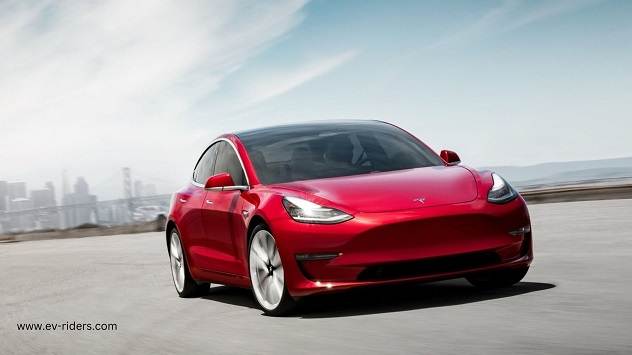 Tesla is trying to refresh the models and make them more competitive to avoid losing some of the sales, and one of the models that are expected to be heavily refreshed is the hugely popular Tesla Model 3.
There are many surprises that Tesla will introduce for the 2024 model year, so stay with us while we cover the top 8 reasons why you should wait for the 2024 Tesla Model 3.
Later this year, the 2024 Tesla Model 3 will undoubtedly be released. September should see the start of series production. After six years after the Model 3's first unveiling, Tesla is getting ready to make a number of significant and minor adjustments.
Model 3's new shape was only partially disclosed by the recently released pictures, but at our own design studio, we dug deep and developed an accurate representation of the changes.
Reason-1
Longer range and faster charging time
One of the biggest reasons why you should wait for the Tesla Model 3 is the introduction of new battery technology and bigger battery packs.
The Tesla Model 3 was launched in 2017, and since we have experienced big improvements in the battery Department, nowadays, batteries are far better and can ensure more power and less space.
They are also more power dance and cheaper to make, which is why we can expect 2024 some improvements to be introduced for the Tesla Model 3.
Currently, there are three different models, and you have the standard rear-wheel drive model.
All-wheel drive (AWD) model and the performance model in terms of range.
The RWD model has the lowest range with 272 miles then you have the AWD, which has a range of 333 miles, and the performance model has a range of 315 Miles not bad by any means but for 2024.
There will be a bigger range that will give you at least 400 miles of range without going to the charger.
One of the most annoying things for an EV owner is the charging experience nobody wants to wait for so long to charge up their vehicle.
So what Tesla will also bring is a reduction in charging time on this model with these improved batteries to less than 20 minutes from 30 percent to eighty percent, which in our opinion is one of the best things that can happen to the 2024 Tesla Model 3.
Reason-2
New plaid version
For Tesla to make a big impact and sell more of the high-performance models that bring a lot of money, it introduces a plaid version.
The Plaid version is expected to be above the performance model and offers something that the performance model cannot, and this is sub-3-second acceleration, more specifically, the acceleration of the new Plaid model is expected to be around 2.5 seconds from 0 to 60.
That will make the model 3 plaid one perfect dragster for people who want to enjoy the straight line Speed and Performance for this purpose.
There will be a tri-motor setup, similar to the one found in the Tesla Model S plaid, this system implements two Motors in the rear and one electric motor at the front delivering a massive 1050 pound per foot of torque.
But for the Tesla Model 3 flat, we can expect these numbers to stay a bit lower at 800 to 900 pounds per foot of torque when it comes to the track use of this model.
We cannot expect the 2024 Tesla Model 3 plaid to be track-focused that EVs do not perform well under these conditions, but for some quick accelerations, this model will do the trick just fine.
In addition, the model should also offer some improved brakes with beefier wheels and tires to be more effective at delivering this power to the wheels.
Overall the Model 3 plat will be a revolution when it comes to the 2024 Tesla Model 3 and will bring this small sedan to a completely different level compared to the competition in its class.
Read Also– GMC Syclone 2023 New Pickup truck specs and Price
Tesla Model 3 Specs
Base Model 3 specs
Rear-wheel drive (RWD)
7.6-kW onboard charger
Max Supercharging of 170 kW
Tesla-estimated 0-60 mph in 5.3 seconds
Long Range Specs
11.5-kW onboard charger
Max Supercharging of 250 kW
Estimated 0-60 mph in 4.2 seconds
Reason-3
Yoke steering wheel
Besides the introduction of the all-new Tesla Model 3 plaid version, there should also be other Novelties, and one of these Novelties will be the introduction of the Yoke steering wheel with the Plaid version.
This is one of the things that excites people since they can have a unique car on the road.
That features a steering wheel that no other car has yoke steering wheel is something that a lot of people either love or hate, but it is not a bad design approach.
In our opinion, it takes some time to get used to, but once you figure it out.
This yoke will be optional, and only people who are into yolks can purchase it, so if you want a model 3 plaid without the Yoke then you can option out the model like that, or if you want a yoke then you will be able to get it, and this feature shouldn't cost anything for the information that we have at the moment.
That is another good thing considering the price tag of this model will be much higher compared to the standard models.
Reason-4
New exterior facelift
The new 2024 Tesla model 3 should also get a new exterior facelift.
This model was introduced in 2017 and slowly but surely has become pretty dated, and this causes a lot of potential customers to go elsewhere and look at the competition.
So Tesla knows the newly redesigned model is already under work and tested under camouflage.
This new model was spotted by Automotive journalists in California with black covers and one Warehouse without the covers at the front end.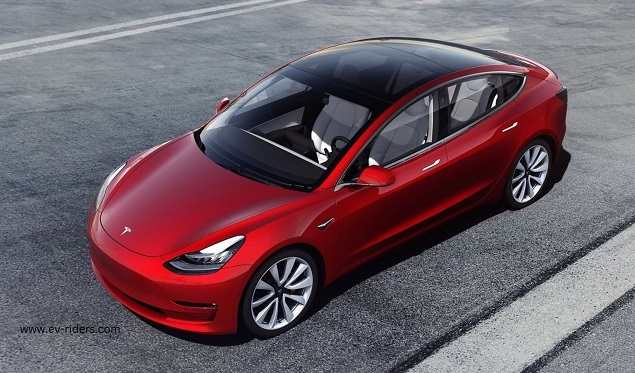 This new 2024 Tesla Model 3 was reportedly known as Project Highland and features a completely new front-end design.
The model features more modern headlights with improved headlight technology than the design found on the Tesla Roadster prototype and a newly redesigned front bumper.
In addition to this, the model also features a new wheel design that fits the 2024 Tesla Model 3 really well when it comes to the rear end.
The rear was all covered, but some things are expected to introduction of new taillights and a new rear bumper.
With these upgrades, we cannot expect a real revolution in terms of design to appear on the 2024 Tesla Model 3.
Reason-5
New cameras
Another thing expected from the all-new 2024 model is the introduction of new exterior camera modules for semi-autonomous driving.
Tesla wants to improve the self-driving technology on these new cars and add some Novelties, so on the new Model 3 Highland prototype.
The new cameras are mounted in the 2024 tesla model 3, and there were two cameras on the wheel arches and one camera on the front bumper.
Overall this upgrade is known as Hardware 4.0, this new hardware will make Tesla models able to drive semi-autonomously, eventually helping Tesla to master the full self-driving ability in the years to come.
Three extra cameras will be included in the redesigned Model 3, two on the side profiles and one in the centre of the front bumper, as we already announced. At select crossroads, they will enable a better perspective of the surroundings.
In a subsequent update, Tesla will remove the temperature sensor from the Model 3. Based on its GPS position and meteorological information, the car will show the current outdoor temperature. A new generation of cameras with similar capabilities will take the place of the conventional parking sensors.
Reason-6
Interior Upgrades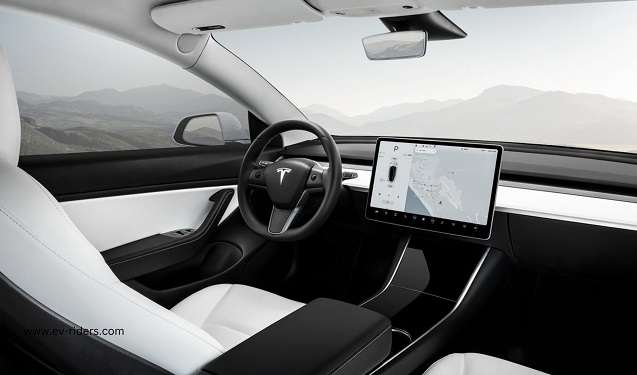 The interior is also upgraded in the upcoming 2024 tesla model 3, and Tesla has been a target of complaints for quite some time when their build quality and interior, even though the Interiors look good.
They are rather cheap when it comes to the overall feel, there are squeaks and rattles when you press on a panel, and this is something that no owner wants to experience in 2023, so Tesla is expected to step up its game and offer something that is high quality in addition to this Tesla is expected to switch their seat supplier.
Currently, they build their seats in-house, but for the 2024 Tesla Model 3 year, this is expected to change both for Model 3 and Model Y.
They plan to get their seats from a different supplier that will also bring more quality since we all know companies that specialize in certain areas.
Read Also– 2024 Cadillac Escalade Specs and Price
Reason-7
Apple Carplay and Android Auto become available
Improvements in technology are also quite expected for the 2024 Tesla Model 3.
We can expect a more crisp display with new hardware that will be extremely Snappy, but besides this, Tesla also offers Apple car play and Android Auto integration.
Many customers want these options to be available, and Tesla is very stubborn in implementing them and wants to rely on their own software mod for 2024.
Tesla will start to integrate these two popular software Solutions into their lineup of models, so the 2024 Tesla Model 3 is expected, finally to get Apple car play and Android auto integration and make customers very happy.
We think that this is a wise move by Tesla because they need not lose their customers since not having these two popular software Solutions is a real deal breaker for many people since they go and purchase a competitor's model with this integration available even on the most basic models.
Reason-8
Cheaper the price
The new Model 3 will be the cheaper price of the 2024 Tesla Model 3 and finally reach the $30000 Mark set by Elon Musk.
The current 2023 model starts at $32740 after the tax credit, and if Tesla brings the price down even more.
| | |
| --- | --- |
| Country | Price |
| Tesla 2024 Model 3 Price in USA: | Starting price of $35,000 |
| Tesla 2024 Model 3 Price in Canada: | $54,990 (Exp) |
| 2024 Model 3 Price in Mexico: | $42,000 |
| 2024 Model 3 Price in UK: | Start from £42,990. |
| Tesla 2024 Model 3 Price in Russia: | Start from $58,000 |
| 2024 Model 3 Price in Australia: | $60,900 to $86,900 |
| Tesla 2024 Model 3 Price in UAE | AED 221,990 |
| Model 3 Price in Germany: | 54,990 euros |
| 2024 Model 3 Price in Singapore: | Start SGD $104,754 |
| Model 3 Price in China: | 229,900 CNY |
| Tesla 2024 Model 3 Price in Japan: | 37,000 yen |
We can expect a real revolution in this area, and Tesla starts to sell the Model 3 in huge numbers, since there are hardly any car makers that can offer a model at this price point, the 2024 Tesla Model Y is another good option if you want to get a car that sits taller.
Conclusion
This model has the same size as the Tesla Model 3 but with greater ride height, overall both models are great performers, and it's up to you to decide which one fits for you.
what you think about new 2024 Tesla Model 3, and it's no longer a secret that Tesla is working on a new Tesla Model 3 giving it a new face. we can now see what to expect from the 2024 model.
If you've read until now thank you very much, please do consider bookmarking www.ev-riders.com for more articles about EVS and the latest car news.
Related Post