2024 Toyota 4Runner: Engine, price, release date & specs
2024 Toyota 4Runner: Engine, price, release date & specs
The 2024 Toyota 4Runner, the sixth generation of this iconic SUV, is one of Toyota's most anticipated automobiles in North America. The current fifth-generation model has been a best-seller, but it's been on the market for over a decade and has to be updated to compete with the rising number of options.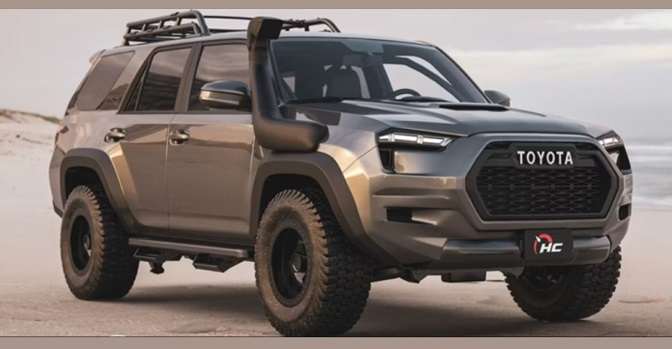 Massive news coming from Toyota after a decade on the market, the Toyota 4Runner will get an update in 2024 and 2025.
Following the platform and recent success of the updated Toyota Tacoma Tundra and Sequoia, the rugged and ever-reliable SUV will get a significant facelift, there is no denying this is a capable and bulletproof SUV.
However, it has grown into an outdated and versatile off-road SUV.
The sixth generation of the Toyota 4Runner arrives with cutting-edge technology and a renewed design to stay at the top of the SUV competition in North America.
Toyota has promised several new features for the 2024 4Runner, including improvements to technology and fuel efficiency. The new model is expected to feature a more powerful and efficient engine than the current model, with greater towing capacity and better on- and off-road performance.
Short Overview
Furthermore, the 2024 4Runner is projected to feature a more roomy and luxurious interior with a bigger infotainment touchscreen and a high-quality sound system. It will also include extra safety features, such as emergency braking, and pedestrian recognition system, and adaptive cruise control.
Other rumored enhancements include a better all-wheel drive system, more sophisticated suspension, and more storage space. The design of the 2024 4Runner is slated to be revised, with more current lines and a more aggressive appearance.
The 2024 Toyota 4Runner is slated to go on sale in the second part of 2023. Toyota is also said to offer numerous engine options in the next 2024 Toyota 4Runner, including a much-awaited hybrid type. We're looking forward to seeing Toyota continuing to enhance SUV and truck lines to give drivers more efficient and technologically sophisticated alternatives.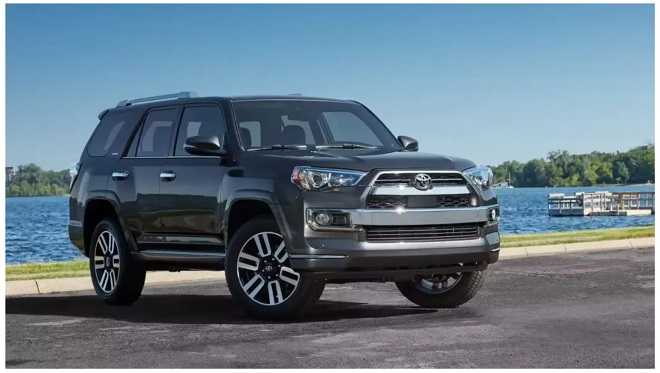 The new 2024 Toyota 4Runner powerful hybrid Engine
The modern Toyota 4Runner is powered by a 4.0-liter V6 engine that produces 270 horsepower and 278 pound-feet of torque. However, it's engine and 5-speed automated gearbox are a little out of date and surpass the competitors in terms of fuel efficiency.
We expect Toyota will use its TNGA-F chassis, which is present in the 2023 Tundra and 2023 Sequoia, for the next version of the 2024 Toyota 4Runner, allowing for a new engine. The new engine might be the twin-turbocharged 3.5-liter V6 used in Toyota's i-FORCE MAX hybrid powerplant, which also powers the Lexus RX 500h SUV.
This hybrid powertrain offers a total system output of 437 horsepower and 583 pound-feet of torque on the Tundra and Sequoia and comes standard with a 10-speed automated gearbox. The 2024 Toyota 4Runner might exceed its competitors in terms of power and fuel economy because of its innovative hybrid engine and drivetrain.
Performance & fuel efficiency
The New 2024 Toyota 4Runner has exciting new features that promise to boost its performance and fuel efficiency dramatically. One of the most notable changes is the potential inclusion of a hybrid engine, which is likely to outperform the existing 4.0-liter V6 in terms of performance. Furthermore, because of advancements in the modular body-on-frame chassis, the sixth-generation 4Runner may have improved off-road.
Furthermore, the 4Runner is likely to retain its part-time 4WD system and extra electronic technology such as Toyota's MTS and Crawl Control.
4.0-liter V6 Engine- 16 Mpg in City -19 MPG in Highway per gallon
4.0-liter V6 Engine (AWD)- Approximately 15 Mpg in City -18 Mpg in Highway
This SUV's 'TRD Pro' trim will also receive changes in sync with the next-generation model. Because of its outstanding new features, the new 2024 Toyota 4Runner promises to be an even more competent and efficient off-road SUV.
Sixth-generation 2024 Toyota 4Runner Interior
The current Toyota 4Runner generation has been on the market for about a decade and has received various modifications throughout that time. Toyota worked hard to provide its SUV with the amenities, it needs to succeed in the market.
Despite being well-appointed, the 4Runner's cabin shows its age in terms of materials and look, and while the infotainment system offers the most up-to-date connection choices, it needs an update. Toyota is likely to improve the chassis, engine, and interior of the forthcoming 4Runner by drawing influence from the cutting-edge interiors of the Sequoia and Tundra.
Based on these predictions, the sixth generation 4Runner, Toyota's midsize SUV, will most likely include improved materials in the dash and door panels, with superior quality and durability. Furthermore, it is planned the upholstery in the higher categories of equipment would be of greater quality and more sumptuous.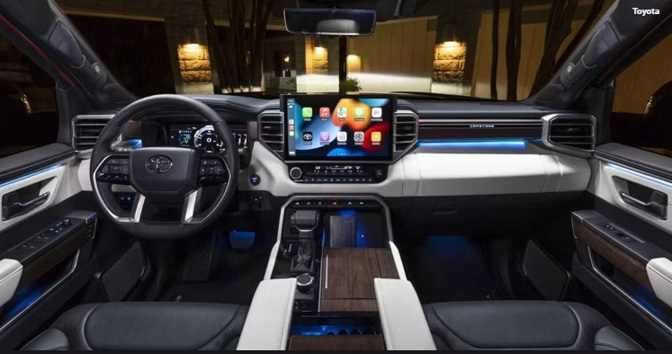 Infotainment Technology
Surround-view cameras are standard on the latest TRD Pro 4Runner, making it simpler to navigate off-road routes. However, the visual transmission through the in-cabin infotainment screen is not perfect due to its poor quality. The new model is intended to enhance this area, providing a better driving and passenger experience.
Modern connectivity features
Apple CarPlay and Android Auto integration
a wireless charger
USB Ports
a Premium Sound system
Bluetooth technology with wireless hands-free connectivity
The Redesigned 2024 4Runner is an epic off-road SUV
Although Toyota has not officially announced a release date for the next-generation 4Runner, it follows the unveiling of the 2024 Toyota Tacoma.
Toyota regularly upgrades and migrates its other truck and SUV models, including the Toyota Land Cruiser, Tundra, and Sequoia, to the new TNGA-F platform. Toyota will have to innovate with the 4Runner to maintain up with the company's objective of boosting fuel efficiency, performance, and sustainability throughout its whole vehicle portfolio.
2024 Toyota 4Runner specs
Trims
5
Model
2024
Body Type
Pick-up Truck
Door
4-door
Seating Capacity
7,8 – passengers
Engine Type
4.0-liter V6
Power
275 hp
Torque
317 lb-ft
Towing Capacity
6,500 to 7,500 lbs
Payload Capacity
4,700 pounds
Transmission
8-speed automatic
Drivetrain
All-Wheel-Drive System. (AWD)
0-60 MPH Time
7.7 seconds
Top Speed
115 – 125 mph
Range (Full Tank Range)
391 miles
2024 Toyota 4Runner specs
2024 Toyota 4Runner Release Date
Toyota has teased a silhouette picture of their anticipated 2024 Tacoma pickup truck. The remake of 4Runner might arrive shortly. If the present pattern of teasing continues, the 4Runner unveiled in Q3 2024.
Last year, we got a sneak peek at the next Toyota 4Runner due to an exclusive HotCars graphic that showed us how the car would look when it's introduced to the public. We can anticipate that will appear fairly similar to the SUV depicted above. That suggests it'll be a difficult Toyota that you should start saving for.
2024 Toyota 4runner price range
The exact information about the model price of the Toyota 4 Runner 2024 has not been received, due to which we cannot confirm the price model of the Toyota 4 Runner.
However, keeping in mind, the previous year's model, Toyota 4Runner launched 6 trim models in the market, which initially kept the price range from 40K to 55K. This year, 5 trim models are going to be launched in the market that starts from 40k.
| Trims | Price (est.) |
| --- | --- |
| SR5 | $39,555 |
| TRD Sport | $44,000 |
| TRD Off-Road | $45,000 |
| Limited | $50,000 |
| TRD Pro | $54,020 |
2024 Toyota 4runner price range
2024 Toyota 4Runner Exterior
On the market here are some of the changes that we know about the exterior, the next-gen 2024 Toyota 4Runner will have a similar platform and design Philosophy to the updated Tundra pickup Sequoia full-size SUV.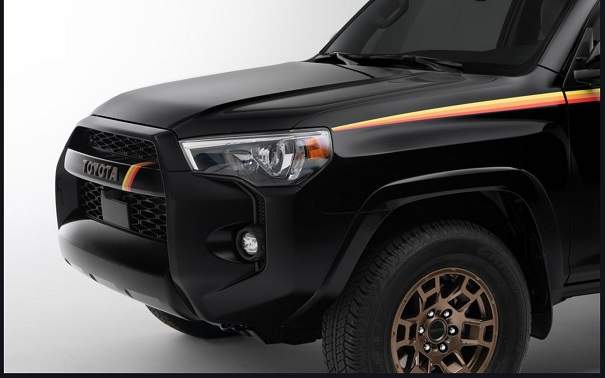 2024 Toyota 4Runner Safety Features
Advanced Airbag System
Anti Lock Braking System (ABS)
Electronic Stability Control (ESC)
Traction Control System (TCS)
Blind Spot Monitoring (BSM)
Rearview Camera
Lane Departure Warning (LDW)
Forward Collision Warning (FCW)
Automatic Emergency Braking (AEB)
Adaptive Cruise Control (ACC)
Tire Pressure Monitoring System (TPMS)
2024 Toyota 4runner colors
Interior Color
Black/Graphite
Sand Beige
Exterior Colors
Ice Cap
Blizzard Pearl
Classic Silver Metallic
Lunar Rock
Magnetic Gray Metallic
Nautical Blue Metallic
Barcelona Red Metallic
Lime Rush
Midnight Black Metallic
Solar Octane
Pros & Cons 2024 Toyota 4runner
Pros
Impressive off-road Capability
variety of configurations
The versatile cargo area
More standard safety features
Likely To get a Hybrid Powertrain
Cons
Poor MPG
Tall Ground Clearance
2024 Toyota 4Runner Dimensions
| | |
| --- | --- |
| Length | 190.2 In. |
| Width | 75.8 In. |
| Height | 71.5 In. |
| Wheelbase | 109.8 In. |
| Ground-Clearance | 9.6 In. |
2024 Toyota 4Runner Dimensions
2024 Toyota 4Runner Interior Dimensions
| | |
| --- | --- |
| Head-Room (1st/2nd/3rd) | 39.3/38.6/34.3 In. |
| Leg-Room (1st/2nd/3rd) | 41.7/32.9/29.3 In. |
| Shoulder-Room (1st/2nd/3rd) | 57.8/57.8/57.7 In. |
| Hip-Room (1st/2nd/3rd) | 56.5/55.7/43.3 In. |
| Cargo-Volume (Behind 1st/ 2nd/ 3rd Row) | 88.8/46.3/9.0 cu ft. |
| Passenger Volume | 96 cu ft. |
2024 Toyota 4Runner Interior Dimensions
Conclusion
Overall, the 2024 Toyota 4Runner promises to be a next-generation SUV that will fulfill the needs of current drivers wanting a powerful, economical, and technologically sophisticated car. The full specifications are disclosed in a formal presentation, but it matches the high expectations of Toyota fans and SUV lovers worldwide.
The anticipation for the release of the 2024 Toyota 4Runner is growing, and our expectations are rising, as a result of the newest improvements to Toyota's truck and SUV portfolio. The revamp of the sixth-generation 4Runner has sparked, a lot of interest among brand aficionados and SUV drivers in North America.
FAQ/ Frequently Asked Questions
Q.1. When will the 2024 Toyota 4Runner be available?
Toyota 4Runner pickup truck may hit the market in late December 2023.
Q.2. What will the price of the 2024 4Runner be?
2024 Toyota 4Runner to launch in 5 trim models and starting price of $39,500.
Q.3. How much horsepower does the 2024 4Runner have?
2024 Toyota 4Runner available 275HP
Related Post