Kia Revealed 2025 Kia Ev5 as a Family-Friendly Compact SUV- Futuristic Design
Kia Revealed 2025 Kia Ev5 as a Family-Friendly Compact SUV- Futuristic Design
The future 2025 Kia Ev5 will get significant updates, especially in size and space rumors, and the new Kia Ev5 will be able to accommodate 7 people rather than the regular 6 people.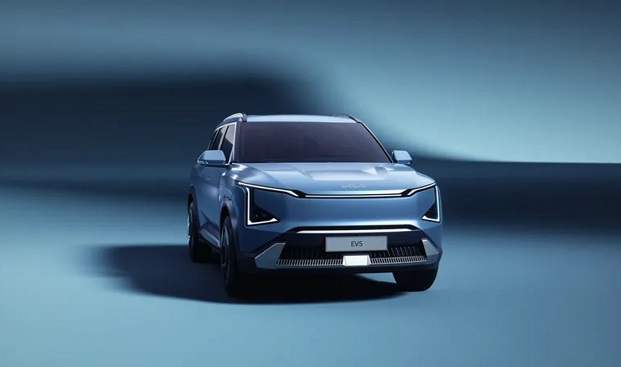 It Boasts a modern, elegant appearance, a roomy, comfortable cabin, and cutting-edge safety and technological features.
The EV5 will be one of the next models to be released by the Korean automaker KIA as it expands its family of electric vehicles. A tiny SUV, whose prototype we first saw in March and which we are now familiar with in its finished form.
In China, the Chengdu Auto Show featured the EV5. A site that is not by chance, given that a model that will launch its commercial existence this year will start to be offered there initially.
Design – Exterior and Interior
The EV5's technical specifications will be presented in October since KIA has only displayed the vehicle's appearance and interior designs.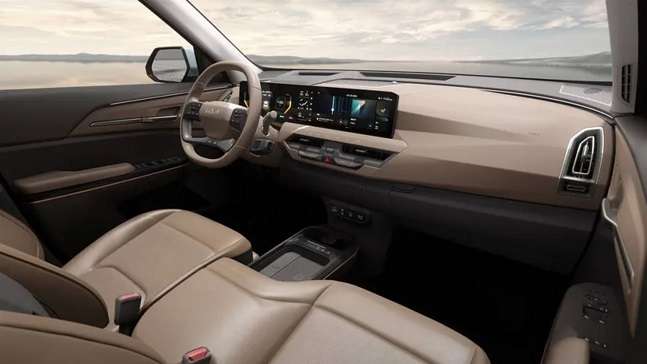 The new EV5 has an ambient lighting system with adjustable intensity, and users can choose from a total of 64 colors with 10 shades chosen by Kia's lighting experts. For now, we'll have to make do with an official photo gallery, and some design information was distributed throughout the press release.
When turned on, the ambient lighting, according to KIA, coordinates with the vehicle's driving modes, lowering in low-light situations and even warning the driver if the speed limit is being exceeded.
Drivers will also have the option to customize the inside of the EV5 to a degree resembling that seen at a home furnishing store with a choice of two woven variations, four different colors, and five different seat pattern possibilities.
The EV5 will come in nine dazzling exterior colors (Snow White Pearl, Clear White, Starry Night Black, Magma Red, Ivory Silver, Frost Blue, Iceberg Green, Tide Blue, and Shale Grey) and a matte Ivory Silver.
The EV5 will be a 4.61-meter-long electric crossover, which puts it in the D-SUV market, just below competitors like the Tesla Model Y or Ford Mustang Mach-E and others.
2025 Kia EV5 Release Date
An SUV will make its way in the last 2024 or 1st quarter of 2025, and in addition to having bidirectional charging technology (V2L), it will stand out for having an ultra-fast charging system that will put it ahead of its competitors. For more updates please visit the Kia official page.
2025 Kia Ev5 Specs
Although KIA hasn't yet provided any details, it's expected to use the same 800V E-GMP platform as previous Hyundai-Kia Group cars, with batteries that provide at least 77 kWh of usable energy (82 kWh of total energy) and a range of about 600 km. approved independence.
2025 Kia Ev5 interior
The overall interior design is still pretty competitive, that is mostly a well-managed cabin filled with soft-touch materials, simple controls, and advanced features, so we expect a new generation to bring The 2025 Kia EV5 offers space for five people in a well-managed cabin and also to renew more attractive dashboard designs.
The 2025 KIA EV5 comes with an easy-to-use touchscreen infotainment system as standard equipment. Additionally, the system offers remote access, emergency services, and vehicle monitoring.
Parents of young drivers enjoy the speed alerts, limitations, and curfews, and the technology promptly warns emergency services when the airbags deploy following an accident.
2025 KIa EV5 Trims and Price
Kia has not revealed the pricing and trims of the 2025 Kia Ev5, but we expect that The worldwide pricing will be starting in the mid-dollar $40000 range and depending on the model and extra amenities selected.
Here is a rough breakdown of the anticipated costs for the various variants:
| | |
| --- | --- |
| Standard | $40,000 (est) |
| Standard Plus | $45,000 (est) |
| GT-Line | $49,000 (est) |
| GT | $54,000 (est) |
Conclusion
The 2025 Kia EV5 is a strong SUV contender in the US market. Because of a powerful engine, advanced features, and advanced safety features, it's an SUV worth it for the customer.
Dear friend, we are trying to explain all the short information about the 2025 Kia EV5, like the engine, performance, Design, safety information, Trim, price and release date, etc.
What do you think about the new 2025 KIa EV5, it's no longer a secret that Nissan is working on a new 2025 KIa EV5 giving it a new face. we can now see what to expect from the 2025 model.
If you've read until now thank you very much, please do consider bookmarking www.ev-riders.com for more articles about EVS and the latest car news.
Related Post