Tesla's first V4 Supercharger will be in Europe
Tesla's first V4 Supercharger will be in Europe
Tesla is starting the installation of the fourth generation of its Superchargers. A new version called V4 will be released in Europe and that will bring small but important innovations that mainly affect non-Tesla cars.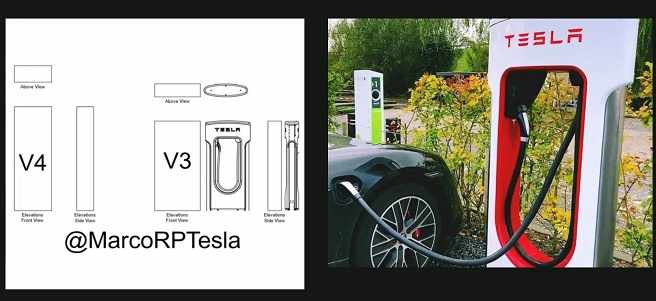 The new design of the V4 Superchargers will be slightly slimmer but taller. That will result in less space occupation.
The first station equipped with these points is located in Harderwijk, the Netherlands, as our friend Felix Hamer (@electricfelix) has shown us in a video shared this weekend.
The video shows the station is still in the installation phase, and a total of 16 V4 points will be located in this first phase. A new station should begin operations in the second quarter of this year.
V4 Superchargers
The main change this new model will bring will be to allow the installation of longer cables. That means that it will be easier to reach the socket in those models that do not have a port in a suitable area. Mainly those whose manufacturers have opted for the front wing and that have a long nose.
And at present, this characteristic is added to the fact that the cables of the Superchargers are not exactly long causing some vehicles cannot reach the socket in certain stations. A problem that takes on special importance due to the opening of the Tesla network to other brands that will make it a fundamental economic leg in the coming years.
It will also allow the deployment of stations where they can charge heavy vehicles, such as trucks or electric buses, which currently may have difficulties locating their charging outlet near the point.
As we remember, the current V3 chargers offer a maximum of 250 kW of power, a figure that until recently could only be reached by the Model 3 and Model Y in their Long Range versions but which can now also be reached by the Model S and Model X after a series of modifications to its charging system (until then they were limited to 225 kW).
As for the V4, this would mean reaching up to 350 kW and even higher figures considering industrial models and taking a leap forward towards 800V architectures, where it will be possible to get the most out of this new generation.
Related Post