New Toyota CEO prioritize hydrogen over EV cars
New Toyota CEO prioritize hydrogen over EV cars
Toyota is a car company that makes both hydrogen and battery-electric cars. Some people thought that the company might stop making hydrogen cars because its CEO, Akio Toyoda, stepped down from his position.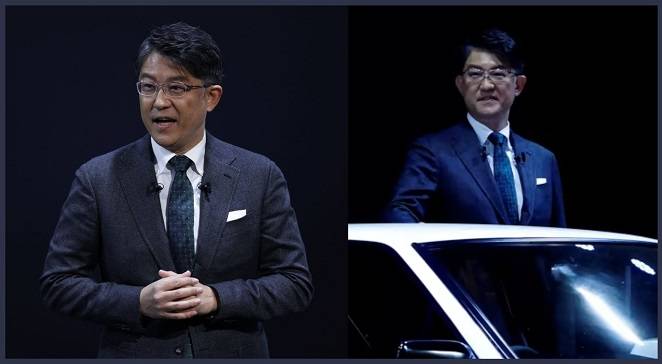 However, the new CEO, Koji Sato has said that they will still focus on making hydrogen cars. That means that Toyota will keep working on this technology and making cars that run on hydrogen, even though some people thought they might switch to making only battery-electric cars.
Koji Sato thinks that using hydrogen is a good way to help the environment by reducing carbon emissions. He believes that hydrogen is a better solution than just using battery-powered electric cars because it is important to explore different options.
Even though many other car companies have stopped making hydrogen cars for regular use, Sato thinks that it is worth investing in this technology. He wants to make hydrogen a major part of Toyota's plans for the future so that the company can help reduce carbon emissions and be more environmentally friendly.
Koji Sato, the CEO of Toyota, wants to make sure that using hydrogen as a fuel for cars remains a good option in the future. For this to happen, there needs to be a way to make, transport, and supply enough hydrogen to use in cars.
If these things don't improve hydrogen won't be used as much. However, Sato knows that battery-powered electric cars are also important, and play a big role in Toyota's future, along with hybrids and hydrogen cars.
So Toyota is planning to make and sell different kinds of cars that use different kinds of fuels to help reduce emissions and be more environmentally friendly.
Toyota is working hard to develop different kinds of cars to meet the needs of different markets and customers. They know that people have different needs when it comes to cars, so they are trying to be flexible and adapt their products accordingly.
That means that Toyota is looking into using different kinds of fuels, including hydrogen in different kinds of cars. They are not only exploring how to use hydrogen in fuel cells but also traditional combustion engines. That shows that Toyota is committed to finding different ways to be more environmentally friendly and reduce emissions, while still meeting the needs of customers all over the world.
Toyota will remain faithful to its multi-tech strategy
Although Koji Sato, the CEO of Toyota, is committed to investing in hydrogen cars, they are still not very common compared to other kinds of cars. Even in the next few years, it doesn't seem like hydrogen cars will become very popular. The President and CEO of Toyota Motor Europe, Matt Harrison, has said that he doesn't think hydrogen cars will be a big part of the market by 2030.
He thinks that only a few thousand hydrogen cars will be sold each year and that they will still be a minority compared to other kinds of cars. So, even though Toyota is investing in hydrogen, it may take some time before these cars become more popular.
Koji Sato, the CEO of Toyota, believes in using different kinds of technologies in their cars, but it seems that the company is also planning to focus more on battery-powered electric cars.
Recent reports from Japan suggest that Toyota is going to invest more in this technology to catch up with companies like BYD and Tesla. Toyota has reportedly approved the development of a new electric platform specifically for this kind of car.
Toyota is committed to developing new electric cars that will be powered by batteries and to their work on hydrogen and hybrid cars. So, while Toyota is still exploring different options, it looks like they are also getting ready to compete in the growing market for electric cars.
Toyota is planning to develop a new electric platform for their cars, which is set to be released in 2027. This new platform will be called upon to replace the current e-TNGA platform designed to be shared with other kinds of cars, including ones with traditional combustion engines.
The decision to develop this new platform was made after several executives from Toyota, including Koji Sato, examined a Tesla Model Y in detail and were impressed by its technology. This new platform is expected to be designed specifically for electric cars and will likely help Toyota compete with other companies already producing electric cars.
Related Post