The Sagunto battery Gigafactory will have 50% more capacity
The Sagunto battery Gigafactory will have 50% more capacity
PowerCo is a part of the Volkswagen Group that makes batteries for electric vehicles. They have started building their second big factory in Europe, in a place called Sagunto which is in Valencia, Spain. The King of Spain, the President of the Government, and the President of the Valencia region were present at the event to show their support. Some new information about the project was shared during the event.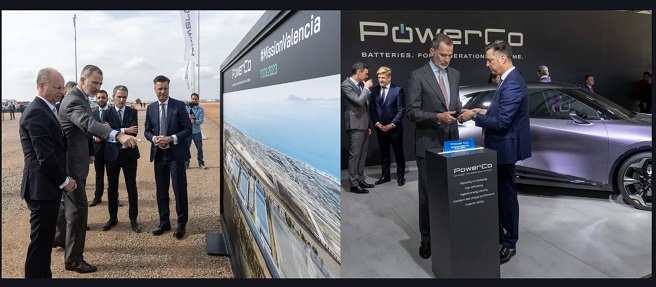 The new factory that Powerco is building in Sagunto will start making battery cells in 2026. That will create jobs for more than 3,000 people and another 30,000 jobs indirectly. The factory will use 100% renewable energy.
It will not create pollution or harm the environment. They will get some of this energy from a new solar park located close by. Also, during the battery production process, the raw materials that they use will be recycled right there in the factory, which is good for the environment.
The new factory was going to make 40 GWh of batteries every year, but now PowerCo has said that it might be possible to make 60 GWh in the future, which is 50% more than they originally planned.
This change might be because Volkswagen is also building new factories in North America, so they need to spread their investment money around. But this change is good news for Sagunto because it means that the factory will be able to make even more batteries, which will create even more jobs and help the local economy.
PowerCo was planning to build six factories in Europe, each one making 40 GWh of batteries every year. But now it looks like they will only build three factories instead in Germany, Spain, and Sweden. These factories might be able to make more batteries than originally planned, so they will still be able to meet the demand for batteries until 2028.
This decision might seem contradictory, but it actually makes sense because it allows PowerCo to concentrate its resources and be more efficient. Thomas Schmall, who is in charge of technology at Volkswagen, recently said that they are happy with this plan.
Sagunto- a key piece for Volkswagen
The manager of Powerco is happy with the progress they are making. They have started building their second factory in Valencia, Spain, but they are also planning to build another factory in St. Thomas, Canada.
They want PowerCo to be a big company in the battery business all over the world. Their goal is to make batteries that are sustainable and help people move around in a better way. The factory in Valencia is an important step towards achieving this goal.
The Prime Minister of Spain, Pedro Sánchez, is very happy that Powerco is building a new factory in Valencia. He thinks that it shows that Spain is committed to innovation and sustainable mobility.
He wants Spain to be a place where businesses can succeed, with innovation, cooperation between public and private sectors, and all regions working together. The factory in Valencia is a good example of this commitment.
Related Post