Alfa Romeo surprises by hinting at the imminent presentation of an electric Tonale.
Alfa Romeo surprises by hinting at the imminent presentation of an electric Tonale.
Alfa Romeo's first electric car (if we don't consider the limited-run 33 Stradale) is just around the corner. Against all odds, everything indicates that it will be a derivative of the C-SUV Tonale, even though at its presentation, it was only announced that it would be available with thermal and hybrid engines.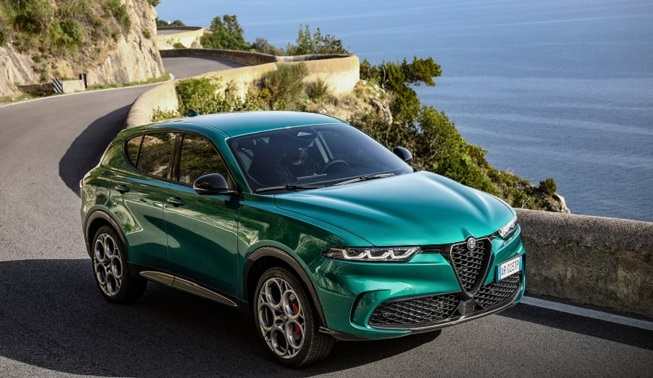 Until now, it was assumed that the Italian firm's first electric car would be a B-SUV produced in Tychy (Poland) along with the FIAT 600 and Jeep Avenger. However, this model (whose final design was leaked a few weeks ago) will arrive a little later than the electric Tonale, of which a first preview has already been released.
In the teaser shared by Alfa Romeo, you can see the rear lighting signature of the Tonale, which does not correspond to the leaks of its little brother. Since it is based on a platform from the former FCA group (FIAT-Chrysler) rather than using one of Stellantis' new generation architectures, it is difficult to predict its technical specifications.
Daniel Tiago Guzzafame, Alfa Romeo's global product manager, confirmed last year that the Tonale's Small Wide LWB 4×4 platform was prepared to accommodate thermal, plug-in hybrid and 100% electric propulsion systems. The manager also hinted that the hypothetical electric Tonale could sport the Quadrifoglio Verde surname so that it would be a high-performance variant.
The Alfa Romeo Tonale QV will be a high-performance electric SUV
As we have said on other occasions, Alfa Romeo will be electric in the future. The technical capacity to have a fully electric vehicle is there. The Tonale platform is capable of that. We will see if there is demand for this type of vehicle in the C-segment SUV market worldwide, and if there is, we will surely introduce it. Globally, we will only sell electric vehicles from then on [2027], so the transition will start with something we want to be relevant to our customers worldwide.
[Whether the Tonale Quadrifoglio is] within the strategy that Alfa Romeo has already announced, whether it will be our first electric car (expected for 2024), or whether it will be a different vehicle we will announce later, remains to be seen. Still, it will be one of the fully electric models we will launch by 2027.
Indirect electrification (hybrid and plug-in hybrid) is a natural step. We want to use technology to improve our performance and make [the vehicle] relevant to our customers. It is the strategy dictated by the brand and, of course, the direction in which it is heading.
Related Post