500 hydrogen cars for the Paris 2024 Olympics
500 hydrogen cars for the Paris 2024 Olympics
Toyota offers a zero-emission fleet of 500 hydrogen cars that will propel the Paris 2024 Olympic Games towards sustainability.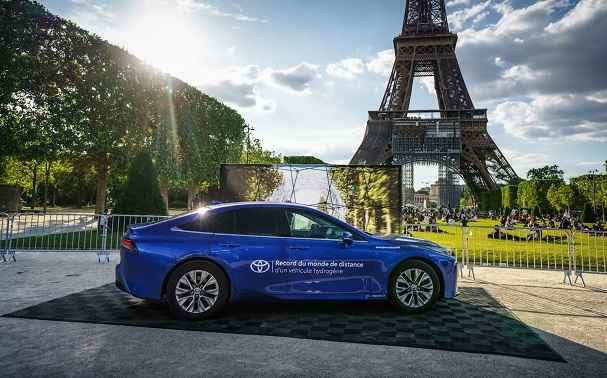 The City of Light Paris is preparing to shine even brighter in 2024 in the celebration of the Olympic and Paralympic Games. In this world-renowned sporting event, sustainability and ecological mobility have become protagonists thanks to Toyota and its fleet of Mirai vehicles powered by hydrogen.
Made up of no less than 500 hydrogen cars with a fleet, Toyota has committed to reducing carbon emissions by 50% compared to other Olympic Games held previously. That will achieved through this collection of 100% electrified passenger cars.
500 hydrogen cars for sustainable mobility
The Toyota Mirai fleet will refuel with hydrogen from renewable sources supplied by Air Liquide, which is the official hydrogen supplier of the Paris 2024 Olympic and Paralympic Games. This strategic alliance underlines Toyota and Paris 2024's commitment to sustainability and environmental responsibility. Frank Marotte, President and CEO of Toyota France, has highlighted the company's vision of transcending the limits of the automotive industry and creating a carbon-neutral society.
Tony Estanguet, President of Paris 2024, has praised the Japanese brand Toyota for its commitment to achieving Olympic and Paralympic Games that are more respectful of the environment. He has also highlighted the significant contribution of Mirai fuel cell vehicles to this cause. This collaboration between Toyota and Paris 2024 paves the way toward sustainable mobility and a decarbonized society, showing how the automotive industry can play a vital role in building a cleaner, brighter future.
The fleet of 500 Toyota Mirai hydrogen cars has become a symbol of commitment to a sustainable future. It is also a clear example of how technology and innovation can come to drive Paris 2024 toward sustainability and environmental excellence in the sports world.
Related Post