Ford New Mustang Mach-E 2023- Updates Revealed
Ford New Mustang Mach-E 2023- Updates Revealed
The 2023 Ford Mustang Mach-E continues to impress with its lengthy all-electric range, lively driving dynamics, spacious and upscale interior, and wealth of standard features.
However, steady price increases have begun to undermine Maki's value proposition.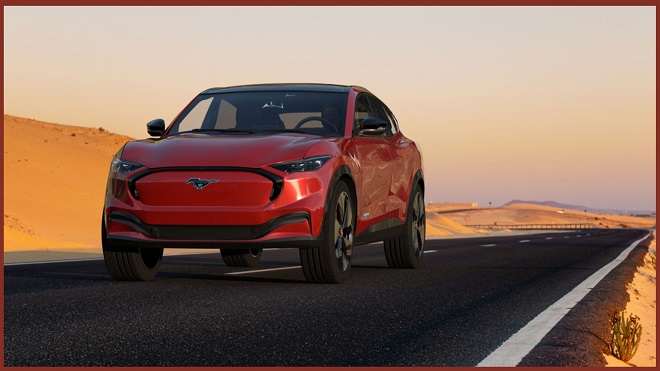 The 2023 Ford Mustang Mach-E has a lot to offer for those who want a crossover but also want to drive an EV. With its many options and equipment packages, those customers will also be able to decide between the content-rich premium model or the elevated performance of the GT.
The Mauki is still considered nimble and speedy. It also features an appealing appearance, a well-appointed interior with all the latest gadgets and gizmos, and an adequate range and capability.
Features
On that subject, Ford says the Mustang Mach-E can travel more than 300 miles before needing a charge, and the GT performance model leap to 60 mph in three 7 seconds at our test track.
For its third model year, the Premium trim sees a slight increase in its estimated range, up 13 to 290 miles, and more standard content, including the automaker's Copilot 360 driver assistance tech for the entire lineup.
A new Mustang Night Pony package is available for some premium and Performance edition models.
Design
On the Premium, it adds black exterior touches on the bumpers and door cladding in gloss black 19-inch wheels.
For Performance Edition models, the package includes 20-inch gloss black wheels and black GT Badging.
Additionally, a panoramic glass roof is now standard on the Performance Edition. The Maqui also gets two new exterior color options carbonized gray metallic and vapor blue metallic.
Battery Configuration
The 2023 Mustang is available with either a standard range 70 kWh battery or an extended range 910 kWh pack. These feed an electric motor mounted on the rear or both axles.
That ladder combination creates all-wheel drive, and on the Sporty and GT Performance models, the motors combine to make 480 pound-feet of torque.
Ford claims this will send the Maki GT performance from zero to six 0 mph in just three 5 seconds. Less powerful models have 266 to 346 pound-feet of torque.
The Maki rides on wheels that range in size from 18 to 20 inches, and adaptive dampers for adjustable ride firmness.
Mustang Machi has a range between 224 and 312 miles, depending on the battery and electric motors. Every model also has fast charging capabilities that come with a mobile charging device that can add up to 30 miles of range per night with a 120 volts outlet and up to 80% of battery life overnight with a 240 volts outlet.
A Ford charge station can be ordered online and installed by certified electricians with the ability to replenish 32 and recharge the battery overnight.
Interier design
The next-generation infotainment system uses machine learning and a fully customized user experience.
The Mustang Machi runs the software through a vertically mounted 15 five-inch touchscreen that allows for easy access to the system's array of apps and features.
A benefit of the system is that Ford will roll out their updates over time, constantly improving the system and adding new content.
Top features include Apple CarPlay, Android Auto, a mobile WiFi hotspot, and a Bangaluffsen audio system.
Price Range
The entry-level Mach-E elect has a 46 $895 starting price. The Maqui Premium is the only trim to offer both battery pack sizes. The standard range model is priced at 54 $975. 
The extended-range model costs 63 $575. Ford offers the Mustang Mach-E California Route One trim exclusively with the extended range battery and allwheel drive 312 miles. 
Range prices start at $63,575. The Maqui GT is priced at 69 $895, and for an extra $6,000, the Performance Edition package.