Toyota launch New Crown Sedan 2023
Toyota launch New Crown Sedan 2023
Music the Toyota Crown has been a staple of Japanese automobile culture since its debut in 1955, and the front engine rear wheel drive layout of the longrunning, big luxury saloon series has won the hearts of many.
However, the car is about to be changed and modified very drastically. Since its unveiling, the new 2023 Toyota Crown has been met with universal acclaim.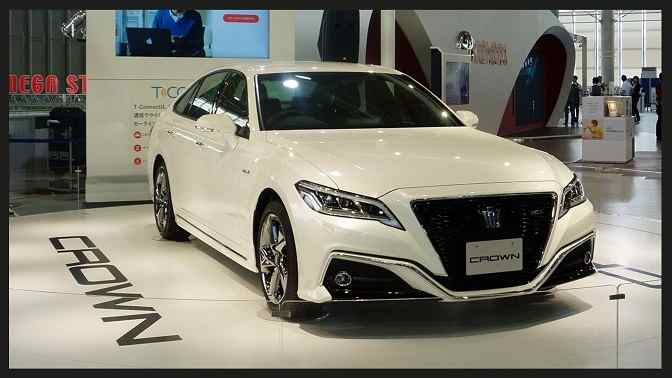 The next-generation Toyota Avalon is a hybrid between a sedan and an SUV with a touch of a coupe. In addition, it's still a sedan in basic form, but it sits higher to the ground and has a coupe-like roof line.
The Crown nameplate will not be limited to just one body type. Instead, Toyota presented the Crown in four distinct configurations. And in this article, we're going to talk about the all-new 2023 Toyota Crown and get into more detail about its specifications.
let's begin. A Toyota Crown hasn't been sold in America for a long time, and now it's back and better than ever, with brand-new specs and appearance.
Despite being the new Avalon successor, this is not a conventional four-door car. It's common knowledge that sedans are declining in the US auto market now, profit margins are higher, and demand is rising, both of which contributed to this trend toward SUVs.
In addition, sedans are becoming obsolete, and automakers like Ford and Chevrolet have begun to phase them out.
Introduction
Even within Toyota, a wide selection of crossovers and SUVs are available. However, the company has clarified that it intends to continue producing sedans.
Nevertheless, engineers knew that any revised version of the Crown sedan would need to provide something fresh to the market. Moreover, the 2023 Crown was created as an alternative to the rapidly expanding crossover market.
The 2023 Crown is a hybrid vehicle functioning as both a car and an SUV, and it is widely assumed that Toyota wants to attract customers who aren't interested in buying full-size sedans.
The Crown combines a high seating position with a three-box design, and this segment was formerly occupied by cars like the Subaru, Legacy, and Volvo S 60 Cross County, which increased sales last year.
Features
There were rumors of a plugin hybrid model and an electric vehicle type. Additionally, the 2023 Crown will be available with two different conventional hybrid engines.
The base configuration features a common watt paired with a two five-liter four-cylinder engine. In addition to its three electric motors and CVT, it also includes a continuously variable gearbox.
Platinum models will also have a hybrid max powertrain and a unique turbocharged two four-liter four-cylinder engine.
A 340 HP electric motor mounted on the vehicle's rear axle is also in the works.
The ground stands out from the crowd thanks to its unusual body form. However, the plush interior design and high-end amenities add to the vehicle's allure.
In addition, Toyota provides a wealth of standard driver-aid and infotainment features in all Crown models. As a result, the 2018 Crown looks like a fastback sedan on the rise.
It has a roofline that mimics the original Venza's, an elevated wagon appearance, and four inches taller seats than those in a Camry.
So what can we expect In 2023?
The Toyota Crown will not be joining the roster of vehicles sold in the United States as a new model, and at the earliest, we anticipate the Crown to go on sale by the end of the year or early 2023.
So which option should you choose?
Toyota has been silent on the forthcoming Crown SUV, including its price and available options.
However, we do know that there will be three distinct versions available.
The luxurious experience it offers will be superior to the brand's existing four-door vehicles. The Platinum Level's unique high-powered hybrid Max powertrain is the most exciting choice.
let's talk about its transmission and performance. All ground models include a hybrid drive train.
However, only the Platinum trim Level receives Toyota's latest hybrid max system. It will include a turbocharged two-four-liter inline-four engine and an electric motor mounted on the back axle for 340 HP.
In addition, a two five-liter four-cylinder engine and three electric motors provide 236 HP for the XLE and Limited trims.
Specifications
The XLE and Limited Trims also have a CVT, an automatic gearbox that constantly adjusts its gear ratios to suit the driving conditions.
Although a six-speed automatic is only available on the Platinum model, all-wheel drive is standard on all other trim levels.
Toyota claims that they tweak the suspension for a comfortable ride. Adaptive dampers are also standard on the Platinum Trim, but we still won't hold our breath for the Crown in the corners. Unfortunately, the vehicle's EPA has not yet been tapped.
However, Toyota predicts the Crown standard hybrid engine would achieve up to 38 miles per gallon.
On the other hand, the Platinum variant also has a more potent hybrid Max powertrain, which is said to be capable of roughly 28 MPG.
What about the interior?
The cabin of the Crown appears to be of a high-quality standard. In addition, buyers who trade in their Avalon sedans for a limited or Platinum trim level will be treated to a significant improvement.
The standard sedan seating position is elevated to a level more typical of a small SUV.
As a result, the Crown would stand out as a compelling option compared to full-size sedans that stick to the tried and true norm.
A heated steering wheel, heated front seats, automatic temperature control, and ambient inside lighting are standard on all trim levels.
However, the Limited Platinum models have a panoramic sunroof leather interior and ventilated front seats.
In addition, every model features a twelve-three-inch touchscreen for information and entertainment. It also uses the newest version of Toyota's user interface software.
The infotainment system supports wireless pairing with a user's smartphone and includes both Apple CarPlay and Android Auto.
In front of the driver is a secondary twelve-three-inch screen with digital gauges. The Crown also has convenient extras like a wireless phone, charging pad, WiFi, and USBC ports.
The standard XLE trim has a six-speaker stereo, but the limited edition Platinum versions include an eleven-speaker JBL sound.
Aside from this, we all know that car safety and driver-aid systems are their most vital components.
The Crown is also no different from the other Toyotas because it has many driver-aid functions as standard equipment.
Features such as automatic emergency braking and adaptive cruise control are included in all versions. And there are additional features such as automatic high-beam headlights and lane-keeping assist.
The new 2023 Crown includes crucial safety technologies, including automatic emergency braking with pedestrian recognition as standard equipment.
Lane departure warning with lane keeping assist, and adaptive cruise control with lane centering are also standard features.
Price
Now, let's talk about the price. Toyota has not yet announced pricing details for the 2023 Crown sedan.
However, the basic XLE trim of the Crown is expected to start around $41,000. The Limited model is expected to start at $45,000, while the higher-end Platinum model would cost $49,000.
Many vehicles compete with this new one. There's a blank area where the Crown should go.
There's no mistaking it for a sedan in the style of the Toyota Avalon sold in North America, nor is it as high riding as a BMW X six.
Conclusion
The Ford Mondeo and the Sichuan S Five X are two similarly styled but more dramatic competitors.
These, however, are unavailable in the North American market. The Ford Mustang Mac E comes close, but it's only available as an electric vehicle.
Customers who may normally be on defense between big sedans like the Neise and Max, and midsize SUVs like the Chevrolet Blazer, were who we aim to sell to, at least until another competing brand emerges to directly challenge it.
In other words, the company is retiring one high-end full-size vehicle before releasing another. Every set of two hybrid drive trains is affected by this crossover.
So are you excited about the Crown's relief in just a few days? Let me know in the comments section below. And that's it for this article.