7 Reasons why we should wait for the 2024 Toyota RAV4
7 Reasons why we should wait for the 2024 Toyota RAV4
With practicality and affordability, the 2024 Toyota RAV4 represents one of the best compact SUVs money can buy, and rightfully impressive set of features, a safety record to match, and reliability only.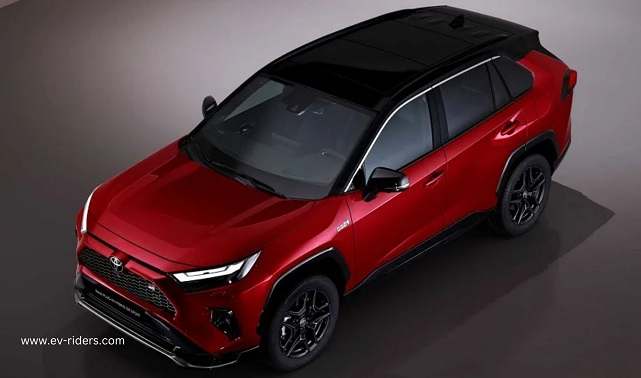 Toyota can offer no wonder the compact is the best seller in its class, but what if we told you things are going to get even better after five model years without significant changes, the upcoming model is likely to be carried over one last time before being redesigned later in 2024.
We will give 7 reasons why you should wait for the 2024 Toyota RAV4.
A word of advice before we begin Toyota has allowed its bread and butter model to remain mostly unchanged for longer than expected few minor improvements here and there did help to modernize the combat and rotate its Edge over the competition.
The RAV4s appealed to Common Sense and were hard to pass up as it is a slight slip-up in sales, and competitors that have largely modernized their offerings don't allow too much room for negligence, the fully revamped version of the RAV4 is coming.
And we can't wait to see everything Toyota has prepared, and the only question is when we believe it'll be later in 2024 as the model year 2025, but we wouldn't be too surprised if it happened sooner.
Reason-1
New design
Inside and out, regardless of the time frame for the next-gen models or rivals, one thing is certain it will feature an entirely new design language to bring it in line with the rest of the Toyota lineup.
Toyota has started redesigning the remainder of its lineup recently, with two prominent looks being prevalent, one in more compact models such as the Prius bz4x and one Crown dubbed.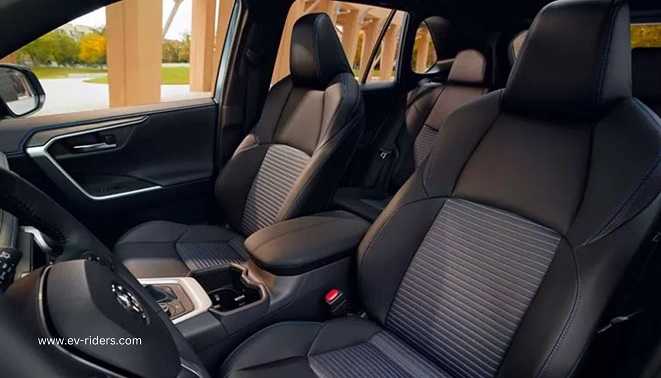 The hammerhead and enlarger models, such as the Tundra Sequoia and Land Cruiser being with a higher stance than receiving the new Hammerhead treatment.
We expect the next-gen 2024 Toyota RAV4 to take the latter approach, that being said expect the redesigned RAV4 to boast some more dominating presence thanks to a much larger open-style Grille that's transformed the aforementioned full-size trucks and SUVs into much more illustrious prospects given.
How the 2024 Toyota RAV4 is far from a full-size SUV
We wouldn't exclude some of the smaller lines of styling cues either, mainly the slim headlights in a more sloping Hood.
The 2024 Toyota RAV4 interior had some improvements recently as new models now feature a larger touchscreen display bundled with accompanying Toyota's new and more intuitive interface.
The entry-level models make do with an 8-inch touchscreen while more expensive RAV4s get 10.5-inch displays, we wouldn't exclude all new 14-inch touchscreen displays from larger models either.
Especially in more premium RAV4 models, in that case, their current 10.5-inch screens might become the new base equipment at the same time.
We did expect to see new 12.3-inch digital gauge displays moved down the trim hierarchy as its currently standard exclusively on the top limited models while being optional on The XLE premium and TRD off-road grades, Wireless Apple car play and Android auto are already standard, and there's no reason for that to change.
Although the current models could exhibit a premium feel in the upper echelons, the base models still lack most of that refinement, and the 2024 Toyota RAV4 should address that issue as well, offering more softer materials than its current counterparts and may be slightly richer feature list but not much else.
Reason-2
Impressive fuel economy
In its most basic form, the current RAV4 returns 27 miles per gallon in the city 35miles per gallon on the highway, or 30 miles to the gallon combined giving its owner some welcome benefit for choosing a somewhat under-equipped model depending on the chosen trim level and drivetrain configuration.
You could expect between 28 to 29 pounds per gallon combined across the remainder of the range, which isn't bad either.
However, the best that the 2024 Toyota RAV4 offer in terms of fuel efficiency comes from its Hybrid models rated at 40 miles per gallon combined.
They only fall behind the pair of Kia crossovers Nero and Sportage and are on par with a Honda CRV hybrid, the 2024 Toyota RAV4 Prime plug-in hybrids failed to match the impressive efficiency of the conventional Hybrid models but aside from returning up to 38 MPG.
They also provide up to 42 all-electric miles making them extremely attractive to daily commuters, there's probably not plenty of room for improvement with the upcoming onset of the new generation, but a bump of one or two points to the already impressive ratings shouldn't be excluded.
Toyota has traditionally found a way to do so, and we don't doubt they'll pull it off again.
Reason-3
2024 Toyota RAV4 Engine and powertrain
The current generation's 2.5-liter four-cylinder with 203 horsepower and 184 pound-feet of torque does a fine job of balancing between providing an adequate amount of acceleration and keeping fuel efficiency high.
We don't expect to see it gone anytime soon, the only thing we do expect is a slight increase in power for an even quicker response for reference.
The current models are more than capable of accelerating from 0 to 60 miles per hour in around 8 seconds, Toyota offers the gasoline engine in front or optional all-wheel drive form except for off-road-oriented trims where the latter is mandatory 8-speed automatic transmission ensures smooth shifting.
Although the engine can get noisy if pushed, accounting for almost 40 percent of overall RAV4 sales in the US.
The Hybrid models are arguably the way to go, and there is a reason for that besides the obvious fuel economy Improvement by pairing the same 2.5-liter four-cylinder under with a battery and dual electric motors.
The RAV4 hybrids get the power output of 219 ponies and standard all-wheel drive at an insignificantly higher price tag. They offer an even quicker response and can hit the 60 miles per hour mark in under 7.5 seconds.
The fastest Route 4 on offer is the one with a beefier battery and three permanent magnet synchronous Motors thanks to that setup, the 2024 Toyota RAV4 Prime plugins develop 302 horsepower of combined power output that Accelerate from a standstill to 60 miles per hour in around 5.5 seconds aside from being exclusively all-wheel drive models both hybrid variations are tied to CVT transmissions.
Read Also – Toyota Reveals 22k New Toyota Stout 2024- Full Specification and Features
Reason-4
A trim level
For everyone no shortage of trim levels between the conventional gasoline-powered hybrids and plug-in models.
The 2024 Toyota RAV4 offers something for every need and budget, including those who are looking for affordable practical fuel efficient, or even off-road-oriented experiences.
Across no fewer than 13 different trims level some tend too many to count here.
The Japanese currently offer everything from bear practicality to luxury, the 2024 Toyota RAV4 will probably cut that number as it's often the case with the onset of the new generation still given.
How Hybrid models are going nowhere and how Toyota is introducing the new off-roading specialist trims across the range, it wouldn't surprise us to see even more RAV4 grades in the future.
For now, even the base models offer plenty of standard convenience and safety gear, and XLE unlocks the optional moon roof and heated seats.
The XLE Premium models replace the base cloth upholstery with synthetic leather and add the automatic Climate Control Function at the top of the lineup.
The Limited trim provides the ultimate RAV4 experience thanks to standard heated and ventilated seats Auto dimming rear view mirror in practically every Advanced driver's Aid.
You think there's no reason to believe that the new generation will change the established pattern by much, but offering some previously optional features in lower grades is something we've seen ample times on such occasions.
Reason-5
Impressive safety records
The NHTSA has bestowed the 2024 Toyota RAV4 with its top 5-star rating and the Iihs has done similar giving the compact crossover its top safety pick award.
Of course, the all-new 2024 Toyota RAV4 might not receive the same Laurels but knowing the Japanese we wouldn't bet against it
Meanwhile, the family SUV doubles down on its impressive safety scores by offering a standard Suite of advanced driver's AIDS such as automatic high beam headlights, automated emergency braking with pedestrian detection, Lane departure warning with Lane keep assist, and adaptive cruise control blind-spot monitors with rear cross-traffic alerts aren't standard but can be ordered even with base Le models.
Reason-6
Ample Storage Space
With 37.6 cubic feet of cargo space in its trunk, the Toyota RAV4 boasts one of the most generous cargo holds in its class, it's only beaten by the Ford Bronco, Hyundai Tucson, Honda CRV, and Kia Sportage and by the slightest of margins fold the rear seats and you get 69.8 cubes of space which is more than adequate for even the most demanding cargo hauling.
Read Also- 2024 Toyota Tacoma TRD Pro Price, Specs, and Release Date
Reason-7
Affordable pricing
Starting from just north of $28000, the Toyota RAV4 represents one of the best value-for-money choices on the market, especially considering everything it offers.
Meanwhile, the least expensive hybrids cost some three thousand dollars more and represent a bargain value considering how they already include one thousand four hundred dollars worth of all-wheel drive upgrades that their conventional entry-level counterparts don't at the other end of the spectrum.
The Rav4 Limited and limited hybrid require around $36500 and $39500 respectively,
The next-gen 2024 Toyota RAV4 is to be pricier by some $2000 on average pushing the entry-level and range-topping prices close to or across the psychological thresholds of $39000 and $40000.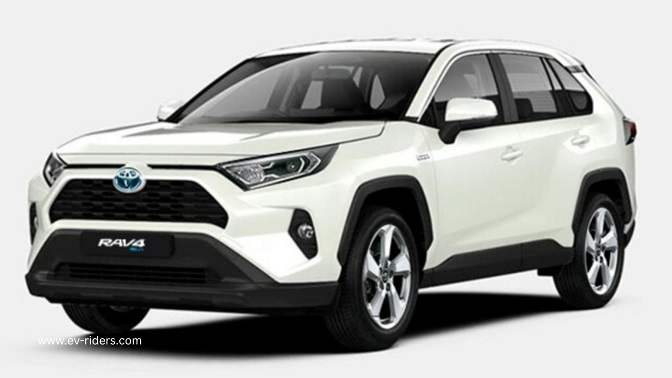 Regardless of choice, the Toyota RAV4 takes almost every box imaginable it's not a class leader in any of the categories, but it's near the top in all of them and has the highest perceived reliability score and resale value to the ultimate all-rounder the RAV4 is known to be.
Conclusion
You'll understand why it's the best-selling compact SUV in the US by a landslide with a few carefully inducted improvements.
Toyota should put the next-gen models in a position to retain the title of the best seller for years to come, a reason enough to wait for the 2024 Toyota RAV4.
what you think about new 2024 Toyota RAV4, and it's no longer a secret that Tesla is working on a new 2024 Toyota RAV4 giving it a new face. we can now see what to expect from the 2024 model.
If you've read until now thank you very much, please do consider bookmarking www.ev-riders.com for more articles about EVS and the latest car news.
Related Post