2025 Subaru Forester, Redesign, Price, and Release Date
2025 Subaru Forester, Redesign, Price, and Release Date
As one of the standout Vehicles Subaru has ever made, the Subaru Forester has always been one of the top choices for many drivers, frequently being praised for its extreme versatility and practicality.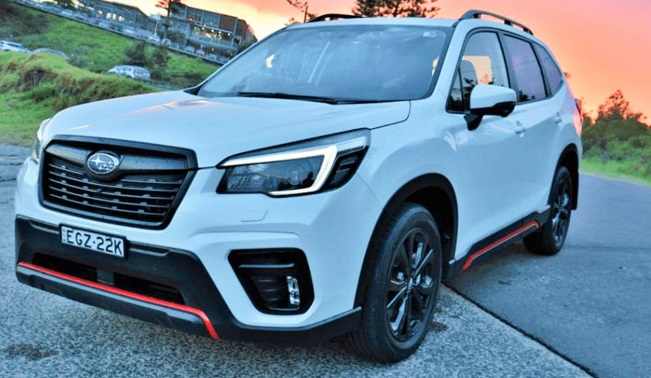 Are you a fan of rugged and stylish crossovers well, then you've probably heard of the Subaru Forester, but did you know that beloved crossover is about to get a major upgrade?
Japanese crossovers have been a hit since the 1990s, offering a perfect blend of car-like driving Dynamics, practicality, and reliability.
The Forester stood out with its low center of gravity thanks to its boxer engine which even allowed for some performance upgrades like the Forester STI.
However, as times have changed customers prioritize fuel efficiency, especially in the small crossover segment.
We will try to show you the new 2025 Subaru redesign, price, specs, and release date as it looks to beat your wildest dreams, so stay with this article.
2025 Subaru Forester Redesign
This new model is expected to come with a complete redesign featuring a unique exterior style, interior, infotainment, and safety features, but that's not all, there's more to discover about this game-changing SUV.
Subaru has been making significant changes to prepare for electrification, the automaker has publicly reorganized its corporate operations and set ambitious goals for the future, Subaru aims to have 40 percent of its Global sales come from electrified Vehicles by 2030.
They are building a new R&D Center and creating an engineering manufacturing division dedicated to EVS, and Now let's talk about the exciting possibilities for the 2025 Subaru Forester.
There are rumors that it could come with an EV powertrain and a hybrid model, this means that Subaru is taking a big step towards a more sustainable future.
The reception for Subaru's electrification plans seems optimistic, According to Automotive News, Subaru's corporate planning SVP Tomoaki Imori stated that the latest electrification plan will bring powerful hybrids and electric vehicles to the U.S. market by 2025.
Subaru is committed to offering a diverse range of electrified options for its customers, the hybrid version of the Forester is a collaboration with Toyota utilizing their hybrid technology, and this partnership could bring about significant progress in Subaru's hybrid efforts.
Additionally, the redesign of the Forester includes Advanced safety features as standard equipment such as forward Collision warning, automatic emergency braking, and adaptive cruise control.
2025 Subaru Forester Release Date
We have not complete information about the 2025 Subaru release date because the Subaru motor has not announced an official release date for the 2025 Subaru Forester, but according to media reports, The new Forester is expected to be released in the fall of 2024 with availability at potential dealers in 2025. For more updates, you can visit the Subaru official page.
2025 Subaru Forester Engine and Performance
The turbocharged engine on current models of full strength, which we get to see on foreign Foresters has been absent for US models for years.
The US model gets its power from a 2.5-liter platform, which is a pretty decent engine, and the 2.0-liter variant, which Powers the foreign models is a better option offering extra power and performance but all these could change for the 2025 Forester.
We could see the inclusion of a turbocharged engine that will allow Freer breath for the car and offer more speed on tracks and highways, plus this change could be better.
The fuel economy numbers of this upcoming compact SUV are also a bonus.
2025 Subaru Forester Hybrid Model Powertrain
According to the local Scoop website Spider-7, the upcoming 2025 Subaru Forester equipped with Toyota's hybrid technology.
The new model is expected to debut next year 2024, offering a combination of Subaru's reliability and ruggedness with Toyota's expertise in hybrid powertrains, but how will these two Brands come together?
While Subaru and Toyota may not have much in common when it comes to car manufacturing except for their collaboration on the BRZ 86 sports coupe
The hybrid integration seems promising, Subaru's permanent all-wheel drive and longitudinally mounted boxer engines meet Toyota's hybrid system resulting in an efficient and capable hybrid Forester.
The 2025 Forester is said to feature a four-cylinder boxer engine paired with Toyota's 118 horsepower motor and power sent to the symmetrical all-wheel drive system through an ECVT transmission.
Although the db20 engine itself isn't powerful with 143 Hp, the combined output is estimated to be around 190 horsepower, more importantly it will significantly improve the Forester's fuel economy pushing it closer to an impressive 40 MPG on the highway compared to the current 33 MPG.
We see Subaru is likely to embrace its rugged image, incorporating plenty of cladding into the design, but the hybrid badge will be prominently displayed, showcasing the Forester's commitment to fuel efficiency.
2025 Subaru Forester Interior
One key feature that tracks buyers to compact SUVs like the Forester is the interior, and purchasers seem to decide to purchase early after scrutiny of the amount of technology and features on offer.
In this case, the current model year Forester makes pretty decent grades with a perfectly functional cabin but with a slight drawback being that it lacks charm and changed for 2025.
The new Forester could offer a revamped interior setting, the car in perfect places for sale as Subaru looks to make the Forester a more modern vehicle as compared to the current model.
2025 Subaru Forester Features
Connected navigation
Infotainment touchscreen display
Wireless smartphone charging
Apple CarPlay and Android Auto capability
USB port
Google map
Mobile apps
Wi-Fi Hotspot
4G LTE data connection
Digital instrument
2025 Subaru Forester Exterior
Current exterior design offers on the Forester might not necessarily appeal to younger buyers, this is because the younger generation tends to prefer more stylish and aggressive cues than can be found on current Foresters, so it is anticipated that Suru can make a major overhaul for the 2025 model year.
We might witness the top exterior potential, which this vehicle has been hiding for years.
2025 Subaru Forester Colours
Autumn Green Metallic
Brilliant Bronze Metallic
Crimson Red Pearl
Crystal Black Silica
Sapphire Blue Pearl
Horizon Blue Pearl
Magnetite Gray Metallic
2025 Subaru Forester Drivetrain
The continuation of standard all-wheel drive, the addition of all-wheel drive on the Subaru Forester's lineup was probably one of the biggest updates Subaru ever brought to their cars and wisest.
However, the early days had two options to pick from off-road the Forester front-wheel drive and all-wheel drive.
The front-wheel-drive feature was useless as most buyers in the Forester engage in off-roading and frequent areas of rough terrain, and purchasers were more likely inclined to choose the all-wheel drive than the front-wheel drive option hailing its off-road capabilities.
The same is expected to come in the 2025 model year, but this time, we could see even better delivery on the car as it looks to boost its new powertrain, therefore, this combination could make this car work like the STI but in Forester's clothing.
2025 Subaru Forester Trims and Price
We do not have complete information about the Trims and price range, but we expect the 2025 Subaru Forester price is expected to be higher than the current model, which starts at $27620.
A total of 6 trims are available in the current model, so we also expect that the 2025 model have 6-trims also.
| Trims | Price Range |
| --- | --- |
| Base | $29000 |
| Premium | $31,000 |
| Sport | $34,000 |
| Limited | $36,000 |
| Wilderness | $37,000 |
| Touring | $39,000 |
Read Also– 2024 Ford F-150 Redesign, Price, specs and Release Date
Read Also– 2024 Tesla Model 3, Redesign, Price, and Release Date
Off-road variant
The Subaru Forester is a capable off-roader apart from its being a daily driver, which sets it in a class of SUVs where the top Runners are pretty much Highway Vehicles.
However, since there is high demand for an off-road-only variant just like the Forerunner, Subaru could bring a desert-focused model of the Forester thus promoting its multi-purpose ability, which could hike up the sales Expectations by a large margin making it ride in the same clouds as bigger level SUVs.
There is also the probability of using the vehicle for rescue service operations, which would change its Legacy by attaching the title of Legend to it.
2025 Subaru Forester Specs
| | |
| --- | --- |
| Brand | Subaru |
| Model year | 2025 |
| Body Type | Mid size SUV |
| Door | 4 – Door |
| Seating Capacity | 5 – passenger |
| Fuel Type | N/A |
| Engine Type | Hybrid, gasoline |
| Power | N/A |
| Torque | N/A |
| Transmission | N/A |
| Drivetrain | RWD/ AWD |
2025 Subaru Forester Abundance of new technology
The Subaru Forester has always held Pride in being an old classic SUV that focuses on getting things done and has worked just fine for it.
In previous years it attracted some buyers with admiration for ideal family-type Subaru SUVs.
However, the younger generation has always shunned this going for a techier vehicle with edge Designs, but what if Subaru could stop this by bringing newer Technologies to the Forester, This obviously would increase the sales of this car as it would appeal to younger buyers and make them purchase a Forester that is way cooler than its predecessors.
It has been running under power for years despite its being the best all-wheel drive off-roader in its class, This has earned it some extra sound while looking to get up to speed, and this has also contributed to its not making a notable dent in the sales pie chart and perhaps if it gets an increase in its primary numbers.
That could earn in a much sweeter spot in the auto market altogether Waiting for the 2025 Forester could be so much more worth it than you might have previously thought, but what if you aren't convinced and want to go for its predecessors?
2025 Subaru Forester Safety Features
Subaru's eyesight Suite of driver support systems, which includes adaptive cruise control Lane keep assist, and pre-collision braking is also likely to be included in the 2025 Forester.
Blind-spot monitoring
Lane departure warning
rear cross-traffic alert
automatic emergency braking
Subaru's eyesight Suite
adaptive cruise control
Lane keep assist
pre-collision braking
High-strength construction
Pedestrian detection
Adaptive headlights
Engine Check Warning
Tire pressure monitoring system
Electronic stability control
Anti-lock braking system
Conclusion
Keep an eye out for the official release date announcement and contact your local Subaru dealer to stay informed and be one of the first to own the exciting 2025 Subaru Forester.
This SUV raises the bar in its class with improved engine performance, advanced technology, and a host of safety features, the 2024 Forester is ready to tackle any Adventure you throw its way.
Is there anything we missed, let us know in the comments section below, and we hope you enjoyed this article, and to stay connected with us and not miss out on any of our latest car news, please consider Bookmarking www.ev-riders.com.
Related Post