8 reasons why we should wait for the 2024 Ford F-150
8 reasons why we should wait for the 2024 Ford F-150
For a long time, The Ford F-150 has been The Benchmark in the truck world, and this model still outsells anything.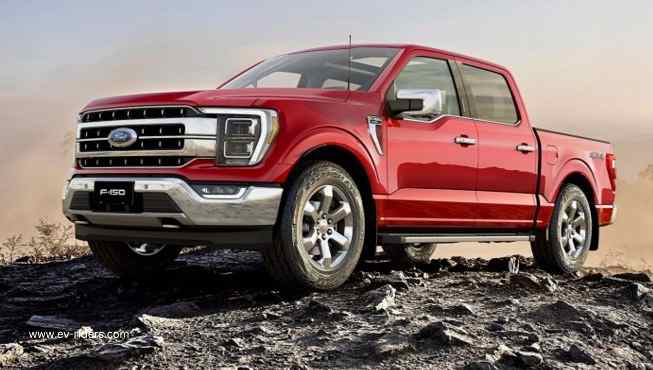 There are huge numbers, but the market is evolving rather quickly, and competitors like the Chevy Silverado and the Ram 1500 are bringing some big upgrades for 2024.
Ford knows that they're also working on their 2024 Ford F-150, which by many industry insiders is going to be a revolutionary truck, that's why we recommend waiting for the 2024 model year.
We cover the top 8 reasons why we should wait for the 2024 Ford F-150.
Reason-1
Diesel is making a comeback
The diesel 2024 Ford F-150 has been a talking point for a long time in the Ford Community Ford ditched the 3-liter V6 diesel engine in 2021, but reportedly this engine is making a comeback for 2024. 
That is the case because many Ford buyers want to have a diesel option, diesel engines have longevity and also excellent fuel economy compared to gas-powered engines, you can't expect the same lifespan from a gas-powered engine and a diesel engine, and the two engines are completely different philosophies.
The low-end torque diesel engines deliver much better even if the gas-powered engine is turbocharged.
So what Ford will try to do is to bring back
The 3-liter V6 power stroke engine in the lineup is an option for people who want a diesel and is already developed in production.
So this would not be a big problem for Ford by any means, this engine develops 250 horsepower and 4440 lb-ft of torque, which is plenty for a light-duty pickup truck like the 2024 Ford F-150.
Reason-2
2024 Ford F-150– New 5-liter engine
Another novelty for Ford to implement in the 2024 model year is a new special powertrain and the same powertrain in the all-new Ford Mustang Dark Horse.
We are talking about the all-new 5-liter Coyote engine, the engine is not the irregular 5-liter Coyote in the standard Mustang but a Completely different kind of Beast.
This new version of the 5-liter develops 500 horsepower and 418 lb-ft of torque, this engine will be more than enough for the people who want to experience that V8 Rumble in their F-150.
So how is this engine able to achieve this well?
That is possible because the all-new Dark Horse engine implements clever design ideas, and the core of the engine is the same 5-liter Coyote, but this engine includes unique upgrades.
There is a unique balance crankshaft with a forged distance that allows the engine to handle higher cylinder pressures, on top of the engine features high-performance camshafts, that allow it to rev to an incredible 7500 RPM for a V8 quite a lot, and this high RPM delivers sound note.
That'll make every car Enthusiast happy the engine, simply plays music still if we see this engine, there will be an active exhaust just in case you don't want to wake up your neighbors in the boarding, Another interesting thing to note is that this engine features a unique intake manifold with dual throttle body design that makes the throttle response even better and the experience this engine will deliver will be practically incredible.
But this engine is to come at a cost, it is placed somewhere below the F-150 Raptor in the lineup, but still, it'll be one of the most expensive offerings.
Number-3
2024 Ford F-150- Towing and payload performance 
The towing and payload performance of the F-150 for 2024 Ford F-150 is to be pretty much the same as in the previous model year with a bit of change.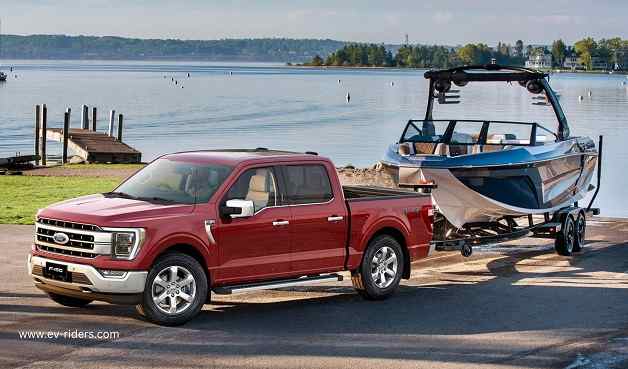 The minimum Towing performance that the model delivers is about 8200 pounds with a 3.3 liter V6 engine, while the maximum towing should be delivered by the 3.5 liter Ecoboost V6 engine, which is rated at 14000 pounds.
What is interesting for 2024 is that the F-150 power boost, which is the hybrid version will get a bigger towing capability than the standard non-hybrid engine.
All this will be possible with a mild hybrid setup that allows the powertrain to create 430 horsepower and 570 pound-feet of torque.
That will make the power boost able to tow up to 14500 pounds which will be the best in its class, and the maximum payload for this truck is to be 3500 pounds, which makes the 3.5 V6 power boost one of the best in its class.
Many owners describe this powertrain as noisy, but it is one of the most capable powertrains to light-duty pickup trucks.
Reason-4
2024 Ford F-150- New trim 
A completely new trim is also under the works, and if you're guessing that this is the Dark Horse then you are right, the Dark Horse trim will not only be for the Ford Mustang but for the F-150 as well.
We already mentioned that the Dark Horse will start to roll out in 2024 for the Mustang, this model will not be the only one that'll get this upgrade, offering something that a lot of old-school car lovers want.
These are the Striking looks and the big V8 power under the hood, this combo will probably make the F-150 Dark Horse one of the best-selling models out there, as we noted this model will get the beefy 5-liter naturally aspirated engine combined with the Tremec 6-speed manual transmission.
The F-150 Dark Horse will also feature a special suspension that'll make this truck fun to drive, and on top of the model will feature a lot of new exterior upgrades.
These upgrades will include unique color specific to this trim as well as a blacked-out front Grill and a blacked-out rear tailgate with a dark horse logo embossed, this new trim will come only with rear-wheel drive, which will make this truck very fun to drive.
But as we previously noted this will come at a hefty price tag, this model is expected to be placed slightly below.
The F-150 Raptor targets an audience that is not particularly interested in Baja racing but is more interested in big muscle.
Reason-5
Improvement in off-road performance
Some of the models like the Tremor will get even bigger upgrades to maximize off-road performance, many off-road enthusiasts want to get an off-roading truck on a budget, and Ford is looking for Solutions on how to solve this problem with these upgrades.
So for 2024, Ford has decided to add an optional coilover suspension to the Tremor in the same fashion that you have in the Raptor.
In addition to this, you'll have performance skid plates to protect the undercarriage normally, this suspension will not be something crazy like the one found in the Raptor but a good entry-level option for people who are on a tighter budget and still want to get an off-road machine.
The Tremor will also feature a few more driving modes and bigger wheels and tires that'll make the Tremor a proper off-roader. 
Read Also– GMC Syclone 2023 New Pickup truck specs and Price
Reason-6
Exterior upgrades
Some exterior upgrades will be introduced in 2024 Ford F-150. 
These upgrades will feature a new tail light design, optional 22-inch wheels, and a multi-functional tailgate, other exterior upgrades are introduced since this is already a new model, and we're still far behind the mid-cycle refresh.
Reason-7
2024 Ford F-150 Interior upgrades 
The interior is changed slightly, the interior of the F-150 is already good and honestly, we can say that it is one of the best in its class.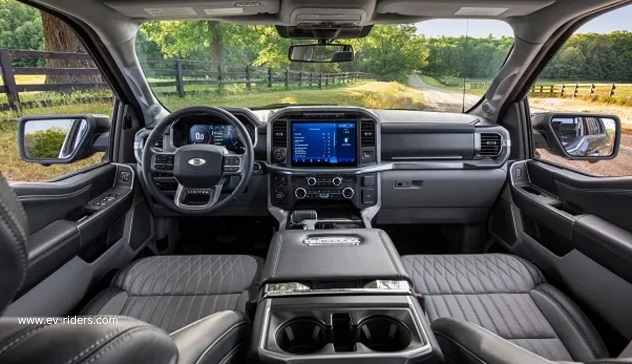 This new model features some upgrades, the biggest upgrade is the shift from a horizontal to a diagonal screen for the infotainment system and a big screen.
But there will be an introduction of a large diagonal screen for the center infotainment system like the one that is found in the all-new Ford Ranger and Mustang Mach e.
The screen will feature the same volume knob that looks nice it allows you to control the volume, which is a real gimmick that Ford introduced, and it's Unique to its lineup besides this.
There should be some improvements in refinements to the overall fit and finish that was present in the first model years of this new truck.
Reason- 8
2024 Ford F-150- Reduce complexity in a reduction in price 
The all-new 2024 Ford F-150 should also reduce complexity, it is widely reported that the 2024 model will have 2500 fewer Parts compared to the current 2023 version.
The reduction in parts to manufacture and engineer will also mean a reduction in the MSRP.
The prices drop substantially compared to the current XL model, which starts at $33695 for the most basic version.
The XLT starts at an astonishing $41800, many truck buyers are fed up with the situation, and its prices will come down for a couple of grand for the XLT model.
The official pricing will be released by Ford for the 2024 model year.
Overall the 2024 Ford F-150 with these price hikes in recent years is still one of the best-selling models, but we really don't know for how long, since customers are not pretty happy with the current situation. 
what you think about new 2024 Ford F-150, and it's no longer a secret that Tesla is working on a new 2024 Ford F-150 giving it a new face. we can now see what to expect from the 2024 model.
If you've read until now thank you very much, please do consider bookmarking www.ev-riders.com for more articles about EVS and the latest car news.
Related Post