Promising Future of electric vehicles
This agenda is being pursued under the Paris Agreement to reduce carbon emissions to limit global warming using electric vehicles. India is the fifth largest car market in the world and has the potential to become one of the top three countries soon with around 400 million customers in need of mobility solutions by 2030.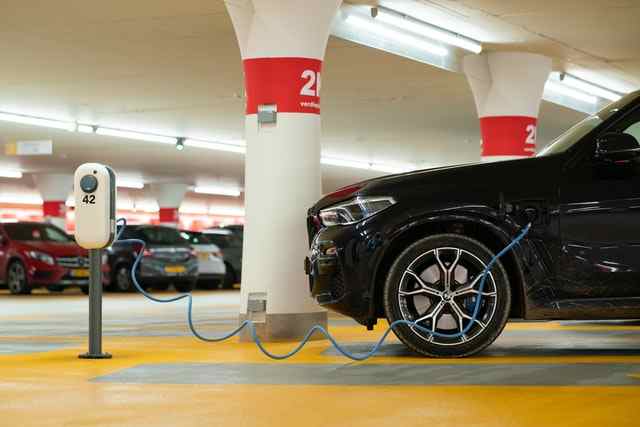 However, the targets set under the Paris Agreement, the increasing number of automobile customers should not increase the consumption of conventional fuels.
India needs a transport revolution to ensure a positive growth rate towards achieving Net Zero Emissions by the year 2070.
There is a need for a transport revolution in India, which will be better public with better 'walkability', better railways, and roads. Transportation will lead to better cars. Many of these 'better cars' are likely to be electric.
Recently, there has been a growing consensus among automotive professionals and people alike that the future of vehicles lies in going electric.
However, in this context, India still has a lot of work to do in battery manufacturing, setting up charging infrastructure, etc.
Origin and Growing Scope
This agenda is being pursued under the Paris Agreement to reduce carbon emissions to limit global warming using electric vehicles.
The global electric mobility revolution is currently defined in terms of the rapid development of electric vehicles (EVs).
Two out of every hundred cars currently on sale are electric, and in the year 2020, sales of electric vehicles reached 2.1 million.
The number of electric vehicles globally was 8 million in 2020, representing 1% of the global vehicle stock and 2.6% of global car sales.
The declining battery cost and increasing performance capacity are also driving the demand for electric vehicles globally.
Why electric vehicles are needed in India?
India needs a transport revolution.
Increasing the number of cars powered by expensive imported fuels and further cluttering up overcrowded cities already plagued by infrastructural bottlenecks and intense air pollution is not sustainable or practical.
The transition to electric mobility is the optimistic global strategy of the present era to make the transportation sector carbon-free.
India's support for electric vehicles
India is among the few countries that support the global 'EV30@30 campaign', which aims to reduce the share of electric vehicles in new vehicle sales to at least 30% by 2030.
India's advocacy of five elements (called 'Panchamrit') for climate change mitigation at COP26 held in Glasgow is a commitment in this direction.
Several commitments have been made by India at the Glasgow Summit, including meeting 50% of India's energy needs with renewable energy, reducing carbon emissions by 2030, and achieving 'net zero' targets by 2070.
The Government of India has taken several measures for the development, and promotion of the EV ecosystem in the country, such as:
Restructured FAME II (Faster Adoption and Manufacturing of Electric Vehicles) Scheme
Production-Linked Incentive- PLI Scheme for Advanced Chemistry Cell (ACC) to support supplier side
Recently, launched 'PLI Scheme' for manufacturers of electric vehicles.
Associated challenges
Battery Manufacturing: It is estimated that India's cumulative battery demand will be around 900-1100 GWh by the year 2020-30.
But the absence of a manufacturing base for batteries in India is a matter of concern, as one has to rely entirely on imports to meet the growing demand.
According to government data, India imported more than $1 billion worth of lithium-ion cells in 2021, while the penetration of electric vehicles and battery storage in the power sector is negligible.
Consumer issues: India had only 650 charging stations available in 2018, which is significantly less than its neighboring counterpart countries, which had over 5 million charging stations in operation.
The lack of charging stations makes it impractical for consumers to travel long distances.
Plus, it takes up to 12 hours to fully charge a vehicle at home using a personal light-duty slow charger.
Additionally, the cost of a basic electric car is much higher than the average cost of a conventional fuel-powered car.
Policy Challenges: EV production is a capital-intensive sector requiring a 'break even' situation and a long-term plan to achieve profits, while the uncertainty of government policies relating to EV production discourages investment in this industry.
Lack of technology and skilled labor: India is technologically backward in the production of electronics like batteries, semiconductors, controllers while this sector is the backbone of the EV industry.
The servicing cost of electric vehicles is high and requires skill. Because of this, there is a dearth of training courses for such skill development in India.
Non-availability of material for domestic production: Battery is the most required component of electric vehicles.
India is short of lithium and cobalt, that's essential for battery production.
Dependence on other countries for the import of lithium-ion batteries is an obstacle in becoming completely self-sufficient in the battery manufacturing sector.
Way ahead
Electric Vehicles as a Future Measure: EVs will contribute to improving the overall energy security situation, as the country imports more than 80% of its crude oil, which is valued at around $100 billion.
It is expected that the promotion of EVs will also play a significant role in terms of job creation in the local EVs manufacturing industry.
Additionally, electric vehicles through various grid support services will also be able to help strengthen the grid and accommodate high renewable energy penetration while maintaining safe and stable grid operations.
Battery Manufacturing and Storage Opportunities: Because of the Government initiatives to promote e-mobility and renewable energy (450 GW energy capacity target by 2030), battery storage with the latest technology disruptions has a huge potential in promoting sustainable development in the country.
With rising income levels, the demand for consumer electronics such as mobile phones, UPS, laptops, power banks is increasing rapidly, which requires Advanced Chemical Battery (ACC).
It makes advanced battery manufacturing one of the biggest economic opportunities of the 21st century.
EV Charging Infrastructure: EV charging infrastructure (which will draw energy from local electricity supply) can be installed in private residences, utility services like petrol and CNG pumps, and parking facilities at malls, railway stations, and bus depots.
The power ministry has set a target of setting up one charging station for every 3X3 grid and every 25 km on both sides of the highway.
The Ministry of Housing and Urban Affairs has ordered to set aside 20% of parking space for EV charging facilities in residential and commercial buildings under the Model Building By-Laws, 2016 (MBBL).
State governments are required to make amendments in their respective building bye-laws to make MBBL effective.
Increasing R&D in EVs: The Indian market needs incentives for indigenous technologies that will be both strategic and economic for India.
Since investment in local research and development is necessary to bring down prices, it would be prudent to take advantage of local universities and existing industrial centers.
The UK to India Such countries should work with and harmonize the development of electric vehicles.
From the information given to me in the article, you can guess what could be the future of the electric vehicle in India, if you liked this article, then you can give your opinion by commenting below.