Is the 2024 Kia EV9 the Best new midsize SUV to BUY?
Is the 2024 Kia EV9 the Best new midsize SUV to BUY?
At the New York Auto Show, we had to be at the Kia Booth because this vehicle right here is really groundbreaking this is it.
That is the first-ever all-new 2024 Kia Ev9, but before we get into this midsize three-row SUV that's fully electrified, let's talk about Kia they are going through their lineup like gangbusters doing major redesigns also coming out with new models.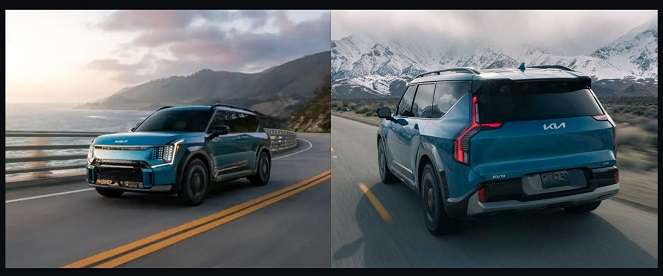 You would think they were done, after the Telluride, but this 2024 Kia EV9 is building upon that as their first-ever platform for Pure mid-sized three-row electrification. 
What's interesting
We brought you the concept of this vehicle from the Chicago Auto Show not too long ago, and it looks almost 100 identical, but what we want to find out is if you're looking for that exciting SUV that's really doing something different with tech technology style and design is the ev9 the best one to buy.
What's unique about the 2024 Kia EV9
Right off the bat like, the shape and the dimensions are actually a little bit longer than the Telluride but other than the width and the height are exactly the same now at the front of the business.
It's all about LED lighting, and what you're going to find is Led daytime running lamps to check out how they did the LED lighting on the interior of the headlight housing very unique, and this is another way like that car manufacturers when it comes to electric vehicles are going to separate themselves from the competition.
The front normally finds that tiger nose Grill, you look at a Stinger GT, you look at a Celtos, and find the tiger nose and Grill.
What you find on this 2024 Kia EV9 is the tiger face 
so you're getting that same overall Dimension setup to give it the design of a Kia even though there's no need to have a grill up front that's smart thinking working your way down, and you can have active shutters, and open and close on this lower portion.
We do have a liquid-cooled lithium-ion battery pack, and we like it's got this almost aluminum-style finish along the bottom and well over seven inches of ground clearance on this Ev9. and you would find an engine underneath the hood.
What do we have space for?
That's what this vehicle is all about maximizing the space you have your Kia badge looked good when they went to that redesign it almost feels like this is an EV-style badge that makes sense to me, and I think it makes sense to a lot of people.
Now, when it comes to the overall design of the front hood area love the way it comes up at that angle, and then you'll notice the body line actually forms the edge of the hood area.
Now as we come around the bend, you're looking at this one won two electric motors powering the front wheels powering the rear wheels and an interesting tires design.
We saw their concept, and this wheel looks very similar, it's a 20-inch wheel machined aluminum some satin black.
These Kumo tires give you greater range, and you're looking at 275 on the width 50 Series sidewall on this particular one.
This gloss black doesn't hold up very well, so let me know how you feel about that in the comment section on the lighting look at the way, it comes up and then flows nicely into that front fender as we come down the side.
You're going to get slim and trim LED lighting love the way its color matches with your 360-degree cameras, and then this is probably one of the smartest things that KIA does with a lot of their SUV trim only along the bottom if you put this top and bottom.
It would make it look too top heavy something simple just like that shows that attention to detail, the roof rails very close to the body door handles that flush when you're driving down the road, and on the bottom portion, the gloss black that rises with a little bit of that silver trim.
For the concept vehicle, they talked about roof rails that you could raise and lower, so let's say you don't have anything to haul, but you want to get a little bit better aerodynamic efficiency.
If that would have made it to production to have that be nice and flush now as we come towards the rear that nice large quarter window, that's another thing that is popular on the Telluride to be popular with this 2024 Kia EV9. 
How large the side glasses give open Airy experience walking towards the rear.
Exterior
The trim comes up nicely into the rear and then comes around back super clean nice long roof spoiler, and hid the wiper see, you got your Kia badge and that LED lighting, and you're not going to confuse this 2024 Kia EV9 with anything else on the road.
The bottom is just like a front, I like the way they did this ribbed design instead of just simple gloss black and a little bit of silver trim along the bottom.
Related Post
Inside technology
Let's get inside and see the technology of this Ev9, and the 2024 Kia EV9 is that you have a dual motor set up to 379 horsepower, and you could use that 800-volt fast charger with no official pricing yet.
But it's going to be very comparable to what the competition is doing and may even outdo them but let's see if the 2024 Kia EV9 is going to have the success that the Telluride has to the door panels love.
In the modern style, you have soft touch material if you notice up in the corner right by the window and where the door panel is.
It's like a light gloss gray finish with heated seats and ventilated seats, and we're using sustainable materials and recycled materials things to show the direction that you go with electrification even the lower speaker.
The grille cover is beautiful like a pair of earrings, and then you got a decent-sized door pocket and a bottle of Kombucha to wash it down.
The wood finishes the dash shape the way the AC vents are Blended in very nicely and very clean you're going to be greeted by this large screen size, it is on right now for you with this first look and two 12.3 inch screens.
Battery
The way you have physical controls for your AC and the volume down below look at USBA, and we got 12 volts nice that look at that opened up the door peekaboo ICU that's a 12 volt down below.
We have our Hill descent control, the camera control wireless charging, and you open this up, and you got plenty of room in here for your special things that you remember from a kid, and what are those your Hot Wheels, Hot Wheels we keep five of them in every car.
The wheel of the all-new 2024 Kia EV9 here we are business time on the lower portion, and you're going to a nice aluminum sill plate, it did a little bit more with some LED lighting and lots of room in the pedal box because of the flat floor with this being a Bev a battery electric vehicle we have our seat controls easy to get to all those special settings.
You got all thumb controls we got the paddles for regen braking, and then you're going to be greeted to that 12.3-inch screen which shows you because we're here at the auto show first look, but let's get into the middle row because there are some special things that KIA is bringing.
(2024 Kia EV9) Driving Features
Let's get to it all right guys mid-road time, and what's interesting is what Kia is doing is they've increased the ability to get more room, and what they've done is all the seats have at least for the front and the mid row relaxation seats so these will have Ottomans that reach out the driver's seat the passenger seat.
The mid-row seat has that capability, the backs of seats have a large pocket and put two California Kitchen pizzas back there with cup holders, and you have a nice little game table.
You have a game table where you could play, Maybe Battleship or something like the travel size, or you also have storage so all the travel games can stay in this area, and then really it closes that's smart engineering seats are comfy mid-row heated.
We have our security Shades here, and you got Captain chair armrests and that wonderful soft material all the way through, but why don't we go ahead to try to squeeze into the third row and see how much room there is in this Ev-9?
The third-row passenger Kia makes sure that you don't feel like a peasant, and we do have a solid glass roof with this sun shade that opens up that's a nice touch, and you got AC vents up in the ceiling plus look at the little area you have a place for some Skittles you have a cup holder and a USBC and that Meridian sound system that's going to come all the way.
The seats and the seat material are the same as the other two rows the one thing you don't get is the relaxation seats just because there's not enough room here, we guess what you could do is if you want to relax to do this.
Space
Now we're relaxing and chilling like a villain at the New York Auto Show and can't open up the hatch because it is electric assist, but what I can do is this watch this manual controls to put down the seat, and we have cargo space, and you can see with the third row down just how much room that we have now with all the rows down.
you'll have over 80 cubic feet of space in this vehicle all the plugs home power source the whole shebang is all located right here and we like the way you close that nice sliding lid for your home power source you put the seats down for the mid row
I can't wait to do the first drive, let's wrap it up from the Javits Center, and it's been one crazy time here at the Kia Booth an electrifying experience for everybody with excitement over the 2024 Kia EV9.
Let me know what you think about Kia found the right secret recipe to make EVs successful with this mid-sized three-row SUV let me know how you feel about that in the comment section and bookmark this website (ev-riders.com).
Related Post