Ceo Reveals 2024 Mitsubishi Triton as a ford maverick competitor
Ceo Reveals 2024 Mitsubishi Triton as a ford maverick competitor
The next generation of Mitsubishi's rugged 2024 Mitsubishi Triton L200 Triton is finally on its way after nearly a decade of reliable service, the fifth generation model is ready to pass the torch to a brand new thrillingly revamped 2024 model, and it's shaping up to be a real game changer in the world of compact pickups challenged.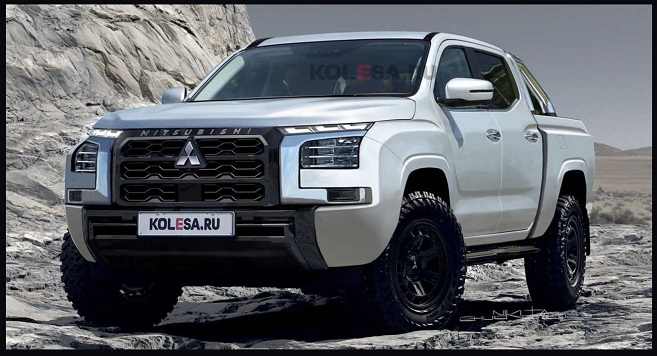 The Ford Maverick as the release of this new pickup approaches, a huge Buzz is already building but could this pickup challenge the Ford Maverick?
Join us as we take a look at the all-new 2024 Mitsubishi Triton.
2024 Mitsubishi Titon Overview
The 5th generation 2024 Mitsubishi Triton L200 also known as the Triton in some markets was first introduced in 2015 as a 2016 model-year pickup truck that underwent a significant redesign featuring a new exterior and interior design, as well as improvements in performance and fuel efficiency in terms of design the fifth generation L200 Triton, featured a more aggressive and muscular front grille along with new LED headlights and fog lamps the truck's body is also more aerodynamic contributing to its improved fuel efficiency inside the cabin.
It's completely redesigned over the years with improved materials and a more modern infotainment Center under the hood the 5th generation 2024 Mitsubishi Triton L200.
Engine and transmission
Triton has a 2.4-liter Mivec turbo diesel engine which delivers up to 181 horsepower and 430 NM of torque the engine is paired with either a six-speed manual or a 5-speed automatic transmission.
The truck also features Mitsubishi's super select four-wheel drive 2 system, which allows drivers to easily switch between different driving modes depending on the terrain in terms of safety.
Safety Features
The fifth generation L200 2024 Mitsubishi Triton featured several advanced safety features including an anti-lock braking system, electronic brake force distribution, traction control, and Hill start assist.
It also comes equipped with several airbags and a reinforced body structure for added protection in the event of a collision overall the fifth-generation Mitsubishi L200 Triton is a reliable and versatile pickup truck that is well suited for both work and play.
It'll replace with a brand new model, so what can we expect from this new Triton?
The new Triton was recently previewed at the 2023 Bangkok International Motor and labeled as a concept many believe, that it's a thinly covered prototype with all the production panels already in place, but that's not all that's got people talking about the Xrt concept features.
With a double cab body style snorkel and two spare tires in the bed, it's clear that this vehicle was designed with off-road enthusiasts in mind as evidenced by its rallier branding and media off-road rubber as seen in unofficial renderings.
Concept of 2024 Mitsubishi Triton
The 2024 Mitsubishi Triton concept boasts a bold and muscular appearance with a squared-off silhouette that exudes strength and power, and it seems that Mitsubishi has taken inspiration from the latest automotive design Trends as the split headlight design looks right at home on the front end of the camel wrap may be hiding the final details.
But the split headlights are visible and hint at the aggressive look, and the excitement doesn't stop there.
The Triton concept retains the off-road rubber from the Xrt concept, which means it's ready to tackle any terrain, and if that wasn't enough.
The Rally R branding 2 spare tires and snorkeling add to the rugged appeal of this impressive pickup truck reports also suggest that it will feature a heavily updated ladder frame chassis.
With the revamped chassis shared with the Nissan Navara midsize truck, it's clear that Mitsubishi is upping the ante with this new Triton, and the truck is to turn heads on the road and off it.
The revamped chassis will likely bring some exciting changes to the Triton including a slightly longer wheelbase and a huge bed.
That will provide more space for cargo passengers and off-road equipment making the Triton the perfect choice for adventurers who want to explore rugged terrain without compromising comfort or convenience.
About power and performance
The Next Generation 2024 Mitsubishi Triton is set to feature a Next Generation diesel engine that promises to deliver impressive performance and efficiency. 
The Triton will also likely feature some form of electrification such as a plug-in hybrid Powertrain, that will help the Triton meet increasingly strict emissions regulations while also providing drivers with the power and performance.
They crave according to Mitsubishi executive officer Takashi Shirakawa an all-electric Triton pickup is also in development, and could be part of this new generation of pickups later in the decade.
The company is currently weighing the benefits of different powertrain options like hybrid plug-in hybrid and pure electric and is comparing them in prototypes.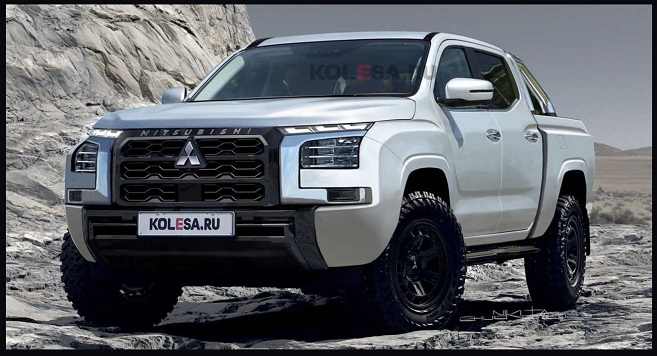 Technical specifications
The compact pickup Market is hotter than ever, and Mitsubishi is surely feeling the heat as it looks to compete with the likes of the Ford Maverick.
While the technical specifications of the Triton remain a mystery, one thing is clear it must at least match, if not exceed the performance of its Rivals.
Ford Maverick Vs Mitsubishi Triton
Ford Maverick
If it wants to stay relevant, the Ford Maverick, for example, boasts a 2.5-liter four-cylinder engine assisted by an electric motor that delivers a combined 191HP while this setup only comes with front-wheel drive, and a continuously variable automatic transmission a non-hybrid Powertrain also available this option swaps in a spunky 250 horsepower turbocharged 2.0-liter four-cylinder engine and 8-speed automatic transmission with all-wheel drive as an optional add-on and with the ability to go from 0 to 60 miles per hour in just 5.9 seconds.
The Maverick is certainly no slouch and is also good for Towing and Hauling, and the base hybrid powertrain this truck can handle up to 1500 pounds of payload and Tow up to two thousand pounds.
The Mavericks operational towing package paired with the turbocharged four-cylinder engine can also pull an impressive four thousand pounds, so if Mitsubishi wants to compete in the compact pickup Market.
It will have to bring its game and deliver a truck that can hold its own against these numbers also it's not just about raw power and capabilities.
2024 Mitsubishi Triton
The Triton will also need to offer a well-rounded package that appeals to Modern drivers now this features advanced Safety Systems, smart technology, and a comfortable and functional interior.
If Mitsubishi can deliver all of these elements in a sleek and stylish package, it could have a real Contender on its hands in the compact pickup Market.
Now How likely is it to come to the U.S. right now, it's hard to say well the company had a manufacturing plant in Illinois in the 1980s.
It would be a costly process to establish a new one in the present day, however with the trend of foreign automakers producing vehicles in the U.S. and more breaking ground to expand their manufacturing presence.
It could be a wise move for Mitsubishi's long-term strategy to build a plant in the U.S would not only help establish the brand's comeback but also potentially make its pricing more competitive across multiple models and with the popularity of mid-sized trucks in the U.S the 2024 Mitsubishi Triton could be the perfect next big step for Mitsubishi to make a splash in the American Market.
It's an exciting possibility and one that could greatly benefit both the brand and consumers alike what we do know for sure is that Mitsubishi plans to put its next L200 2024 Mitsubishi Triton to the test in the grueling Asia cross-country rally in 2023 with a prototype vehicle.
The production-ready model is set to hit the market in Thailand during the Financial Year 2023.
It will eventually make its way to other regions including Oceana and ASEAN Mitsubishi's roadmap also reveals a future electric pickup truck slated to arrive on the scene after 2025 but before 2028.
It's an exciting time for the automaker as they gear up to take on the competition with their new offerings, it's unclear what the new Triton will cost, but it's safe to say that it will have to be competitive to compete in the crowded midsize pickup truck Market to stay in the game Mitsubishi should aim to keep the starting price below 30000 as that's where many of its competitors are clustered of course.
That's easier said than done as adding new technology and features can quickly drive up the cost, only time will tell what the final price tag will be, but we'll be eagerly awaiting to find out what you think about this upcoming SUV, let us know down in the comments section.
Related Post