Why 2023 Byd Dolphin electric car can be successful in the Ev market
Why 2023 Byd Dolphin electric car can be successful in the Ev market
Additionally, Chinese manufacturers are actively targeting the small market. Another challenger for the VW ID.3 is now on the scene in the form of the Byd Dolphin electric car. Information, data, and images come first.
Launch of the Byd Dolphin electric car in October 2023
Initially only available with a 60 kWh battery
Range up to 427 kilometers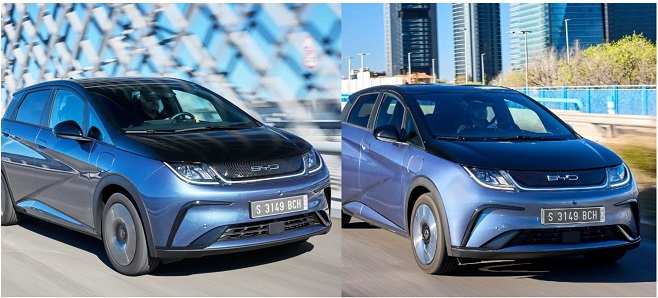 The German market's selection of electric vehicles will grow once again starting in October thanks to BYD, a Chinese automaker. After the models Han, Tang, Atto 3, and Seal, the little electric model known as Dolphin makes an appearance.
What the automobile has in common with a dolphin is unclear, though. It is neither the size of a dolphin nor does it resemble one. Because the BYD Dolphin is at least 4.29 meters long, while a fully developed marine mammal is little more than 2.50 meters.
Byd Dolphin electric car 2023- Features, exterior, interior
Byd Dolphin electric car Features
The Byd Dolphin electric car is distinguished by competing with other American and European cars with a straightforward and cost-effective proposition, high-quality materials, and a design tailored to the Old Continent market.  
Other cars in its class, such as the Volkswagen ID, are included among the compacts that aim to compete with the BYD Atto 3. 3, the MG4, the Cupra Born, the Renault Mégane E-Tech Electric, and the Citroen C4.
Byd Dolphin electric car– Exterior Design
The Byd Dolphin electric car shares a platform with the BYD Atto 3, so we find a compact of 4.29 meters in length, 1.77 in width, and 1.57 meters in height, which gives it precisely that tall vehicle appearance and that endows it already in the interior with good habitability. 
This exterior image is not too far from what we can find in other models from Asian manufacturers that have been created specifically for the European market, including the Hyundai IONIQ 5, a vehicle that is reminiscent of it thanks to that diagonal fold that is seen on the sides.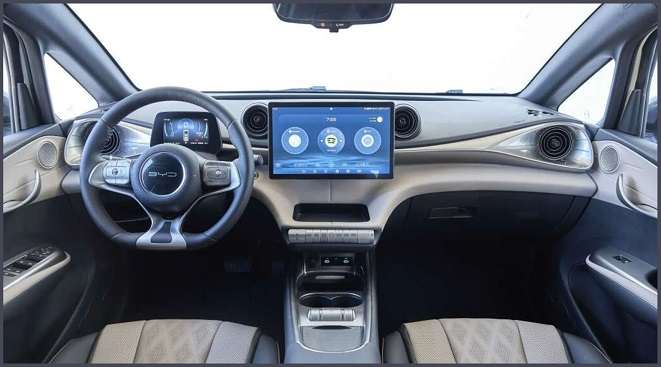 The considerably more rounded body profile, which may be more like that of the ID.3 than the IONIQ 5, in this instance, based on what BYD has dubbed the design language, helps it retain its unique personality, nevertheless. Because of its curvature, the Dolphin is suggestive of a sea creature, which is precisely why the maker called it "Ocean Aesthetics" and gave it the name Dolphin.
That faired grill and the handles flush with the outside door panels nicely compliment details like the light clusters with that simple design that give it a modern touch, as well as the possibility to buy it with a two-tone bodywork.
BYD Dolphin Interior Design
The BYD Dolphin's interior lacks both extreme extravagance and stridency. The 12.3-inch horizontal screen, which is the main draw, is situated in the center of the dashboard and is surrounded by physical buttons that make it easy to interact with the available systems.
They opted for a traditional design, with two large screens that give the impression of being in a technological environment. Another screen is used behind the wheel to display all of the data from the digital instruments.
Large cabin with seating for five people comfortably and a strong suite of electronic tools, including automated emergency braking, collision warning, lane keeping assistance, a 360-degree camera, and blind spot identification.
Regarding the trunk, it has a 345-liter capacity and can increase to 1,310 liters when the seats in the third row are folded down, which puts it in line with its key competitors.
Ev-car with 204 hp
A 150 kW/204 hp electric motor on the front axle powers the five-door vehicle. There is a 290 Newton-meter torque. With a peak speed of 160 km/h, BYD's new Byd Dolphin electric car from China can accelerate from 0 to 100 km/h in under 7.0 seconds.
On a brief test drive, the chassis and suspension impressed me. With four driving modes (Sport, Normal, Economy, and Snow), it is possible to customize the vehicle for various traffic conditions and driving preferences.
Battery and Technical highlight
The BYD Dolphin's battery ought to be the technological high point. BYD no longer produces any cars or trucks using internal combustion engines.
The Dolphin receives the identical 'blade battery' that was put in the Seal in theory. A blade battery has a lot of energy packed into a compact area. The lithium iron phosphate (LFP) chemical is thought to be exceedingly strong, lasting, and it is devoid of cobalt and nickel.
The WLTP range of the 60 kWh battery is 427 km. According to BYD, the electric drive train should permit an 89 percent system efficiency.
A heat pump is installed on the dolphin as standard. In the winter, a "direct" cooling and heating system can boost thermal efficiency by up to 15%. As much as feasible, the driving train, passenger compartment, and batteries are employed to generate heat.
The vehicle's efficiency is demonstrated by the official range specification, at least when the weather is favorable. With a maximum charging capacity of 88 kW on the DC column, the Dolphin is only somewhat appropriate for long-distance trips because the charging process takes longer. For instance, a similar MG4 charges at least 135 kW.
Three-phase AC charging is possible with the Dolphin's 11 kW. In the end, it comes down to how the charging curve appears, or more specifically, how high the charging power stays at the CCS connection over time. ADAC testing will demonstrate that soon.
If required, the small electric vehicle may also provide power to extraneous appliances (such as an electric grill or a refrigerator) (V2L).
BYD Dolphin- Specifications
| | |
| --- | --- |
| Technical data | BYD Dolphin Electric Car |
| Engine type | Electric |
| Maximum power in kW | 150 Kw |
| Maximum power in HP | 204 |
| Torque | 290Nm |
| Drive type | Front wheel |
| Acceleration 0-100km/h | 0,7 s |
| Top speed | 160 km/h |
| Range WLTP (electric) | 427 km |
| CO2 value combined (WLTP) | 0 g/km |
| Battery capacity (gross) in kWh | 60,0 |
| Charging power (kW) | DC: 88.0 |
| Trunk volume normal | 345 l |
| Roof-high trunk volume with the rear bench seat folded down | 1,310L |
| Curb weight (EU) | n.b. |
| payload | n.b. |
| Trailer load unbraked | n.b. |
| Trailer load braked 12% | n.b. |
| warranty (vehicle) | 4 years or 120,000 km |
| length x WIDTH X HEIGHT | 4,290mm x 1,770mm x 1,570mm |
| Basic price | $33,063 and $41,879 |
Byd Dolphin electric car– engine range and performance
While the majority of the BYD Dolphin's competitors choose an all-wheel drive drivetrain, the Chinese vehicle emphasizes simplicity and, like the Citroen C4, is only offered with front-wheel drive.
With a 60 kWh lithium-fluorophosphate battery dubbed Blade, which it also shares with the BYD Atto 3, it has 204 CV (150 kW) of power and 290 Nm of maximum torque. This battery has a range of 427 km based on the WLTP cycle.
Performance
BYD affirms that it has a peak speed of 160 km/h and can accelerate from 0 to 100 km/h in seven seconds in terms of performance. It is not a sporting marvel, but it aims to do the tasks for which is designed with a practical and cost-effective profile.
It also features technology, such as a mode selector that enables modifying the parameters. the choice between Sport, Normal, Eco, and Snow.
Space and service
In the compact class, the Byd Dolphin electric car provides space, which is standard. This results in a trunk that has grown from 345 to 1310 liters in size and has five seats. The most important information is displayed on a smaller color display that the driver is looking at. In the middle of the cockpit is a large touchscreen that can be moved vertically or horizontally.
Unfortunately, cheap hard plastic is found intermittently throughout the cockpit. Vegetarian "leather" is used for the seats and completely integrated headrests. The interior of the Dolphin contains about 20 shelves, two of which have compartments for smartphones and one of which is equipped with an inductive charging feature.
Equipment and prices
There will be four trim levels for the BYD Dolphin. Lane departure warning, rear collision, cross-traffic alert, and a large panoramic glass sunroof are all included as standard equipment. Adaptive cruise control, a 360-degree parking camera, intelligent traffic sign recognition, and high-beam assistance are all available upon request.
Advance sales start in summer. The prices should be between $33,063 and $41,879.
The initial price is dependent on a later-released model with a lower 44 kWh battery.
What do you think about this issue let us know in the comments section if you've read until now, so please consider bookmarking "ev-riders.com" about EVS Tesla Ford and the latest car news like "Toyota build a car and truck strategy".
Related Post