10 New Electric Cars Coming To Roads In USA 2023
10 New Electric Cars Coming To Roads In USA 2023
There is so much to be excited about when it comes to electric cars. The future of modern transportation and that's why we're going to take a look at the top ten new electric cars that hits the road in 2023.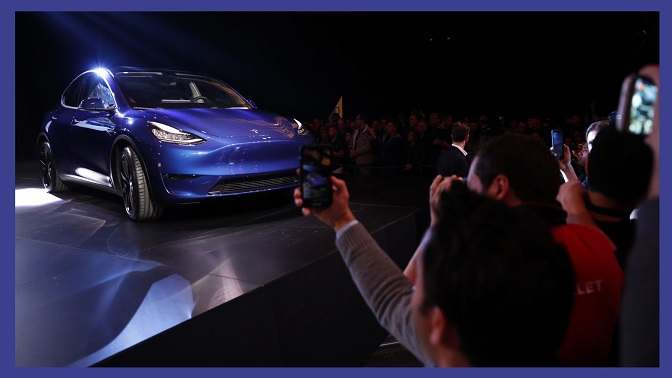 1- Audi A six
Each run Audi first unveiled the concept of this car in 2021. One of the first things that will catch your eye is the sick design of the car.
The detailing is quite intricate and shows how much Audi has invested in creating futuristic designs.
Aside from the designs will be able to travel long distances around 435 miles. With only ten minutes of charging time, the electric car can go a distance of 186 miles.
The Audi A six Etron runs on a 100 kWh battery and supports fast charging of 270 kW.
This electric car is powerful as it packs more than 400 HP alongside 590 LB ft of torque with a pair of motors on both of its axles.
The price of this car is expected to be 55000$.
2-MercedesBenz EQG Class
Fans of the Mercedes G Wagon series will not have a problem transitioning to this. This electric car is not too different from the Gwagon, but this one has 22-inch alloy wheels and doesn't have a tire at the back.
One peculiar feature that is prominent all around the car is the Led light surrounding the car. The Mercedes Benz EQG Class has four motors, a modified rear axle, and a two-speed gearbox.
That means the electric car is just as good on the road as it is offroading. Although not too much is known about the price, speculation suggests that you will need more than $100,000 to get this car.
3- Ford Explorer EV
ford has come out to say that in 2023, most of the cars lined up for that year will be electric vehicles.
This new Ford Explorer will have a gasoline turbo-four engine and in other cases will have a 30-liter V six which will be accompanied by 365.
The question on everyone's lips is when will this car be released?
While reports say it will be in the first half of next year. But this date could be pushed since Ford is looking to release the F 150 lining truck and Mustang Machi crossover, which are both scheduled to come before the Ford Explorer.
4- Cadillac Celeste
That will be great news for Cadillac lovers, but the truth is told, the car company has been swarmed by its competition in recent years.
However, in 2023 it's expected to make a huge burst into the electric car scene with the all-wheel drive sedan.
The Cadillac Cylistic is expected to have a 400 miles range and fanciful interior decorations.
One notable thing that Cadillac lovers will find interesting is the fact that the interior materials are handmade.
The interiors are extremely delicate, and their car will have a 33-inch display.
Although the date for the arrival is not yet known, many people are pointing toward late 2023.
5-Jeep Wrangler EV Magneto
car lovers would have heard about this beast of a machine. Some will call it the master of the offroad.
This strong car is durable and known to manufacture some of the fiercest cars, and now transcending into electric vehicles.
The Magneto 20 is an upgrade from the first one and is said to have more than 600. Its goal is to push the Tesla Model S plaid sedan to the wire.
This full electric Jeep has now been upgraded from what was revealed last year. The Magneto 20 will have seven four x four battery-powered concepts.
Another exciting feature is that the Magneto 20 will go from zero to 60 within 2 seconds and have 850-pound feet of torque.
The Magneto 20 will also have six-gear transmissions, which is different from most electric cars with just six gears.
Jeep is looking to invest more money into producing electric vehicles in the future, with the Magneto 2.0 being the front-runner in testing the company's drive into electrification and other technological advancements.
6- KIA EV Nine
KIA wanted to take its customers to the future as they detailed every bit of the design to futurism, and we can say it looks great.
The scenery is something from a spaceship in a SciFi movie. From the exterior to the interior, the EV Nine has a power output of about 570.
Owners will enjoy the 300 miles driving range. The charging power is good. Kia opted for the 350-kilowatt onboard charging, which allows you to power up the car within 30 minutes. and get to retain power.
The car will have a ten-year warranty and will most likely be estimated at around $50,000. Many people are excited about the infotainment display.
Kia did not deviate too far from what was already known with the EV Six. But the EV Nine has a futuristic dashboard with a 27-inch display that is pleasing to the eyes.
7- Ashton Martin Lagonda All Terrain
The future of SUVs, as they call it, is a sight to behold. The reports say that if this car goes into production on time, it could feature in the upcoming James Bond movie.
it's still an interesting prospect. But there's still much we need to know about the car. What we do know is that Ashton Martin will have more than 300 miles of range after each charge.
The concept of this luxury SUV was first announced in 2019. Nothing has come up since then, but we know that the interior of the car is a replica of a fighter jet with room for four people.
It also has a limousine effect with a rear seat pushed further, making, even more, appreciative of the combination of wood and leather that fills the Ambience.
The price is still unknown, but you can subscribe and click on the notification bell below so we can bring you the latest on this and more electric cars coming in 2023
8- Canoe Pickup Truck
this truck is rumored to be an all-wheel drive or rear-wheel drive. Dual motor configurations will generate 600.
The truck will also have 550-pound feet of torque. The pickup truck will also have rear motor configurations with specifications of 300 LB ft of torque.
If you compare this electric truck to others in terms of driving range, it might not live up to expectations.
It has only 200 miles of range with an 80-kilowatt-hour battery for the all-wheel drive model. The expected payload capacity of the canoe pickup is £800.
9- BMW I Seven
That is not BMW's first rodeo at making electric cars. The I Seven is a dual-motor electric car that has a power output of up to 536 torque.
Also, BMW states that the car can go from zero to 60 within 4 seconds. The car can go on 300 miles of range per charge, but it's still an upgrade from the previous model.
With the I Seven, the exterior dimensions are longer, wider, and taller than the old model. The interior is what kicks the car.
The incorporation of technology shows how BMW is looking to transition when it comes to electric vehicles in the future.
There is a 14-nine-inch screen that runs on BMW's latest software, which is the I drive eight. The back seat has an amazing 31-three inch eight k touch display which the passengers can enjoy streaming their favorite shows.
.
The display can fold down so you don't have to worry about staring at the screen if you don't want to.
The sound quality is also impressive with the integration of Bowers and Wilkins systems, which have up to 36 speakers.
We don't know much about the price, but it's expected to be more than $100,000.
10- Tesla Cybertruck
The Tesla Cybertruck, the most awaited electric car is about to hit the roads. The exterior is made of stainless steel, which makes it almost impenetrable.
The glass is so solid that you won't have to worry about cracks because it's made from polymer layered composite.
The Cybertruck has three £500 payload capacities in its arsenal and can also pull away of up to 1400£.
The Cyber truck can go from zero to 60 in under 3 seconds and has 500 miles of range per charge.
The interior is covered with a 17-inch touchscreen display and ultramodern seats for comfort no matter the road. It has a storage capacity of up to 100 cubic feet of exterior and a suspension feature for easy access to get things from the truck.
It also comes in different options which have price tags attached to them. The single-motor version costs up to $40,000. The dual-motor version costs around $50,000.
While the triple motor version costs $70,000. If you're looking for a self-driving option, that will cost an extra $10,000.
What electric car are you most excited to see? Let us know in the comments section down below.