Toyota Revealed New Solid-State Battery in 2022
Toyota Revealed New Solid-State Battery in 2022
It is safe to say without the lithium-ion battery we wouldn't have most modern devices. Open up any electronic device like smartphones or laptops, and you will find a lithium-ion battery.
However, despite the usefulness of the lithium-ion battery, it is time to move on to something better.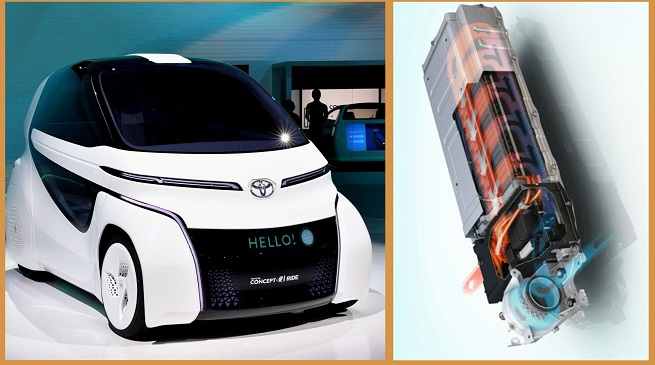 Many companies are involved in the search for the next-level battery, and one of them is Toyota which has just revealed a new solid-state battery.
What has Toyota achieved with its new solid-state battery?
We take a deep dive into the New Solid-State Battery just revealed by Toyota. 
This component is what provides the energy that moves the car. The energy is stored as electricity.
Shoutout to Tesla for leading the way with its roadster. Because of the lithium-ion battery, EVs now offer practical driving ranges and charging times, a massive improvement over the lead acid battery that older EVs relied on.
There have been many improvements to the lithium-ion battery itself, including the raw materials used and the arrangement of the cells.
For example- Tesla has key changes with its new 46 80 battery, including in the chemical and physical aspects.
All the changes combined have produced a New Solid-State Battery that lasts longer, charges faster, and has less mass per kilowatt hour of energy. 
However, despite the advancements or breakthroughs in lithium-ion batteries, the successor is here.
It is known as a solid-state battery for many reasons. Solid-state batteries will be the end of the lithium-ion battery as we know it.
Many companies actively researching solid-state batteries, and the race is on to see who brings them to market first.
These companies include EV makers and startups that want to solve the EV battery problem.
Solid Power, for example, is a leading developer of all solid-state rechargeable batteries for electric vehicles.
Quantum Escape is an industry-leading public company developing solid-state lithium metal batteries for electric vehicles.
Apsara is a niche New Solid-State Battery company that focuses on developing high-performance solid-state electrolyte materials.  
ProLogium is another leading New Solid-State Battery developer and manufacturer.
It uses lithium ceramic oxide solid electrolytes in its batteries and is one of the first to reach mass production outside of electric vehicles.
The company is based in Taiwan. One of the most advanced companies working on New Solid-State Battery is Toyota, and the Japanese auto giant has shown proof of its progress. 
Toyota is back with a vengeance to reclaim its loss of glory as an EV maker. It has promised to release lots of battery-powered cars in the future.
So it is not surprising to see the company devoting lots of resources to the battery. The battery will determine the costs of these electric cars.
It will also determine how long the owners can drive them before they have to stop to charge the battery.
What exactly will Toyota cars gain from New Solid-State Battery? 
Lithium-ion batteries have many good qualities, but they have drawbacks.
While it is true they are lighter than their predecessors, lithium-ion batteries are still heavy thanks to the liquid or gel electrolyte.
In addition, the electrolytes are flammable and can lose stability in extreme temperatures, which can cause explosions or fires if damaged or improperly charged.
Even outside of electric vehicles, lithium batteries catch fire inside cell phones and when handled at waste processing facilities, even outside electric vehicles.
The difference with New Solid-State Battery is that the flammable liquid electrolyte is replaced with a solid one. 
That makes them more stable, more compact, and lighter. The solid electrolyte can comprise everyday materials like ceramics and glass.
New Solid-State Battery are already being used in small devices like pacemakers, RFIDs, and wearable devices. 
So Toyota cars will be safer with New Solid-State Battery than with the standard lithium-ion batteries because of the reduced risk of thermal runaway. 
Thermal runaway leads to explosion and fire. Solid-state batteries may get hot, but there is nothing that can catch fire.
Also, Toyota cars will be lighter New Solid-State Battery ordinarily weigh less because of their higher energy density.
There is no need for complicated safety systems like cooling. And the absence of these extra components makes the car lighter, so the car will go further on a smaller battery pack.
Solidstate batteries also charge faster. Companies developing them have reported 100% charging in less than 15 minutes.
So Toyota cars will leave the charging station faster than any other cars. Toyota can equip its more demanding vehicles, like pickups and other trucks with solid-state batteries, to give them useful driving ranges.
That will give fleet operators more confidence to add electric Toyota cars to their fleet, as charging times will not cut into their operational schedules.
Solid-state batteries are also more durable, meaning they outlast ordinary lithium-ion batteries.
A lithium-ion battery will begin to degrade and lose power capacity after 10 cycles. On the other hand, a solid-state battery will still be going strong even after 50 cycles, with more than 90% of its original capacity.
This battery durability is a big deal because battery replacement is a lot of money for fleet operators.
That is a dealbreaker. Toyota plans to maintain a more than 90% performance of its solid-state batteries after 30 years of use.
Also, Toyota will find it easier to manufacture solid-state batteries.
It is difficult to work with a volatile liquid that cannot be exposed to air, but eliminated with solid-state battery technology.
Fewer complications mean fewer production costs. The faster production also means less energy consumption, further driving down the cost for Toyota.
How far has Toyota come with its New Solid-State Battery research? 
The company already has an electric car running on the battery, and the car runs on the road. Other companies are finding solid-state battery technology a difficult nut to crack.
Creating a robust solid-state battery that can stand up to the rigors of automotive use has been hard.
The new batteries must also hold up to repeated charge and discharge cycles without failure to serve as a reliable power source for electric vehicles in the same vein as their lithium-ion forebearers.
Hundreds of gigawatt hours of battery capacity will be needed for future EVs, so companies must figure out how to produce high-performance solid-state batteries in huge numbers while keeping costs affordable.
Fiscal dropped its solid state plans entirely earlier last year. Now, for anyone following the company recently, it is not surprising that Toyota is so far ahead of its competitors.
The company is committed to spending 13 $6 billion on battery technologies by the end of the decade, and a good chunk of the money has gone toward its solid-state battery technology.
The vehicle running on its solid-state battery is a version of Toyota's LQ concept, which first debuted as an AI and self-driving demonstrator at the 2019 Tokyo Motor Show.
However, it has a large decal announcing its all-solid-state battery.
Toyota has also revealed how it will roll out the solid-state battery. According to Gill Pratt, Toyota's chief scientist and head of the Toyota Research Institute, the company will put the solid-state battery into hybrid vehicles first.
That might be disappointing to fans of electric vehicles, but Pratt said there's sound reasoning for it. Lithium-ion batteries aren't priced at parity with the internal combustion engine, let alone solid-state batteries.
They're thinking of producing the benefits of such a battery, but combining it with hybrid technology to keep the price down on a production vehicle.
Further, using solid-state tech in a hybrid will provide Toyota valuable insight before using the batteries in purely electric cars.
Pratt reiterated that the batteries charge and discharge differently compared to lithium-ion batteries.
Hybrids are charged more often and therefore provide a perfect test for the technology before the automaker gets in too deep with a solid-state battery-powered EV.
In the past, Toyota has said it does want to look into this battery type with a hybrid application first.
Specifically, it said, one of the reasons that Toyota is starting with this is because it wants to introduce solid stated batteries to the market as soon as possible, gain customer feedback and continue to evolve them.
Let us hear what you think of solid-state batteries in the comments section below.
Related Post