This solar panel is made of carbon fiber and is perfect for balconies, vehicles, and boats.
This solar panel is made of carbon fiber and is perfect for balconies, vehicles, and boats.
The Canadian manufacturer Lightleaf has developed a new photovoltaic panel that stands out for its resistance and low weight, thanks to the use of materials such as carbon fiber. A perfect model for spaces with little surfaces and small terraces but also for vehicles such as motorhomes or boats that need a type of panel that is light but also very resistant.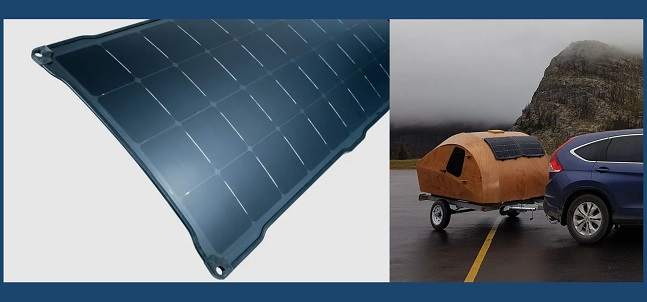 Each plate has an output power of 110W and according to its designers, it is intended for certain applications where there is limited space and where weight, functionality, and appearance are essential.
In addition, these photovoltaic panels have all the integrated hardware, simplifying their installation, and have been developed with materials designed to resist external conditions, such as those experienced in the maritime environment.
According to the manufacturer, this photovoltaic panel has a rigid carbon fiber foam base instead of glass, which provides it with greater flexibility and resistance. As for the size, each one measures 1,073 mm x 575 mm, is 9 mm thick, and weighs only 2.5 kilos.
A curved solar panel that includes two clamps installed 50 cm apart which can be attached to any one-inch rail, and rotated 180 degrees for better orientation.
The new module has an open circuit voltage of 22.9 V and a short circuit current of 6.35 A. It uses 32 SunPower Maxeon GIII Premium ME3 monocrystalline solar cells with an efficiency of 25.1%.
The junction box is sealed and encapsulated, uses two Schottky bypass diodes, and is IP67 rated. The device includes a 3-meter round 14 AWG marine-grade cable with a flat end for simple gland installation.
Each unit has a cost of 650 euros and has a 5-year guarantee on output power. A model that makes it possible to reduce electricity consumption from the network or combustion engines, and that due to its physiognomy makes it easy to install and remove them at any time, to protect them from a storm, or redeploy them when it has subsided. Everything is easy and simple way even for people without great knowledge or technical skills.
A new alternative that allows solar panels to be taken to all kinds of spaces be it vehicles, boat balconies, or the roofs of small businesses, which will facilitate the expansion of renewable energies and specifically photovoltaic solar energy that does not stop growing in facilities and possibilities.
Related Post