Renault's president criticizes Tesla's pricing strategy
Renault's president criticizes Tesla's pricing strategy
The President of Renault says, "They are destroying customer value".
Tesla's recent price cuts have not gone down too well with the large manufacturers who navigated with the peace of mind of manufacturing less and earning more and more. That was reported by the CEO of Renault (Luca de Meo), who indicated that Tesla's dynamic price changes were damaging customer confidence in the value of their electric cars.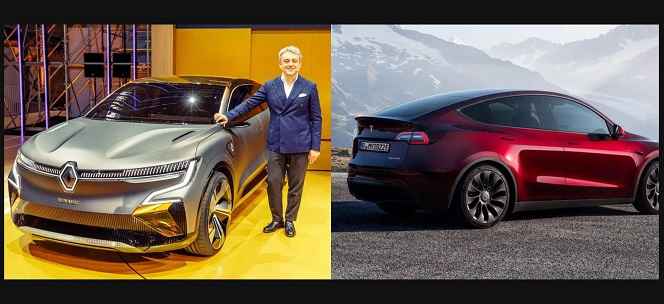 And it is that from the beginning, Tesla has followed a different policy in every one of its aspects from the commercial model, without dealers, online sales from minute one, remote updates, and also with a pricing policy that can vary several times in a few weeks.
It is precisely that has bothered Luca de Meo the most, who in an interview with the Financial Times newspaper has indicated: "I hope that Tesla will continue to reduce their prices to zero, but we will continue to protect the value of our electric vehicles. That is destroying customer value, for sure, when you do this."
De Meo joked about the situation stating that: "Prices dropped 20% after raising them 20% six months ago, and now everyone is clapping, it's not rational. It is necessary to stabilize the price policy for electric vehicles at the beginning of the cycle because there is a lot of investment".
The Renault CEO's criticism of Tesla came amid the veteran automaker's rising sales of electric vehicles. Renault has become the third-largest electric vehicle brand in Europe.
The comments of the head of Renault are focused on the feeling of customers who have been encouraged to purchase their units at the close of last year when a record number of registrations was achieved and after a few days how the rates dropped by more than 10%. An aspect that has angered many buyers, including those with used units that are now priced like new.
Petitions have even been created online asking Tesla to compensate customers who had purchased shortly before the rate change with details like offering free charging miles at Superchargers or a free Full Self-Driving (FSD) subscription for a year. Of course, requests that have not been picked up by Tesla.
Is it the best policy?
Well, at the moment the figures seem to support this option since every year Tesla sets records for production, deliveries, and net profits.
But there also seems to be unanimity that Tesla should have a bit of sensitivity and set a margin of a week or two where it should compensate customers who bought their car just before a price drop in some detail.
Related Post