This electric truck has gone from Valencia to Zurich loaded with 20 tons of oranges on a 3,000 km journey
This electric truck has gone from Valencia to Zurich loaded with 20 tons of oranges on a 3,000 km journey
Electric trucks are breaking with the myths that long-distance heavy transport is impossible and that other technologies will be necessary to achieve it. The Swiss logistics company Krummen Kerzers completed a trip between Valencia and Zurich with a truck loaded with Valencian oranges, which arrived without problems at its destination in the Swiss city.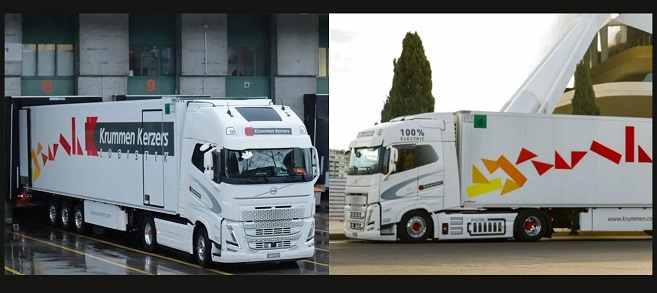 The company published the news that at the end of January of this year. They completed a trip with an electric truck. This model took 20 tons of oranges from the Casa del Mas producer in Valencia to Zurich, a 3,000-kilometre journey in a 40-ton Volvo FH electric truck.
"The trip to Spain sets new standards. We are confident that electric trucks will be part of everyday life on long-distance routes within a few years," said Peter Krummen, Co-CEO of Krummen Kerzers.
According to Boris Jost: "We have been transporting our citrus fruits with Krummen Kerzers for years. In addition to the organic cultivation of our fruit, sustainable transport to Switzerland is important to us. Therefore, we are particularly pleased that the trial with the electric truck was successful."
Krummen Kerzers being able to complete this milestone under real conditions and in the dead of winter required precise planning and close cooperation between the customer and the transport company.
According to Google Maps data, a trip from Kerzers to Barcelona is doable, but the last 450 kilometers to Canals were the most complicated because there are only a few fast charging stations on the route, which added the difficulty to access with a truck of these characteristics.
Because the greatest difficulty would be completing the sections with hardly any recharging points, one of the challenges has been finding the right driver for the task of making the most of the energy from the batteries of this truck. Someone capable of studying the orography and driving as efficiently as possible. And he had to be someone capable of dealing with unforeseen events such as not being able to charge in established places.
The chosen one has been Balint Schnell, with five years of experience in the company, but who had never driven an electric truck and never gone down to Spain with a truck.
The result has been that not without certain difficulties, and above all with great interest and curiosity on the part of the rest of the truckers. That is, needing a day more than a diesel truck.
A record trip that puts on the table that it is possible to make long journeys with an electric truck, but that to make it feasible on a large scale will require a significant expansion of fast charging networks.
Some networks will also have to adapt to the physical characteristics of these vehicles, but also in the economic aspect will have to adapt to offer cheaper loads that convince professionals to begin the transformation of their fleets.
Related Post