Ford Spain reduces the price of the Mustang Mach-E by up to 11,600 euros
Ford Spain reduces the price of the Mustang Mach-E by up to 11,600 euros
Last week, Ford announced a major price cut for the Mustang Mach-E in North America, entering a price war with Tesla and other electric carmakers that have taken similar actions of late. The oval firm lowered its sports crossover between $600 and $5,900 (depending on the version).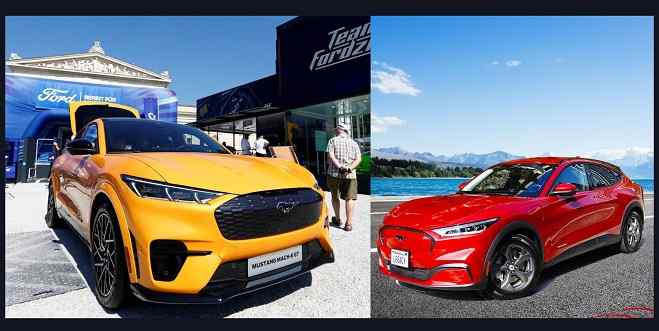 Although European customers were looking forward to a similar movement in the first instance everything seemed to indicate that Ford would not apply these discounts in the old continent. Despite the planned increase in production (which will enhance economies of scale and reduce manufacturing costs), a spokesperson for the brand announced a few days ago that these reductions were "specific to the North American market", which is why " We have nothing to announce at this time."
However, it has finally been confirmed that the company will adjust its rates in our market, lowering the price of the Mustang Mach-E by up to 11,616 euros. A significant reduction will allow the American model to increase its competitiveness against rivals such as the Tesla Model Y, which closed the year 2022 as the best-selling electric car in Europe.
The Mustang Mach-E range consists of five versions in Spain. Their rates were as follows Until now: the Standard Range RWD cost 64,688 euros, the Standard Range AWD 70,872 euros, the Extended Range RWD 72,658 euros, the Extended Range AWD 77,067 euros, and the GT 86,262 euros.
The Ford Mustang Mach-E re-enters the MOVES III Plan
After applying the new discounts, the price structure is as follows:
Standard Range RWD: 53,072 euros (discount of 11,616 euros)
Standard Range AWD: 67,847 euros (discount of 3,025 euros)
Extended Range RWD: 69,633 euros (discount of 3,025 euros)
Extended Range AWD: 74,042 euros (discount of 3,025 euros)
GT: 85,052 euros (discount of 1,210 euros)
Given that it falls below the 45,000 euros plus VAT (54,450 euros) established as a limit in the MOVES III Plan, the Standard Range RWD can benefit from state subsidies.
Last year, Ford delivered 77,959 units of the Mustang Mach-E globally, while in 2023 it will try to reach 130,000 copies. "Increasing production is a key part of the Ford+ Plan, underscoring the company's commitment to lead the electric vehicle revolution by increasing the value of its electric vehicles to customers by positioning the Mustang Mach-E as a choice." attractive to those looking for an electric SUV. Ford has secured the batteries and raw materials to scale production in 2023."
Related Post