Tesla-Gigafactory Grünheide builds 4,000 cars per week for the first time
Tesla-Gigafactory Grünheide builds 4,000 cars per week for the first time
The new Tesla Gigafactory in Berlin-Grünheide produced 4,000 cars in one week for the first time. The company announced this on Twitter. Since the tweet came from yesterday Monday, the message should refer to the previous week (from February 20th to 26th).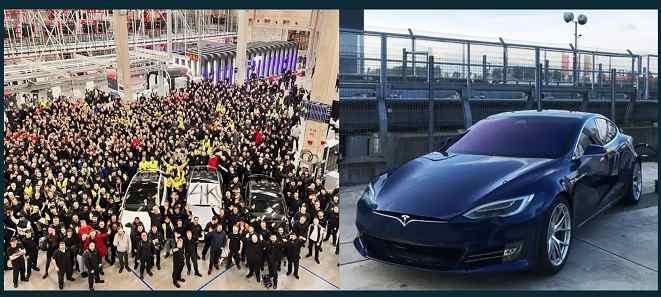 Only the Tesla Model Y is manufactured in Grünheide. The tweet shows three cars from above, with "4K" written on the middle one. Hundreds of employees have gathered around it to pose for the photo. Of course, not all employees in Grünheide are involved because the total number is said to be around 9,000.
If you extrapolate the 4,000 pieces over 50 production weeks per year, that results in 200,000 cars per year according to Adam Riese. For comparison: When the business figures for 2022 were announced, Tesla put the annual capacity of the Giga Berlin at over 250,000 units. That number would mean 5,000 cars a week. It will be interesting to see when that mark is skipped.
The 3,000 mark was not exceeded until the end of 2022, i.e. no more than two months ago. If this ramp-up pace can be maintained, Tesla could already exceed the 5,000 mark in the spring.
Milestones of the Tesla Gigafactory in Grünheide:
March 2022: First customer deliveries
June 18, 2022: Production rate of 1,000 Tesla Model Y per week
October 1, 2022: Production rate of 2,000 Tesla Model Y per week
December 18, 2022: Production rate of 3,000 Tesla Model Y per week
February 27, 2023: Production rate of 4,000 Tesla Model Y per week
As recently as May 2022, Tesla boss Elon Musk had said that the new plants in Germany and Texas had so far only been "gigantic money furnaces".
Production in both plants is now much faster. The Gigafactory in Texas reached a production rate of 3,000 units per week in December. Only Model Ys are built there, too. The factory in the USA, which started practically at the same time lags behind Germany.
However, models with 4680 cells are also built in Austin, which is currently still difficult and thus presents management and employees with additional tasks. At the beginning of January, Elon Musk brought in the previous China boss Tom Zhu to give him the authority to issue instructions for Tesla's US plants, as Reuters reported at the time. That means that Zhu is also responsible for Texas.
The Tesla Model Y produced in Germany is fitted with cylindrical battery cells of size 2170 (21 millimeters in diameter, 70 millimeters in height). As far as is known, these come from an LG Energy Solution plant in Shanghai. Production of 4680 cells in Berlin was originally planned, and Tesla is sticking to it. However, this project is currently not a high priority. 
Related Post