10 Reasons Why We Should Wait for 2025 Jeep Gladiator
10 Reasons Why We Should Wait for 2025 Jeep Gladiator
The Jeep Gladiator will start the upcoming 2025 model year with a massive redesign and upgrade package ranging from upgraded exterior design to brand new Interior and even some massive off-road related upgrades. This pickup will undoubtedly stir up the midsize truck Market.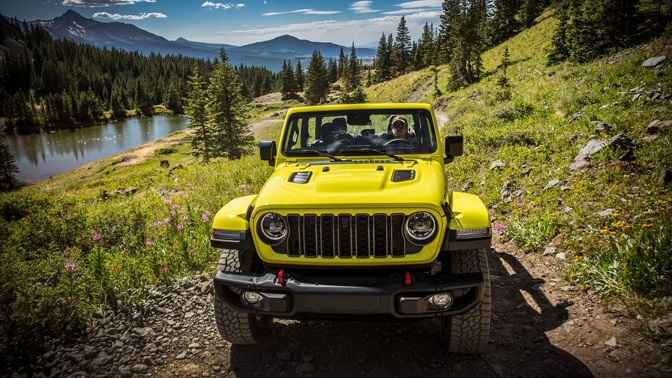 In today's article, we'll give you all the hottest info and tell you 10 reasons why we should wait for the 2025 Jeep Gladiator. 
Number 10
Front grille design
A new front grille design is one of the most significant changes for the 2025 model year Gladiator. The new look features a narrower and sleeker look, which makes the truck look more modern and in tune with the Times. By now, you're probably asking yourself what's so special about a new Grille.
It's just the front grille. Well, if we would talk about any order ordinary off-the-shelf vehicle, you'd be correct; however, in this case, we're talking about a Jeep. The legendary 7-slit design is the namesake of this manufacturer and doubles as an emblem of the entirety of Jeep Vehicles.
Especially so if we're talking about the Gladiator, a proud bearer of the traditional g-face inheriting it from its legendary brother, the Wrangler. The original design traces back to 1945, so a new Grille design is a big deal in these circumstances.
Number 9
New wheel options
Not a significant upgrade, but worth mentioning are the new wheel designs introduced for the 2025 model year ranging from 17 to 20 inches and paired with up to 35-inch monstrous off-road tires.  They'll undoubtedly add even more style to the new Gladiator.
Number 8
Stealth radio Antenna
There is no accounting for Taste, but the Gladiator is a genuinely unique and good-looking vehicle, with modern trucks and SUVs embracing a more streamlined and modern look.
The Gladiator stands out from that crowd, proudly bearing its World War II Heritage and, of course, showing off that military style. This pickup looks like a slab of granite on massive wheels, and that's probably the main reason buyers love it.
Except for a tiny thing: that ugly ice fishing rod-looking radio antenna haphazardly bolted to the first look random place on the right front fender. The engineers at G forgot that they had to put one in, and they had no choice but to put it in that place.
Well, good news as for the 2025 model year, the eyesore is replaced by a more modern stealthy unit.
Number 7
Updated color palette
In our opinion, the only color you should buy a Jeep Gladiator is olive drab called Sarge green by AI, the manufacturer to emphasize even more the military Heritage and to look like a Delta Force operator going for that grocery run on the weekend.
The 2025 Jeep Gladiator Model is introducing an upgraded color palette, but to tell you the truth, we couldn't be bothered with it. 
Read Also– Toyota Completes First Tests Running on Liquid Hydrogen
Number 6
Adjustable electric front seats
12-way adjustable electric front seats to be even more comfortable on your trailblazing rock crawling Rubicon Trail Crossing Adventures There's going to be an option for 12-way adjustable electric front seats
The Gladiator is known as something other than the most comfortable truck in the industry. It's not even near that claim, yet this new upgrade will up the Comfort game of this truck and introduce some new potential customers into Jeep dealer showrooms.
Number 5
Upgraded Interior and a new Dashboard
The comfort and general feel of the vehicle. Jeep is introducing a heavily revoked interior. This has always been controversial for the Wrangler and Gladiator. How good do you expect the Interior to be in a vehicle that can shed most of its body channels like a dog sheds its winter coat? Furthermore, an interior specifically designed to be cleaned with a water hose that's on purpose and not by accident.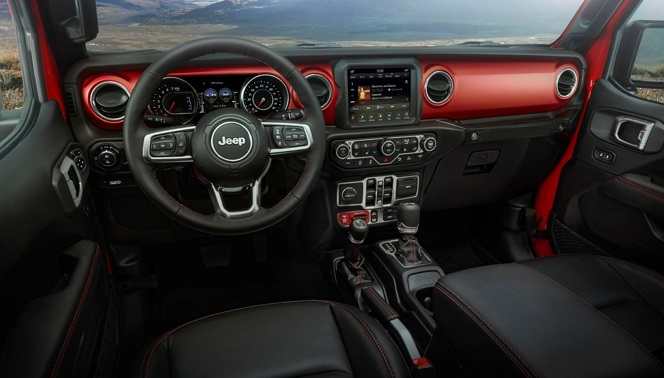 A pressure washer and luxury do not usually go hand in hand. Yet, in the 2025 year's iteration, Jeep's interior design team has introduced some new soft-touch materials and a new interior style. Let's hope this won't damage the durability and pressure washability of the Interior. Also, a new Dash design greets Us in the year 2025. 
Bluetooth connectivity
Satellite Radio
Voice command
Wifi hotspot
Off-road page
Telematics Services
Wireless charging
Instrument cluster display
Sound system options
USB port
Voice assistant integration
Trailering apps
Over-the-air updates
Wet tailgate
Crank windows
Number 4
Uconnect touchscreen Radio
While speaking about the Interior, it looks like in this day and age, manufacturers tend to compete on who can cram the most amount of technology in the limited interior space of a new vehicle.
Well, the Gladiator was never at the Forefront of said competition, perhaps mainly because pressure washable interior and fancy Electronics go even less together than fancy materials and moisture.
Somehow, Jeep engineers put a 12.3-inch Uconnect touchscreen on the Interior of the new 2025 Jeep Wrangler. Maybe they found a new moisture-resistant material because there was no word of optional screen wipers, you know, for those occasions when the screen will undoubtedly get splashed when you blast without doors through a tricky mud obstacle.
Number 3
Full Floating Axle
It's not a secret that the Gladiator isn't your typical asphalt cruising grocery-getting pickup truck. It's a purpose-built off-road machine. Therefore, one of the major upgrades for the 2025 Jeep Gladiator is the addition of data 44 HD full floating solid rear axle City dwellers. This might seem like an incomprehensible word, but the true off-road Enthusiast immediately recognizes the data brand as it is one of the biggest names in the off-roading Community, a company with
Well over a century of experience in manufacturing drivetrain components specifically aimed for off-road applications trusted by clients that need the most amount of durability worldwide. Jeep is no exception, and the new upgraded rear axle will provide plenty of benefits for the revamped Gladiator.
We will only go a little deeper into the construction and engineering principles of a complete floating axle design, as this would require an additional article.
We already know all the technical details. If you don't, all you need to know is that a complete floating axle is way more robust than a comparable semi-floating setup, an excellent feature for an off-road capable cargo-carrying pickup truck. Other benefits include added durability and repairability in an extreme case scenario if your half shaft should snap in the middle of a trail.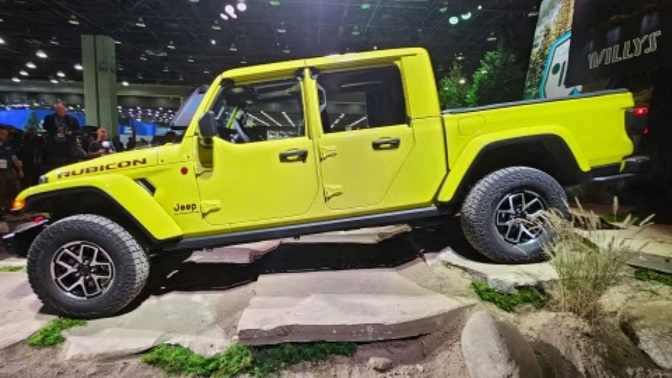 Number 2
Winch
The Jeep brand, in general, and the Dana Corporation joining the action in 2025 is another off-road industry giant. Warren Industries is another proud US-based company known worldwide for manufacturing some of the best quality off-roading equipment. Their addition to the Jeep Gladiator is an optional 8,000-pound winch.
8 000 pounds is a lot of lifting power, especially keeping in mind the fact that the Gladiator itself weighs quote unquote only five thousand pounds with the power of math
We can conclude that the new Warn winch would be capable of lifting the entire vehicle clean off the ground and still have the power to spare, and that is an impressive achievement by Eddie standards; however, we wouldn't recommend trying to suspend your brand-new 2025 Jeep Gladiator in the air.
Number 1
Release Date
The 2025 Jeep Gladiator is that it almost comes to the end of the year 2024 or 1st quarter of 2025, and the current model is likely already on its way to showrooms. for more you can visit the jeep official website page.
You'll maximize your investment as the future resale value will likely be more robust due to these impressive improvements. 
2025 Jeep Gladiator Specs 
| | |
| --- | --- |
| Brand | Jeep |
| Model year | 2025 |
| Body Type | Pickup Truck |
| Door | 4 – door |
| Seating Capacity | 5 – seats |
| Fuel Type | N/A |
| Engine Type | N/A |
| Power | N/A |
| Torque | N/A |
| Transmission | N/A |
| Drivetrain | RWD/AWD |
| 0-60 MPH Time | N/A |
| Top Speed | N/A |
| Mileage (Full Tank Range) | N/A |
| Fuel Tank Capacity | N/A |
| Fuel Economy (City/Highway/Combined) | N/A |
Related Post