25 Exciting New Electric Minivan/ MPV – Price and Features
25 Exciting New Electric Minivan/ MPV – Price and Features
Due to their roominess in the cargo area and internal space to hold several passengers, parcels, and work items, many people prefer to buy practical, comfortable, and stylish minivans or large trucks (Electric Minivan) for everyday usage, for the workplace, for fun with their family group, etc. some with cutting-edge body design, improved fuel efficiency, and more.
We will be showing 25 Exciting New Electric minivan/ and models with price and features, so let's know all minivans step by step.
1- Chrysler Pacífica electric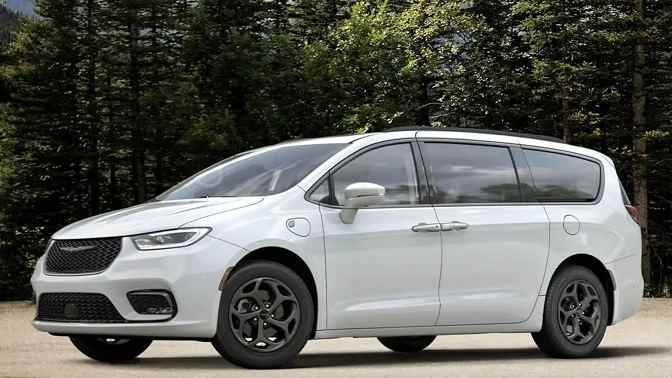 A vehicle with clever features, the Chrysler Pacifica boasts a second row of seats that can be folded down to increase cargo capacity. The only minivan with a plug-in hybrid drivetrain is the Pacifica, which is available with front- or all-wheel drive.
The 287-horsepower V-6 engine comes with a nine-speed automated gearbox as standard equipment. On the highway, it acts in a respectably efficient manner. Pacifica will return in 2024 with a few changes.
The base price starts at US$38,615 from US American market.
Its benefits include having AWD and PHEV choices available, the only Chrysler that matters.
As cons stand out: PHEV is FWD only, AWD minimizes fuel economy, and top trim PHEV is incredibly expensive.
2- Chrysler Voyager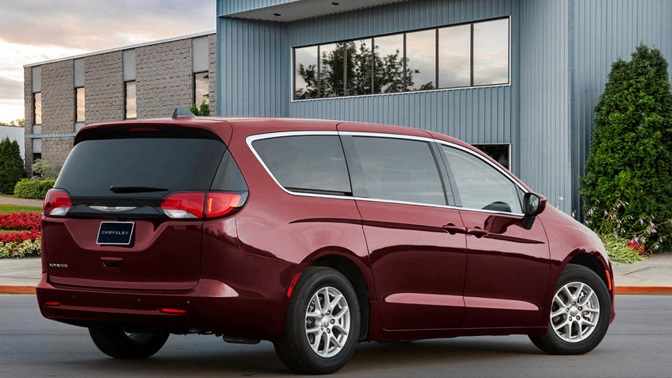 This most affordable Electric Minivan on the market, the 2023 Chrysler Voyager, provides comfort and space. with optional seven-passenger accommodation and second-row quad seats.
There is plenty of cargo space available when the third-row seats are folded under the floor, ready to meet any family demands.
It has external features like 17-inch wheels and a Stow N Place roof rack that are both fashionable and useful. It is propelled by the same 3.6L Pentastar V6 engine, which is rated at 28 mpg on the highway, and delivers fuel-efficient performance.
The base price starts at $26,985 from US American market.
Additionally, it has safety features such as a blind-spot monitoring system, automated emergency braking for pedestrians, and full-speed forward collision warning.
3- Ford E-Tourneo Courier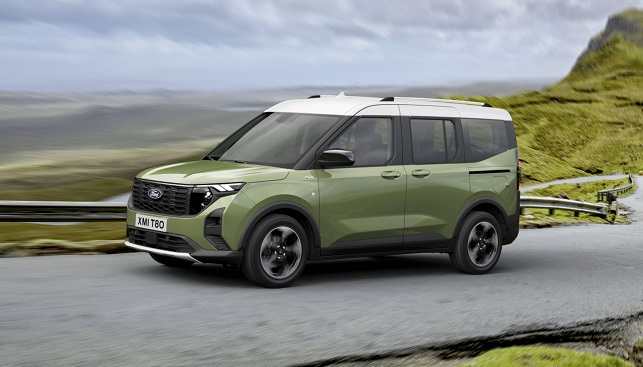 A highly significant innovation entered the Ford Tourneo Courier's mechanical lineup with the introduction of the new generation. One of the ten Electric Minivan models the company will introduce in Europe by the year 2024, it is a 100% electric version of this vehicle.
By 2035, they want all cars sold on our continent to have zero emissions. They are tremendously motivated to reduce emissions. With several clear benefits, the Ford E-Tourneo Courier will help with this when it debuts in early 2024.
This example's setup is the same as that of the E-Transit Courier, its commercial cut sibling. That indicates a 136 CV Electric Minivan motor is mounted to power the front axle.
Although there is currently no clearance data, it has also been established that it mounts a 54 kWh lithium-ion battery (49 kWh net). With a top speed cap of 145 km/h and always depending on the sort of driving that is done, its autonomy might be in the range of 250 km.
It has Normal, Eco, and Slippery driving modes for that. Don't forget to use the one-pedal option so you may avoid using the brake in populated areas.
It reported that the Electric Minivan Ford E-Tourneo Courier accepts quick direct current charges of up to 100 kW, moving from 10 to 80% in 35 minutes, while the consumption figures are made public.
It may increase its autonomy by 87 km with this in only 10 minutes. An alternating current at 11 kW may also be used to recharge it, taking 5.7 hours to get from 10% to 100%.
The company also touts the benefits of the Ford Connected Wallbox, an optional accessory that enables residential charging at a maximum of 11 kW. Not to mention that you can find yourself, check the vehicle's status, pre-cool the cabin, plan the optimal route with charging stations, and lock and unlock the doors using the FordPass app.
The Ford E-Tourneo Courier has the features of the combustion version while adding a front frunk with a 44-liter capacity that is great for hauling small items.
4- Honda Odyssey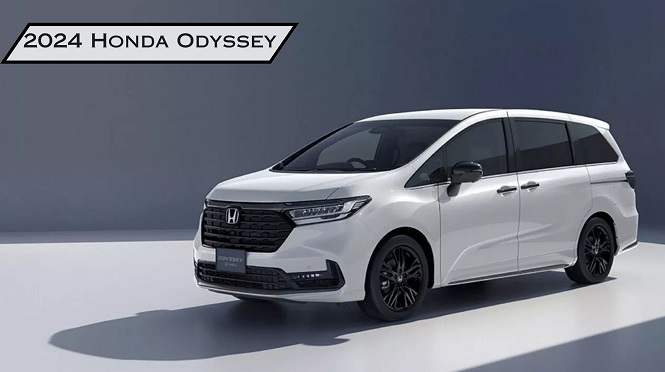 The 2023 Honda Odyssey has a smooth ride and good handling thanks to a V-6 engine that accelerates quickly. It is a minivan that won't let down people who decide to buy it.
The second-row seats may be arranged in a variety of ways thanks to an inventive Magic Seat system, including one that keeps fighting kids away.
The third row of seats may be removed to create extra room for freight. Although the infotainment system has a lot to offer, the interior isn't as connected and tech-focused as its rivals like the Chrysler Pacifica or Kia Carnival.
The base price starts at $38,835 from US American market.
Reconfigurable seats, the long-awaited standard driver assistance, and rapid acceleration in minivans can all be considered benefits.
While the drawbacks include an antiquated infotainment system, bulky second-row seats that are hard to remove, and a harsh ride on optional large-diameter wheels.
5- Kia Carnival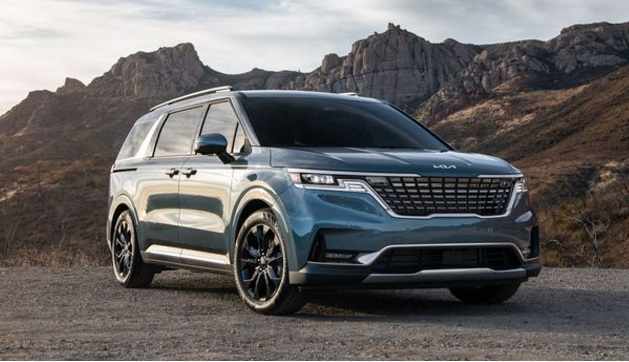 The electric minivan Kia Carnival from 2023 is exclusively a minivan. More cargo storage is available because of its interior, square body, and low floor. It has a 3.5-liter V-6 engine with an eight-speed automated gearbox that generates 290 smooth horsepower. Several common driver-aid features are included.
The base price starts at US$34,235 from US American market.
It has a soft ride, a smooth-running V-6 engine, and an attractive exterior and interior. This minivan has a few drawbacks, including front-wheel drive only, a lack of truck-like letter room, and the inability to remove optional reclining seats in the second row.
Read Also– The Chinese luxury 7-seater electric minivan-MIFA 9 comfort of the Mercedes EQV
6- Toyota Sienna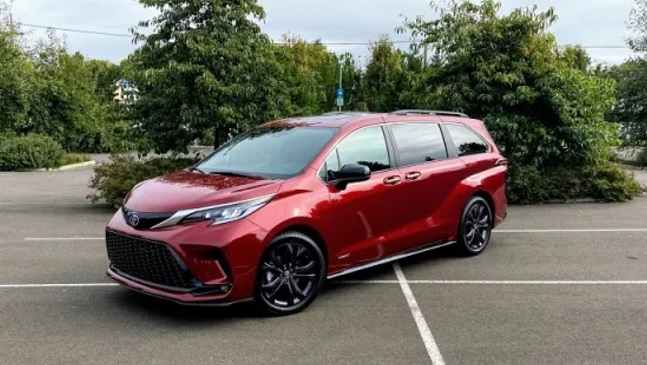 The Sienna 2023 features the rugged external styling of a Toyota minivan; it is an example of SUV cosplay. It has a quiet cabin, a smooth ride, and excellent highway handling.
Although the second-row seats cannot be removed and stored away as in other vehicles, the cabin is sufficiently roomy and well-appointed.
Only a hybrid option, with front-wheel drive and all-wheel drive variations, and 245 horsepower are offered for Sienna's fourth generation. The combined fuel economy of 36 mpg is better than that of comparable minivans on the market.
The base price starts at US$37,470 from US American market.
It is important to note its benefits are: a durable external design, excellent driving manners, and exceptional fuel efficiency provided by the hybrid powertrain. Unrelenting acceleration, a buzzing engine while going rapidly, and the inability to remove the second-row seats are among the drawbacks that must be mentioned.
7- Mercedes-Benz EQV
Electric minivan Mercedes-Benz EQV confirms that it will no longer sell the EQV Electric Minivan in the United States. The truck's passenger and freight transportation options have not had much success establishing themselves in the American auto industry.
Two seats and an open cargo box with 182.9 cubic feet of room are standard equipment on the Metris. That's a lot more room than the Transit Connect cargo van's long wheelbase, which offers 127.4 cubic feet.
The base price starts at US $64,000 from the US American market.
Additionally, the business will sell solar panels. However, they will power the 12-volt battery and an auxiliary battery for accessories instead of charging the driving battery. In this design, the two panels provide 400 watts of power.
8- Ford E-Transit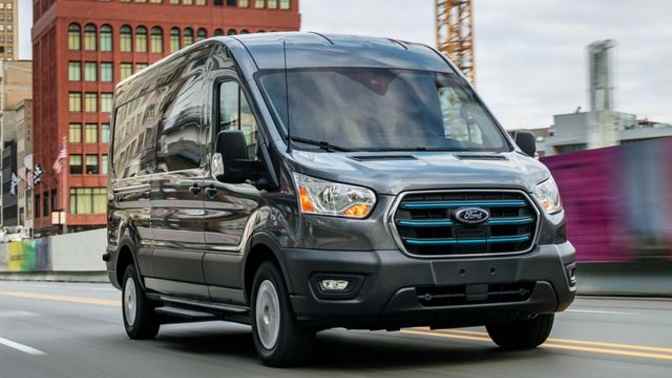 A business van like the 2023 Ford Transit may not be in many drivers' eyes. It is, nonetheless, highly desired by both fleet managers and small company owners. There are several body variants available, including an extended high-roof model with lots of space to transport any number of equipment, goods, or freight.
The E-Transit is the most potent and swiftest vehicle in the Transit lineup and the priciest. All models employ the same 68kW battery and electric motor, which produces 198kW of power and 430Nm.
In contrast, the 410L LWB, which costs $67,090 and generates 125kW of electricity, is the most costly Transit that is powered by traditional means.
It has Ford's Sync 4 infotainment system with a 12.0-inch head-up display with many basic driving aid functions.
The on-Road base price starts at $104,990 from the US American market.
Benefits – The Ford E-Transit includes practical driver aid technology, a quieter interior than competitors, and helpful fleet management software for companies.
Not to mention the drawbacks The Mercedes-Benz Sprinter has a greater maximum payload capacity, but GM's older commercial vans are less expensive and have a more limited guarantee.
9- Mercedes Benz eSprinter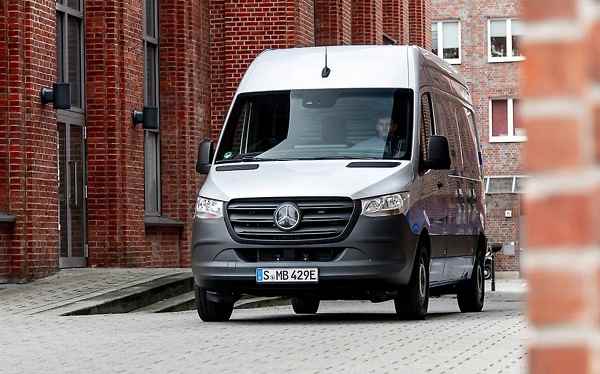 The Mercedes-Benz eSprinter strikes one as a genuine fighter with a hint of G-wagen might. Many people who enjoy outdoor excursions can have their demands met thanks to the vast reconfigurability.
Utilizing a 113-kWh battery pack is the eSprinter. For city driving, Mercedes quotes a range of 248.5 miles and 311 miles. WLTP testing, which is more kind to automobiles than the EPA approach, provided those statistics, nevertheless.
The eSprinter's 115-kW rapid charging capacity allows the vehicle to be charged from 0 to 80 percent in 42 minutes.
The truck has an optional gearbox and 4Matic all-wheel drive. It has a 10.3-inch touchscreen and other driving assistance features. Your next work vehicle should be a Sprinter because of its spacious inside.
The on-Road base price starts at $50,000 from the US American market.
Arrives are some benefits including extensiveness, extreme customizability, and readiness for courier services or explorers. The drawbacks include pricey top-trim choices, an average maximum towing rating, and a lack of courtesy maintenance coverage.
10- Citroën ë-Berlingo
The Stellantis EMP-2 (electric minivan) platform, which is the foundation for many other vehicles in the group and contributes to more smooth and more steady driving, was the starting point for the electric Citroen Berlingo before it entered the market. Only a few minor details visually distinguish it from the van introduced in 2018.
The electric minivan Citroen-Berlingo, which is its brand name, comes in two distinct sizes: M, which has a length of 4.40 meters, a wheelbase of 2.78 meters, and a trunk capacity of 775 liters and XL, which has a length of 4.75 meters, a wheelbase of 2.97 meters, and a cargo capacity of 1,050 liters. Of course, one of the key distinctions between the two is the availability of either five or seven seats.
The lithium-ion battery in the -Berlingo has a gross capacity of 50 kWh and can be fully charged in less than 15 hours using a 3.7 kWh household outlet (7.5 hours using a 7.4 kW Wallbox and 5 hours using an 11 kW three-phase socket), though it can charge 80% of its capacity in just 30 minutes when connected to a 100 kW direct current.
Maximum power varies from 82 to 136 hp and torque from 180 to 260 Nm, with a maximum range of 280 km (WLTP), depending on the driving mode (Eco, Normal, or Power).
The on-Road base price starts at £29,575 or $37,601 from the market.
The first range placed a high priority on safety. All variants come equipped with features including automated emergency braking, cruise control, and lane-keeping assistance.
A feature of the Live trim includes an 8-inch touchscreen, 16-inch steel wheels, and LED daytime running lights as standard equipment. The car may be outfitted with 17-inch alloy wheels, a digital instrument panel, a panoramic roof, Grip Control, and hill descent control if we move up the queue (Feel or Shine).
11- Citroën ë-SpaceTourer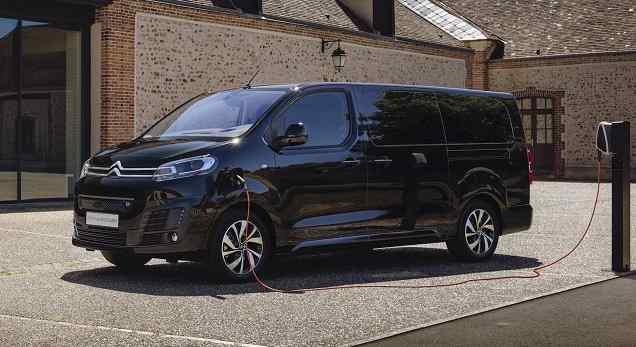 The electric minivan Citron -Spacetourer is available in three body lengths, XS (4.60m), M (4.95m), and XL (5.30m), with seating for up to nine passengers, much like the combustion models.
It is built on the Stellantis Group's EMP2 platform and shares this design with more widely available variants. All have two battery choices with a 50 kWh capacity that certifies 230 kilometers of autonomy and a 75 kWh capacity that certifies 330 kilometers.
They are all propelled by an electric motor with 100 kW (136 CV) and 260 Nm of torque. It has three driving modes (Normal, Eco, and Power) with a top speed of 130 km/h.
It has a 7.4 kW charger for an alternating current socket on board (11 kW is available), but fast charging sockets with direct current may recharge it up to 100 kW.
Three finishes make up its range. One is the Business, which is intended for businesspeople, and the other is the Feel and Shine, which is more geared towards individuals and is only available in the M body (up to 8 seats). All have enough connection and driving aids for a car of this kind.
12- Fiat E-Ulysse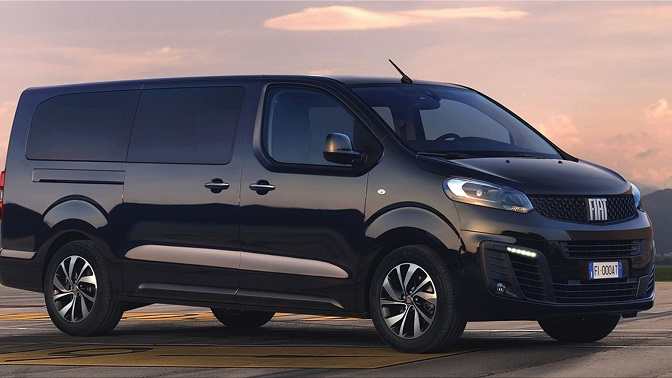 As a larger electric minivan version of the Fiat E-Scudo, the Fiat E-Ulysse debuted on the market in 2023 and can accommodate up to 8 passengers in three rows of seats for a more pleasant ride. It is a twin of other Stellantis products including the Citroen e-SpaceTourer and the Peugeot e-Traveler.
The Fiat E-Ulysse only provides two body lengths, the normal 4.95 m (for seven passengers) and the extended 5.3 m (for up to eight seats), as opposed to the E-Scudo's three.
With up to 12 distinct combinations of luggage space and seats in the long electric minivan version and 16 in the short version, it features an interior that adjusts to demands like a decent minivan. Depending on the body, the boot can hold between 900 and 1,500 liters (between 4,200 and 4,900 liters with two rows of seats, the final one of which may be removed entirely). It can transport anything up to 3.5 meters in length.
It is propelled by a 100 kW (136 CV) and 260 Nm electric motor coupled with the commercial variant's 75 kWh greatest capacity battery.
The E-Ulysse is guaranteed to have a range of 330 kilometers, and the manufacturer guarantees that it can recharge up to 80% in just 45 minutes at a fast charging station. The Grip Control traction system is reliable for specified modes.
The on-Road base price starts at €40,000 or $43,738 from the market.
With its 17-inch alloy wheels, three-zone temperature control, and detachable table, it stands out for its basic features.
The Lounge version, which is the most luxurious electric minivan, has features like leather seats, a panoramic glass roof with ambient lighting, xenon headlights, a seven-screen multimedia system with a navigator and a 360-degree camera, among others, in addition to the sophisticated driver assistance systems found in all of the company's vehicles.
13- Ford Tourneo Pug-In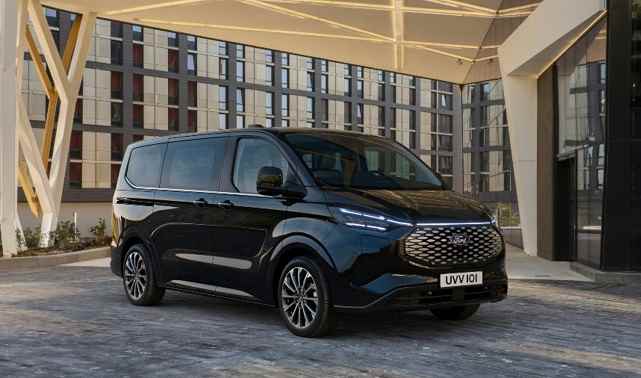 To introduce the hybrid electric minivan Ford Tourneo Custom, an extended-range electric edition of the Transit, was ordered in 2020. With this powertrain, it was the first car of its sort on the market. Europe received just one model, the L1 H1.
Except for the charging port on the front bumper, this Ford Tourneo Custom Plug-in little differed in appearance from the 2017 Tourneo Custom.
Due to the 13.6 kWh battery's location at the bottom of the vehicle, where it is perfectly flat (6 cubic meters and 1,130 kilograms), its payload capacity also did not fluctuate significantly. Eight persons and their belongings may fit inside in two rows of chairs that are arranged to face one another.
The propulsion system consists of a 1.0 Ecoboost petrol engine, which produces energy, and a 92.9 kW (126 CV) electric motor, which powers the front wheels. It receives a Zero environmental rating since it can go up to 53 km in electric mode with a fully charged battery.
The on-Road base price starts at $99,990 from the US market.
Without having to worry about running out of fuel when traveling (total autonomy is 500 km). Battery management may be changed using up to four driving modes (EV Auto, EV Now, EV Later, and EV Charge). It takes 4.3 hours to recharge in a domestic outlet, however, this time is shortened if you utilize a Wallbox-style charging station.
The company started selling it with a Titanium finish, which is very comprehensive and stands out for its technical content. The 8-inch touch screen with the SYNC 3 multimedia system and the Internet connection provided by the built-in FordPass Connect modem are two significant features.
There is no lack of lane maintenance alerts and parking assistants like Active Park Assist that may be used while driving.
Read Also– Mitsubishi will launch a low-cost electric minivan using the 2009 i-MiEV system
14- Mercedes eVito Tourer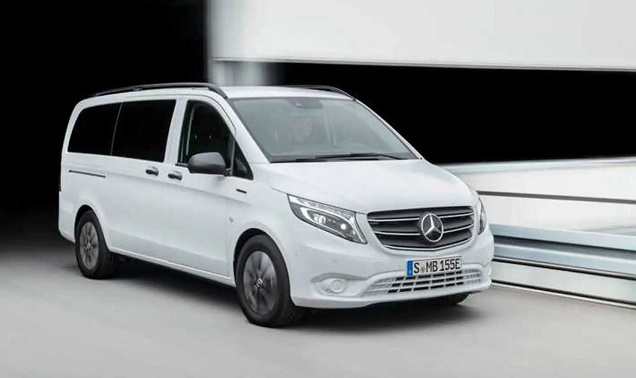 Electric minivan Mercedes added an electric motor to its medium van, the Vito, in 2020 and to the freight version. Its name is the Mercedes e-Vito Tourer, and it may be registered as a tourist vehicle.
Its electric motor has an output of 85 kW (116 CV). Since its battery only has 35 kWh of usable charge, it can only go 186 km.
The electric Mercedes Vito has to be plugged into a socket for 6 hours to fully recharge from 0 to 3.4 hours are saved if a 7.4 kW charging station is utilized.
There is no exterior difference between this model and other variations other than the charging plug, which is positioned on the driver-side B-pillar. It is now available in two lengths, long and extra long, for combustion options.
Efficiency has considered more important than maintaining autonomy, which confines it to recurrent urban displacements. It offers four stages of recovery that may be chosen using the paddles behind the steering wheel, along with three driving programs that are set using a switch on the console. The price per kilometer is low.
The on-Road base price starts at $116,115 from the US market.
With services that the company has developed specifically for its electric minivan range, it offers fantastic baseline equipment for a car of this sort in terms of connectivity and information. Additionally, under active safety with driving assistance.
15- Opel Combo-e Life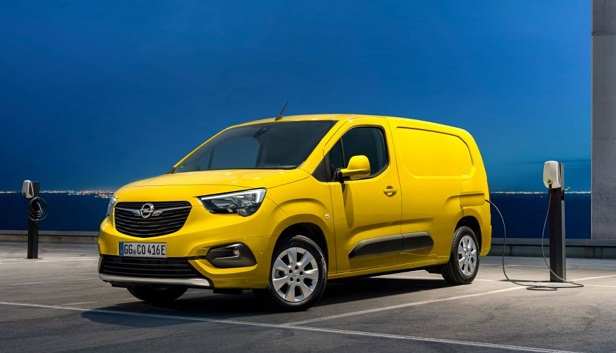 When the Combo Life (the electric minivan passenger variant) debuted in 2018, one of its significant novelties was the electric Opel Combo. This was made feasible by the German light commercial's fourth generation utilizing Citroen and Peugeot's internal combustion engines.
A 136 horsepower and 260 Nm electric engine under the hood of the 2021 Opel Combo-e promises performance from 0 to 100 km/h in 11.2 seconds and a peak speed of 130 km/h.
According to the WLTP standard, the 50 kWh battery has a range of up to 280 km and can be completely charged in seven and a half hours using a 7.4 kW port or up to 15 hours using a 3.7 kW connection.
Opel claims that it can fill 80% of its capacity (from 0%) using a 100 kW direct current (CC) recharge in 30 minutes.
The Franco-German electric minivan is available as a passenger vehicle in two lengths, 4,403 mm or 4,753 mm, with a constant height of 1,841 mm. They can carry up to seven people. The passenger seat may be folded flat alongside the other seats to increase the amount of cargo capacity.
Edition, Elegance, and Elegance Plus were made up of the Opel Combo-e line. Starting at the most basic level, 16-inch wheels, the warning of weariness, the alert, and emergency braking owing to the risk of a frontal collision with recognition of bicycles and pedestrians are all standard.
The on-Road base price starts at €36,000 from the market.
The most complete can have a back camera, Head-Up Display, active cruise control, traffic sign recognition, or the parking and side parking aid, which has twelve sensors all over the body, as standard or as an option.
16- Opel Zafira-e Life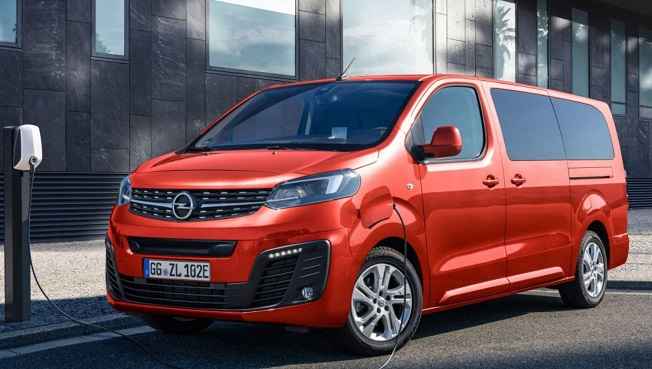 By the end of 2020, the electric minivan Opel Zafira had reached the same distance as the passenger van that had just entered production. Since it was built on the same platform and employs the same mechanics as the Citroen e-Spacetourer, Peugeot e-Traveller, Stellantis, or the Toyota ProAce Verso electric, it is a vehicle with many counterparts (and competitors).
Despite coming from an industrial vehicle, the Opel Zafira Life immediately looked to us to be a great alternative to conventional big minivans. Similar to its brothers, this version's autonomy is a drawback.
It is propelled by a 100 kW (136 CV) electric motor with 260 Nm of torque, and its top speed has been restricted to 130 km/h to preserve its autonomy.
You have a choice between a 50 kWh capacity, which is approved for 230 kilometers of autonomy, and a 75 kWh capacity, which is approved for 330 kilometers. It has a 7.4 kW charger for an AC outlet on board (11 kW is optional), but it also allows quick direct current recharging.
The on-Road base price starts at €53,800 ($63,600) from the market.
Three body sizes, two trim levels focused on the individual (Edition and Elegance), and many trim levels for businesses (Business Edition and Business Elegance) are available for the Opel Zafira-e Life.
17- Peugeot e-Rifter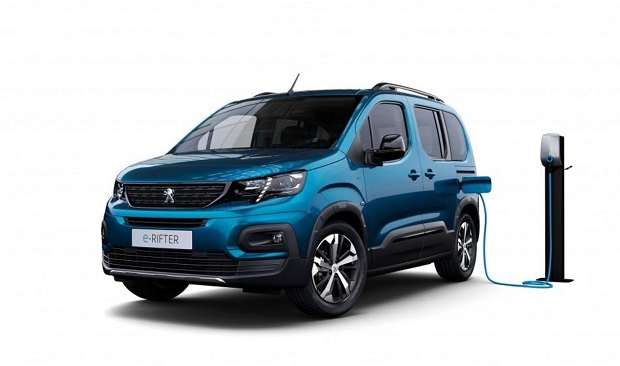 The electric minivan Peugeot e-Rifter provides two bodywork, much as previous vans from the Stellantis Group. One option is the 4.40-meter-long Standard Rifter, which has a 2.78-meter wheelbase and a 775-liter trunk. On the other hand, there is the Long Rifter, a 4.75 m vehicle with a 2.97 m wheelbase, a 1,050 l trunk, and a 4,000 l cargo space with the seats folded.
They are given a choice of five or seven seats in both situations. It stands apart from the exterior for having a more crossover appearance, plastic coverings on the bottom, and a more distinctive design than its countrymen.
A 50 kWh battery powers the 136 hp electric motor that generates power. The electric Peugeot Rifter's WLTP-certified 280-kilometer range, 11.2 seconds from 0 to 100 kilometers per hour, and 130 kilometers per hour top speed.
With a 7.4 kW alternating current, it takes the battery 7.5 hours to recharge to its full capacity; however, with an 11 kW three-phase socket, it only takes five hours. Additionally, 0-80% is completed in 30 minutes using 100 kW direct current.
There are four trim options available for the electric minivan Peugeot Rifter. Heated seats, manual air conditioning, and an electronic parking brake are included in the most basic Active Pack.
The on-Road base price starts at £33,120 from the market.
Parking sensors, roof bars, a fold-down passenger seat, and the Safety Plus Pack for driving assistance are all added with the Allure finish. The 16- or 17-inch alloy wheels, keyless entry, and ignition, dual-zone temperature control, or the digital instrument panel (i-Cockpit) are available with the Allure Pack and GT Line.
18- Peugeot e-Traveller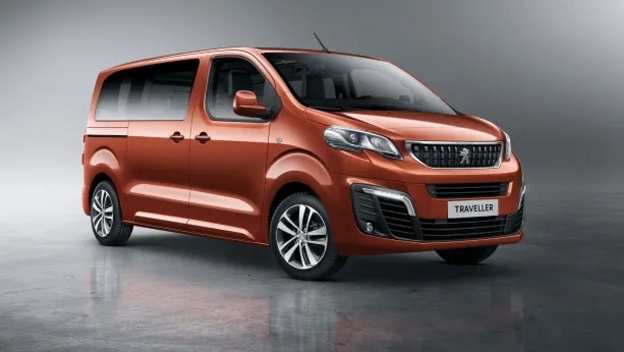 The end of 2020 saw the release of the zero-emission electric minivan Peugeot Traveller, a passenger and family van based on the Expert that was meant to carry people and families.
It is available in three body lengths with a height of 1.90 meters each: Compact (4.6 meters), Standard (4.95 meters), and Long (5.30 meters).
The electric minivan Peugeot e-Traveller utilizes the 100 kW (136 hp) and 260 Nm of maximum torque electric drivetrain that is installed on numerous PSA cars. Its estimates of a 0 to 100 km/h time of 13.1 seconds and a peak speed of 130 km/h are not very accurate. Yes, it's up to 1,000-kilogram towing capacity is very intriguing.
The front wing charging port, the intermediate grille, and the lion logos were the only visual differences from the vehicle we examined. It has a unique instrument panel, gear selector, or electronic parking brake on the inside.
The Lanzadera variants, which are better suited for transportation experts, and the Business finish (with six or seven seats), are also available with up to nine seats. The Active and Allure finishes, with five to eight seats each, take a more family-friendly and leisurely-oriented stance.
Two battery packs of 50 kWh (autonomy of up to 230 km) or 75 kWh (with up to 330 km of autonomy (exclusively in the two biggest bodies) are available and are situated under the floor.
The on-Road base price starts at £41,685 from the market.
A 7.4 kW integrated charger is included, but an 11 kW one is also available. It has three different driving settings: Eco, Normal, and Power (the only one with full power). Additionally, the Grip Control system, which enhances grip on slick roads, is dependable.
19- Toyota Proace City Electric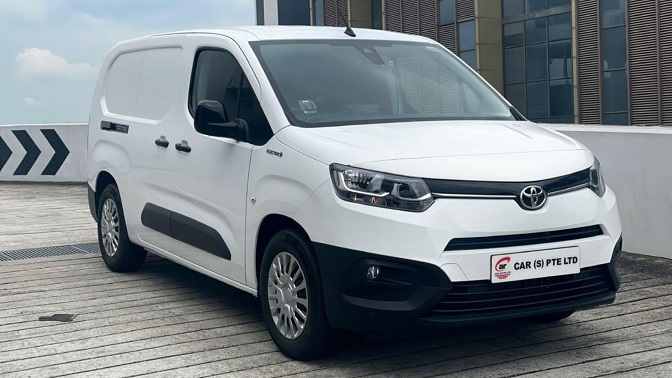 This commercial, which debuted in 2020 and was upgraded in 2022, comes in two body lengths: 4.40 meters and 4.70 meters. Additionally, depending on the version selected, it might have 5 or 7 seats.
The mechanical components are the same because this model is based on Stellantis light commercials: the front wheels are driven by an electric motor with 136 CV and 260 Nm.
The lithium-ion battery delivers a maximum range of 280km with a gross capacity of 50 kWh (46 usable kWh). The battery can fill from 0 to 80% in 30 minutes with the help of a 100kW charge and an 11 kW onboard charger (which is standard on the rest of its siblings).
The Electric minivan Toyota Proace City electric has bumpers and trims painted in body color to set it apart from its commercial equivalents. The most noticeable interior alterations include the lack of a typical gear lever and tachometer and particular driving modes given the vehicle's electric propulsion system.
Similar to combustion variants, the payload volume is 850 liters for the largest slope and 597 liters for the shorter slope.
The on-Road base price starts at £29,832 from the market.
The Toyota Proace City Verso electric minivan vehicle lineup is separated into Active and advanced finishes. It's equipped with 16-inch wheels, parking sensors, Apple CarPlay and Android Auto connectivity, or a steering wheel covered in leather.
The Toyota Safety Sense driver assistance systems, which include features like the pre-collision system, the traffic sign reader, and the cruise control, are also included standard equipment.
Read Also– 2024 Honda Odyssey: price, specs, features, and Release Date
20- Proace Verso electric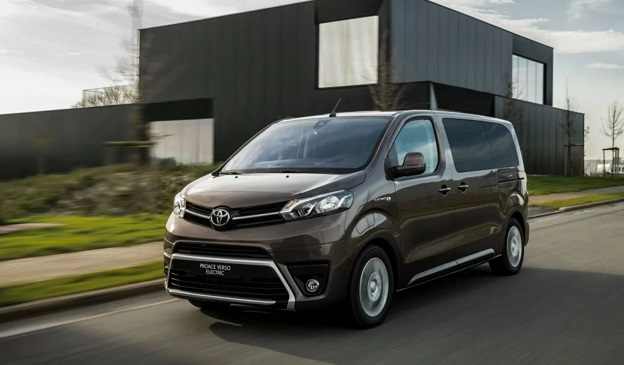 In 2021, the company launched the electric minivan Toyota Proace Verso to its lineup of electric vans after introducing the goods van model months earlier.
The Citroen Spacetourer and the electric minivan Peugeot e-Traveller are two electric Stellantis manufacturers that share a platform with this body, which is more geared toward the transportation of individuals or families.
A 100 kW (136 CV) and 260 Nm electric motor powers the Toyota Proace Verso Electric, which is ordered with either a 50 kWh battery (for a range of 230 km) or a 75 kWh battery (for a range of 330 km). The most powerful recharge takes an hour and a quarter to complete. It allows charges of up to 100 kW.
It is available in two lengths—medium L1, which is 4.95 meters long, and long L2, which is 5.30 meters long—as well as a variety of permutations. The Combi (six-seater, only available with the tiny battery), and Shuttle target fleets, while the eight-seat Family has a family focus.
The on-Road base price starts at $63,840 from the market.
It is well-equipped, with the Toyota Safety Sense suite of support technologies being present as standard equipment. You have a choice between the Advance finish and the Advance Plus, which is even more comprehensive.
21- Volkswagen ID. Buzz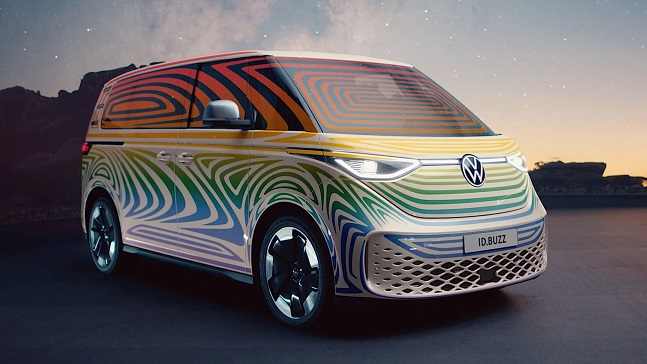 The electric minivan ID. Buzz reinterprets the well-liked T1 from the 1950s to appeal to those seeking a technologically advanced, wide, and enticing mode of transportation. Some little elements, like the huge company emblem with the "W" painted in white or the V-shaped hood that divides the bodywork into two levels, represent the latter.
The ID. Buzz has a cargo capacity of 1,121 liters for a five-passenger vehicle. With the second row of seats folded down, that capacity rises to 2,205 liters.
An extended war model with room for seven passengers may be purchased starting in 2023 if you need an even greater cargo volume. Technically speaking, the dashboard has a 5.3-inch instrument panel with a basic information display paired with a 10-inch multimedia screen (12-inch option).
Electric minivan Volkswagen's Buzz is initially only available with a 150 kW (204 hp) and 310 Nm electric motor that drives the rear axle. The 82 kWh battery claims to have a range of about 500 km and a maximum charging speed of 170 kW capable of filling from 5 to 80% in 30 minutes.
Bi-directional charging, a characteristic that will benefit the network by stabilizing charging power, is one of the most useful elements. The peak speed is electrically restricted to 145 km/h.
The on-Road base price starts at $58,500 from the market.
The Electric minivan Volkswagen ID. Buzz comes equipped with a set of 19-inch alloy wheels, two sliding doors, LED headlights with peripheral lighting, an ambient lighting system, front, and rear parking sensors, a dual-zone climate control system, and the Ready 2 Discover infotainment system as standard features.
Along with many other customized components, the vehicle may be ordered with 20-inch wheels, matrix headlights, a hi-fi sound system, and other options.
22- Maxus Euniq 5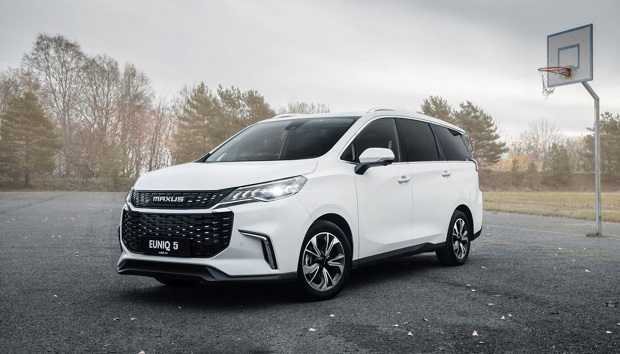 Large families require a lot of interior room, there are still solutions available even if the minivan market is not what it once was. This is the case with the electric minivan Maxus Euniq 5, a vintage minivan that doesn't pass for an SUV but is entirely electric. As is frequently the case with Chinese products, one of its draws is the product/price ratio.
Since it has a torque of 310 Nm, like the standard diesel that may be found in the category, the only motorization accessible is 130 kW/177 CV, which is more than enough to move the assembly even when it is fully loaded. The time it takes to reach 100 km/h is 9.5 seconds.
Its batteries have a 52.5 kWh capacity, allowing it to go up to 356 km on the WLTP urban cycle and 260 km on the combined cycle. It features Type-2 cables, a slow charger, and a rapid charging cable as standard equipment and can recharge using both alternating and direct current. A full charge takes 8 hours on the slow charger (10 amps or 2.3 kW), but it takes 35 minutes on an ultra-fast charging port to reach 80%.
It still costs the same as when it was first introduced, a little over a year ago. The RRP is 52,000 euros, but with the support of the MOVES III Plan's 7,000 euros in assistance for scrapping an older car, plus the special price of 5,100 euros, it is within reach of 39,900 euros, or 41,400 euros with metallic paint.
23- Maxus MIFA 9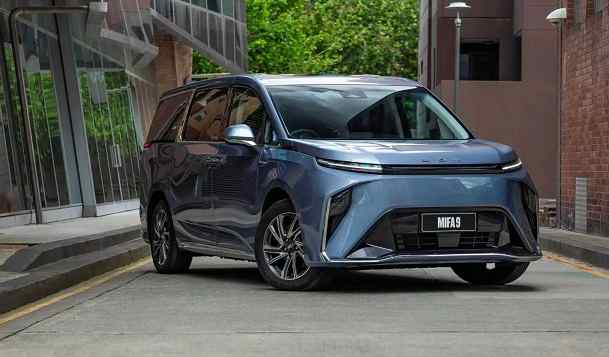 Electric minivan Maxus will always be able to claim that it was the first company to provide the Maxus T90 electric pickup in Europe. The Maxus Euniq 5 must also be acknowledged as falling well short of the customary levels of quality in the European MPV market, but the MIFA 9 is here to put things right.
The Electric minivan Mercedes EQV, the king of large electric minivans, is its biggest challenger. The Maxus idea might not be as flashy, but there is no denying that they have recovered ground in China by providing a very adaptable and well-made car.
Regarding the mechanics, the Electric minivan MIFA 9 declares a scale weight of 2,410 kilograms despite its size. The Chinese employ a single front electric motor with 183 kW (245 hp) and 350 Nm of torque to move such a load. He installs a lithium-ion battery with a 90 kWh capacity between the axles.
While Maxus claims that the urban cycle may achieve up to 580 kilometers, the official autonomy permitted for Europe under the WLTP cycle is 435 kilometers. They choose high-power recharge methods. It can charge from 30% to 80% on a DC charger in 30 minutes.
There is currently no set date for the minivan's entrance into the Spanish market, but it has already been revealed in other nations that its sale price would not be low.
The SAIC Group advertises it in Germany starting at a base price of 68,990 euros since they intend to market it as a premium model. Maxus gives a warranty that the battery will hold at least 75% of its capacity for the first 8 years or 200,000 miles to reassure potential owners.
24- Denza D9 EV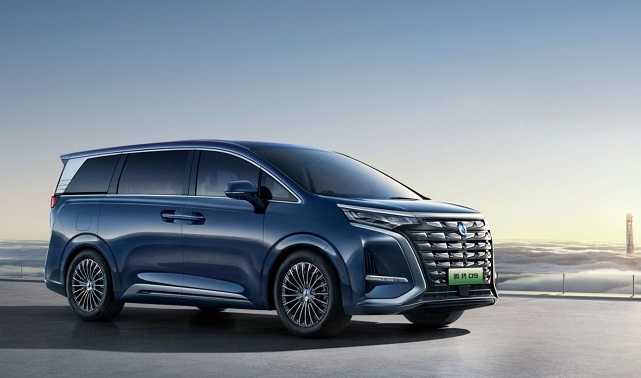 The electric minivan D9 EV's engine's power has not yet been confirmed mechanically, but its electric version can go up to 600 km on a single charge. Something that suggests we could be dealing with a 100 kWh battery that can be charged at a maximum rate of 166 kW.
A battery with a lower capacity than the electric one powers the hybrid version's two electric motors, which collaborate with a 1.5-liter turbocharged gasoline engine.
A vehicle with a range of 190 km in pure electric mode and 1,040 km in hybrid mode, all while consuming 6.2 liters on average per 100 km.
One of the most intriguing aspects of this hybrid variant is the availability of quick charges, which may provide up to 80 kW of power.
Its appointment includes autonomous driving technology, and in this instance, the D9 has a Level 2+ system with 24 sensors, including 4 5x mm-wave radars and 12 ultrasonic radars. These will enable everything from letting the automobile handle interstate driving to autonomous parking or summoning systems.
A unique idea that is very much to the Chinese client's liking has been put up for sale with a price that starts at 390,000 yuan, or about 55,000 euros at the current exchange rate. Depending on the finish and extras, there is a fairly broad price range, with the most opulent and well-equipped model costing 93,000 euros.
20 kW, or 161 horsepower, and 191 pound-feet of torque. The MVP SEV can go more than 400 kilometers thanks to its motor which is coupled to a 55 kWh battery. The range is 420 km, according to official information.
25- Mitsubishi Minicab-MiEV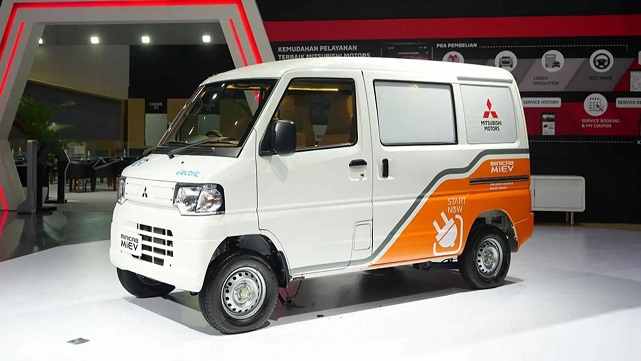 A small electric minivan that is designed for last-mile delivery work that wants to be positioned as a simple and functional alternative.
This model will be based on the popular Japanese Kei-cars, which seek to offer the maximum interior space in the minimum possible size, in this case, a model with measurements of 3,395 mm in length, despite which in the version with two seats, manages to have a cargo area with 1,426 liters of capacity.
Mitsubishi has confirmed the start-up of a factory in Indonesia, which will employ 3,300 people, will be built in 2023, and will have an annual capacity of 220,000 units of this model.
The bad news is precise that this Minicab-MiEV is not a technological novelty in any sense. Mitsubishi has transplanted the system of the well-known i-MiEV, from which the "European" Citroën C-Zero and Peugeot iOn were later born.
That means manufacturing an electric model when production begins in the new factory, will be no less than 15 years old.
The result will be a electric minivan Minicab-MiEV equipped with a small 30 kW (40 HP) electric motor and a torque of 196 Nm. The battery may have two capacities, one of 10.5 kWh that provides up to 100 km of approved autonomy, and on the other hand, they have the original 16 kWh battery, which according to Mitsubishi allows it to reach 150 km of autonomy. A model that should have the same charging system as the i-MiEV, which had a 40 kW fast charge with the CHAdeMO format.
A battery is located in the underbody of the vehicle and to a lower center of gravity completely frees up the cargo area that remains intact.
This model is sold before public incentives at 1.7 million yen in Japan, which exchange is just under 12,000 euros.
Conclusion
Let's find out what's your favorite electric minivan, and it's no longer a secret that working on a new electric minivan gives it a new face ev market.
If you've read until now thank you very much, please do consider bookmarking www.ev-riders.com for more articles about EVS and the latest car news.