2024 Lexus GX: price, specs, and Release Date
2024 Lexus GX: price, specs, and Release Date
The next-generation Lexus GX appears to be directly aimed at the Land Rover Defender with its traditional looks and new Land Cruiser bones.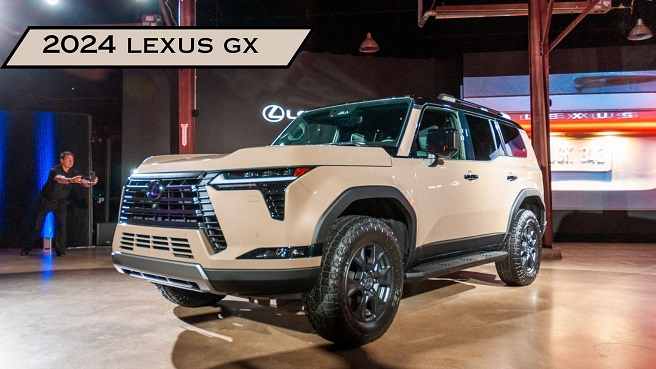 Dallas, Texas – The all-new 2024 Lexus GX is up to the challenge with an unparalleled blend of fashionable features, off-road aptitude, and exquisite craftsmanship that Lexus is known for. Elevating the adventure-ready SUV market is not a mission to be taken lightly.
The Lexus GX has essentially been the same for more than ten years, but a new version has at last come and it looks fantastic.
2024 Lexus GX – overview
The first Overtrail version vehicle with standard 33-inch off-road tires and 18-inch wheels
The 3.4L twin-turbo V6 produces 349 horsepower and 479 pound-feet of torque.
Hybrid traction will be incorporated later.
Standard Lexus Safety System+ 3.0 and Lexus Interface with 14-inch multimedia touchscreen
Towing capacity Up to 8,000 lbs
The 2024 GX, the Lexus LX's little brother, is a full-size SUV that can tow up to 8,000 pounds and accommodate up to seven people with an optional third row. It has a huge skid plate, an electronic locking rear differential, and 33-inch wheels. The specifications of this serious Lexus convey the full tale.
Redesign
As Lexus debuts the whole new and revamped 2024 GX, a new legend is created today. Lexus fans have hailed the brand's renowned off-road prowess and ability to navigate difficult terrain while transporting passengers from short drives to distant destinations in luxury.
Length: 5,005mm
Width: 2,117mm
Height: between 1,915 and 1,935 mm (depending on the wheels used)
Wheelbase: 2,850mm
The angle of attack: 26°
Ventral angle: 23°
Departure angle: 23°
This 2024 Lexus GX looks like a "chiseled" version of the 1990 Land Cruiser due to its quadriform curves and dimensions. It even appears to have some vague similarities to old Land Cruisers when viewed from certain angles, albeit not overtly or directly.
2024 Lexus GX Specs
| | |
| --- | --- |
| Brand | Lexus |
| Trim | Premium |
| Model | 2024 |
| Body Type | SUV |
| No of Doors | 5 Doors |
| Seating Capacity | 7 Passengers |
| Fuel tank Capacity | Likely to have 23 gallon |
| Towing Capacity | Up To 8000 lbs |
| Engine | 3.4L V6 |
| Power | 349 HP |
| Torque | 479 lb-ft. |
| Transmission | 10-Speed Automatic |
| Drivetrain | AWD |
| 0-60 MPH Time | 6.5 sec (est) |
| Top Speed | 112 Mph |
2024 Lexus GX Exterior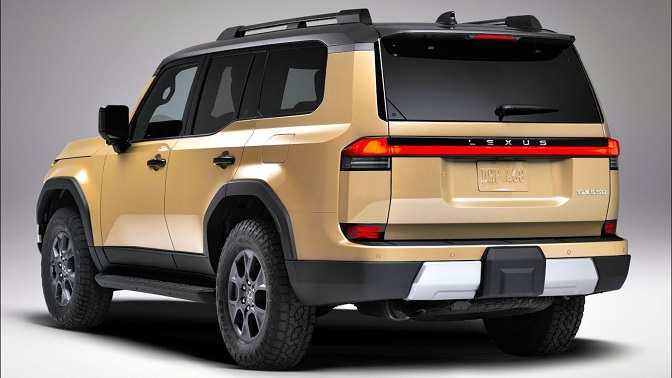 The lighting design of the Lexus GX is also very distinctive, both from the front and the back. The primary headlights are tall and slender, and the LED taillights are matched and connected in the middle.
Its 18-inch wheels with all-terrain tires are supported by some slanted wheel arches. Classic off-road straight lines and additional safeguards at the bottom complete the rear.
2024 Lexus GX Exterior Dimensions
| | |
| --- | --- |
| Length | 197.0 in |
| Width | 83.2 in |
| Height | 75.59 in |
| Wheelbase | 112.2 in |
| Curb Weight | 5264 lb |
2024 Lexus GX Interior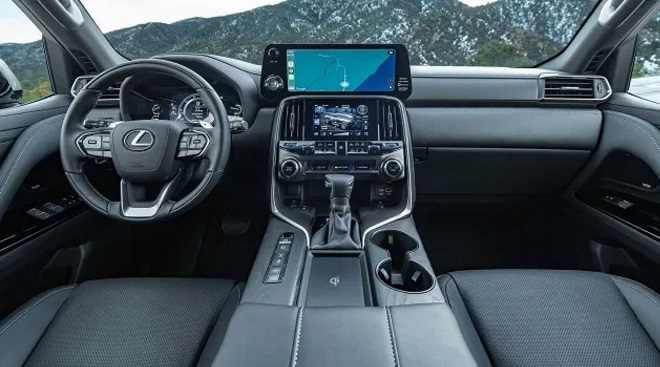 The GX receives a plethora of posh extras and accessories because it is a Lexus. As you would anticipate on a luxury model in 2023, Apple CarPlay and Android Auto are also included without charge.
There are six models and several alternatives. Optional additions include wireless charging, captain's seats for the second and third rows, a 21-speaker sound system (10 speakers are standard), and wireless charging.
The all-new horizontal lower instrument panel design that is carried over to the dash and simplifies the experience in the driver's and passenger's seats while giving exceptional forward and side sight is a significant upgrade over the previous generation model.
It creates a clear, open area that effortlessly connects the standard 14-inch multimedia touchscreen with Lexus Interface technology to the center, where the optional Head-Up Display (HUD) is positioned.
To lessen the possibility of driver distraction, off-road functions are placed around the gear lever, and commonly used physical buttons for air conditioning and radio volume have been kept.
A 12.3-inch digital Multi-Information Display (MID) and wireless Apple CarPlay, integration, and Android Auto compatibility are features of the 2024 Lexus GX.
2024 Lexus GX Features
wifi hotspot
Audio system
Safe to drive
5G Connecting
Wireless apple Carplay
Large cabin space
Wireless phone charger
music streaming
premium sound system
12.3-inch touchscreen display
Apple CarPlay and Android Auto
Bluetooth wireless technology
Strong engine
10-speed automatic transmission
2024 Lexus GX Release Date
We don't know the extent of information about the release date, But the new 2024 Lexus GX launch in the early first quarter of 2024, and booking starts in December 2023, according to media reports, and For more updates, you can visit the lexus official website.
2024 Lexus GX Trims and Price
| Trims | Price |
| --- | --- |
| Lexus GX 460 | $60,000 |
| Lexus GX 460 Premium | $61,000 |
| Lexus GX 460 Black Line Special Edition | $63,000 |
| Lexus GX 460 Luxury | $68,000 |
| Lexus GX 550 | $70,000 |
2024 Lexus GX colors
The 2024 GX has 11 exterior color options depending on trim:
Eminent White Pearl
Nebula Gray Pearl
Atomic Silver
GX-first Incognito
Caviar
Nori Green Pearl
Nightfall Mica
Atomic Silver/Black Roof
Incognito/Black Roof
Nori Green Pearl/Black Roof
Earth/Black Roof
The 2024 GX offers a solid and longer 2.36-inch wheelbase From the side.
To improve vision, the A-pillar was relocated back, the shoulder line was dropped, and the ground clearance was raised. There is a 2.75-inch increase in length.
Overtrail variants' 33-inch tires and 18-inch rims add to the vehicle's commanding appearance For the best off-road performance. For Premium and Luxury trims, the rear footprint is widened by 3.26 inches, and by 4.06 inches for trims.
Engine Power and Performance
Although a 4.6-liter V8 engine was mounted in this prototype in the past, things have changed. Now available with a new, more powerful, and competent 3.5-liter turbocharged V6 engine.
It produces far greater horsepower and a maximum torque that is 50% more than its predecessor, 354 CV, and 650 Nm. it can only be connected to the 10-speed Direct Shift automatic gearbox for maximum efficiency. Additionally, they increase their ability to haul up to 3,500 kg.
The twin-turbo V6 has a higher output of 349 horsepower than the previous generation V8, which had 301 horsepower. Additionally, torque production increases to a staggering 479 pound-feet. With the help of two turbochargers, power delivery can be conveniently controlled in both on- and off-road conditions. For the Premium, Premium+, and Overtrail trims with the standard tow hitch, the towing capacity has increased to 8,000 lbs.
Infotainment and Technology Features
The Lexus GX boasts an extremely sophisticated and technical interior despite its tough exterior. Follow the Tazuna philosophy to ensure that the elements are arranged naturally and that everything is close to reaching.
The 12.3-inch digital instrumentation complements the larger 14-inch touch screen, which stands out. There is even talk of obtaining a mountain bike with the seats folded down. It is a type that can be set up with five or six seats and has a lot of room.
The Overtrail level of equipment that it includes raises the bar for its off-road capabilities. It distinguishes itself with distinctive bumpers that offer extra security.
A tech-focused cabin is completed by the vehicle's six LED charging points (four on the Overtrail version) and a wireless charger in the front compartment.
2024 Lexus GX Pros & Cons
Pros
It will likely have a new Impressive Exterior Design
Spacious & Luxurious Interior
Latest Infotainment system
Off-Road Capability
Likely a powerful Hybrid powertrain
Cons
Safety Features
The new Lexus GX comes standard with Lexus Safety System+ 3.0 for 2024.
Pre-Collision System (PCS)
Blind Spot Monitor with Rear Cross-Traffic Alert
10 Airbags
Vehicle Stability Control
Pedestrian Detection
Trailer Self Control
Dynamic Radar Speed-Based Cruise Control (DRCC)
Track Assist Lane Departure Alert (LTA)
Lane Departure Alert with Steering Assist (LDA w/SA)
Traffic Sign Assist (RSA) and Proactive Driving Assist (PDA)
GA-F platform and suspension
The GA-F platform first seen in the LX 600 of the current generation is shared by the 2024 GX. A crucial component of the Lexus Driving Signature, its sturdy, lightweight stepped chassis boosts body stiffness and enhances road handling.
The multi-link rear suspension has a new double-wishbone front suspension for improved off-road driving capability.
Damping forces are controlled by the optional Adaptive Variable Suspension (AVS). The GX has Electronic Power Steering (EPS), which improves both on- and off-road steering grip.
FAQ/ Frequently Asked Questions
Q.1. When will the 2024 Lexus GX be available?
the new 2024 Lexus GX launch in the early first quarter of 2024, and booking starts in December 2023
Q.2. How much will the 2024 Lexus GX Cost?
the base price start $60000 in american market.
Conclusion
As Lexus debuts the whole new and revamped 2024 GX, a new legend is created today. Lexus fans have hailed the brand's renowned off-road prowess and ability to navigate difficult terrain while transporting passengers from short drives to distant destinations in luxury.
Related Post