BYD Launching EV Toyota corolla competitor just $9000
BYD Launching EV Toyota corolla competitor just $9000
Tesla has been talking about making a more affordable electric vehicle (EV) that is accessible to the mass market. However, BYD, a Chinese automobile manufacturer, seems to have beaten them to it by introducing a new EV that costs just $9,000, which is similar in price to the Toyota Corolla, the world's most popular car. In this discussion, we will take a closer look at the features and advantages of this new electric car from BYD and its potential impact on the market.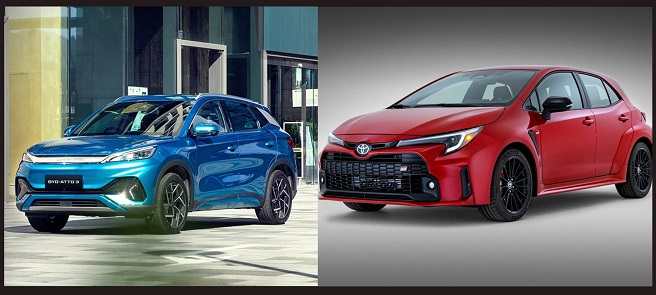 In 2022, the Toyota Corolla was the most popular car in the world, selling over 1.12 million units. There's a new electric car being released by BYD that could change this.
Is byd launch toyota corolla competitor just $9000?
This electric car will be priced at under $9,000, which is much cheaper than the Toyota Corolla, which costs around $20,000. That means that people who are looking for a budget-friendly car may choose the new BYD electric vehicle over the Toyota Corolla.
It may seem like the new BYD electric car is not a good quality vehicle because of its low price. However, this assumption is not true at all.
The new electric car from BYD is designed to be high quality and to compete with cars like the Toyota Corolla. In the following discussion, we will explore the details of the new electric car from BYD and how it compares to the Toyota Corolla.
The Toyota Corolla is currently the most popular car in the world. Tesla, a popular electric vehicle (EV) manufacturer, has also talked about making a more affordable EV for mass-market consumption.
However, it seems that their Chinese competitor, BYD, is actually the first to release an affordable EV that could compete with the Corolla.
BYD is the largest EV maker in china
To better understand BYD's new electric vehicle, it's important to know some background information about the company. BYD stands for "Build Your Dreams", and it was founded in 1995. At first, the company primarily made rechargeable batteries.
In 2003, BYD changed its focus to electric vehicles and started producing them. Since then, the company has become one of the largest manufacturers of electric vehicles. That means that BYD has a lot of experience and expertise in making electric vehicles, which is important when it comes to producing high-quality and reliable electric cars.
BYD's successful strategies in the EV market
One of the reasons why BYD has been able to produce high-quality electric vehicles is because the company has invested heavily in research and development. Specifically, they have focused on battery technology, which is a critical component of electric vehicles. By developing more efficient and reliable batteries, BYD has been able to create electric vehicles that can travel long distances on a single charge and have a longer lifespan overall. This investment in research and development has helped BYD become a leader in the electric vehicle industry.
In addition to producing passenger cars, BYD has expanded its vehicle lineup to include buses and trucks. That means that they have been able to leverage their strong brand in the electric vehicle industry to capture a larger market share. By producing electric buses and trucks, they can offer their customers a wider range of vehicles that are all powered by the same reliable technology. This expansion into other types of electric vehicles has helped BYD grow even more and cement its position as a leader in the industry.
BYD has taken an assertive marketing approach by making its electric vehicles available in over 80 countries around the world. That means the company has a global presence and has established itself as a leader in the electric vehicle market. By being available in so many countries, BYD has been able to reach a large number of customers and offer them high-quality, reliable electric vehicles. This global approach has helped the company to grow and become a major player in the electric vehicle industry.
As of 2022, BYD had sold over 911,141 electric vehicles globally, which is a significant achievement. The company is also expanding its reach by entering the European passenger car market, which is a major step forward for the company. 
Additionally, BYD is a major player in lithium iron phosphate batteries, a type of battery commonly used in electric vehicles.
They also sell electric buses in North America, which shows that the company is expanding its reach beyond just passenger cars. These accomplishments show that BYD is a major player in the electric vehicle industry that continues to grow and innovate.
BYD's success is quite impressive, especially considering that the company may not be well-known to many people. Its achievements are largely due to the growing demand for electric vehicles, especially in China and Europe, which are key markets for the company.
Additionally, BYD has established a solid presence in the United States, where its electric vehicles are used for both public and private transportation. That shows that the company has been able to expand its reach and become a global player in the electric vehicle industry, thanks to its focus on research and development, marketing, and innovation.
Related Post
Now comparing the features of both (BYD vs Toyota corolla)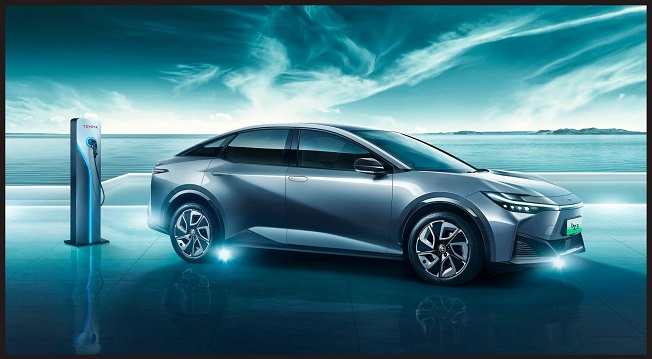 Design
BYD Atto 3
The BYD Atto 3 is a medium-sized SUV
The exterior design of the Atto 3 is somewhat generic and lacks refinement.
The car's face is agreeable but somewhat anonymous.
The side profile of the Atto 3 is attractive, with a descending roofline, a scale pattern flourish on the C-Pillar, and a small spoiler at the tail.
The rear three-quarter view is dominated by a large expanse of blank bodywork, with only a sleek LED light strip and a "Build Your Dreams" badge.
The reviewer suggests that the badge would have been better if it simply said "BYD" as it does on the front.
The Atto 3 features an unusual two-tone grey/blue interior that may potentially divide buyers.
The light grey surfaces combined with the sunroof make the interior space feel more spacious.
The floating screen and minimalist center console treatment give the interior a modern look and features a gear shifter and a few shortcut buttons.
Toyota Corolla
The Toyota Corolla has been well-liked, especially among older models, but the previous model lacked appeal in terms of looks and was starting to look outdated compared to competitors.
The new Corolla has a modern and attractive design, with sleek headlights, a large grille, and particularly appealing tail lights.
The overall look is a departure from the previous model, but it retains the pointy nose at the front and the rounded rear end.
The Corolla Ascent Sport Hybrid has a modern interior design with a large and clean dashboard, featuring a prominent touchscreen display.
The reviewer feels that the Ascent Sport's interior lacks some "wow factor" due to the use of hard surfaces and excessive piano-black plastic.
The car's dimensions are 4375mm in length, 1790mm in width, and 1435mm in height, making it easy to park in tight spots and navigate through narrow city streets.
Price
BYD Atto 3
The BYD Atto 3's most attractive feature is its price, which starts from $44,381 before on-road costs.
Although it may be slightly more expensive than the MG ZS EV in some states, the reviewer believes the Atto 3 is worth the extra cost.
The Standard Range Atto 3 has a driving range of 345km (WLTP), which is more than the ZS EV, but the Long Range model tested in this review offers an even better 420km range at a higher price of $47,381.
The Atto 3 offers good value for money compared to other electric SUVs in the market.
The BYD Atto 3 has an impressive headline-grabbing price of $44,381 before on-road costs.
The Standard Range Atto 3 has a driving range of 345km (WLTP), while the Long Range model grants an even better 420km range for a reasonable increase in price to $47,381.
The Atto 3's features include 18-inch alloy wheels, LED headlights, a 5.0-inch digital instrument cluster, synthetic leather interior trim in a two-tone finish, a panoramic sunroof, a wireless phone charger, a 360-degree view parking camera, ambient LED interior lighting, six-way power adjust for the driver's seat and four-way power adjust for the front passenger, with heated seats for the front two positions, as well as keyless entry and push-start ignition.
The Atto 3's equipment is mostly identical between the two grades.
Toyota Corolla
The Corolla Ascent Sport is the base model of the Corolla range, and the hybrid variant is priced $1500 higher than the petrol version, at $25,870.
There are not many other hybrid cars on the market at this price point.
The Mazda3, Hyundai i30, and Kia Cerato are the main competitors to the Corolla, but none of them offer a hybrid powertrain.
The Hyundai Ioniq is a larger hybrid car, but its most affordable variant costs $33,990, which is significantly more expensive than the Corolla Hybrid.
The Toyota Prius C is a sibling rival to the Corolla Hybrid, but its current driveaway price is $27,596.
Standard features on the Ascent Sport Hybrid are similar to those on the petrol version.
Both versions have LED head- and tail lights, LED running lights, heated and power door mirrors, an eight-inch touch screen with reversing camera, a six-speaker stereo, Bluetooth connectivity, and dual-zone climate control.
The Ascent Sport Hybrid also comes with advanced safety features, which are not available on the petrol version. These features include:

Toyota Safety Sense, which includes lane departure warning, lane keeping assist, automatic high beams, and a pre-collision safety system with pedestrian detection.
Adaptive cruise control, which helps maintain a safe distance from the car in front.
Road sign assist, which can detect and display speed limit signs on the dashboard.
Blind-spot monitoring and rear cross-traffic alert, which can help detect vehicles in the driver's blind spot and when reversing out of a parking spot.
Engine and trans
BYD Atto 3
The Atto 3 is a front-wheel drive electric SUV powered by an electric motor.
The electric motor produces 150kW of power and 310Nm of torque.
While this output is similar to its rivals, the Atto 3 feels responsive and performs well off the line.
The Atto 3's acceleration is not as fast as the base Tesla Model 3, but it can still outrun most combustion engine cars at this price point.
The Atto 3 can accelerate from zero to 100km/h in 7.3 seconds, which is a decent performance.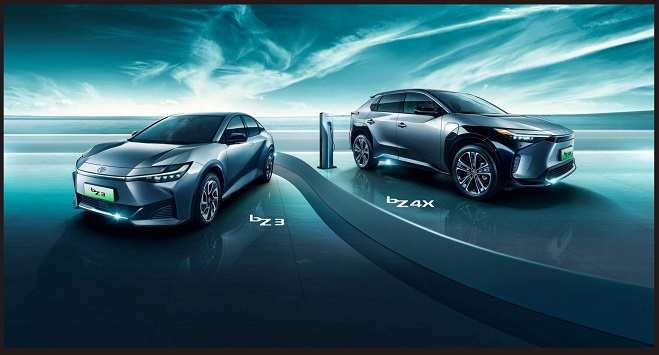 Toyota Corolla
Toyota has been producing hybrid cars for a long time and has had a lot of time to refine and develop the technology.
The Ascent Sport Hybrid does not need to be plugged into a power point to charge its batteries, instead, it uses regenerative braking to capture energy and recharge.
The car has nickel-metal hydride batteries located at the back and a 1.8-liter four-cylinder petrol engine and a 53kW/162Nm electric motor located under the hood.
The engine and motor work together to drive the front wheels and the transition between the two power sources is very smooth.
The car has an automatic CVT transmission, and in the hybrid, the extra torque from the motor means that acceleration is pretty good.
Fuel efficient
BYD atto 3
The BYD Atto 3 Extended Range has a 60.48kWh battery pack.
The battery uses BYD's cobalt-free lithium-iron-phosphate (LFP) chemistry and 'blade' form factor.
The LFP battery has benefits in terms of cost, range, and safety.
The Extended Range Atto 3 can travel up to 420km on a WLTP-rated range.
The official energy consumption for the Extended Range Atto 3 is 16kWh/100km.
The Atto 3 uses a Euro-standard Type 2 CCS charging port.
The Extended Range variant can charge at a max rate of 80kW.
Charging from 10-80% takes about an hour.
The Atto 3 can charge using AC or DC standards.
The AC standard charging rate is 7.0kW which is slower than ideal but still capable of charging the vehicle fully in 8.5 hours from 10%.
The DC standard charging port is a Euro-standard Type 2 CCS charging port with a max rate of 80kW for the Extended Range, charging from 10-80 percent in about an hour.
The Atto 3 has an official energy consumption rating of 16kWh/100km.
During testing, the Atto 3 consumed 15.1kWh/100km which is slightly better than its official rating.
Toyota Corolla
Hybrids like this don't achieve as good fuel economy as plug-in hybrids.
Toyota claims that the Ascent Sport Hybrid should only use 4.2L/100km after a combination of open and urban roads.
After mainly city testing, the writer measured 7.7L/100km when filling up at the petrol station.
The fuel used is 91 RON.
The measured fuel economy of 7.7L/100km is still good compared to the regular petrol variant, which used 9.0L/100km.
Safety
BYD atto 3
Both variants of the BYD Atto 3 have a comprehensive safety suite with active safety features.
Active safety features include freeway-speed auto emergency braking, forward and rear collision warning, lane keep assist with lane departure warning, blind-spot monitoring with rear cross-traffic alert, and a 360-degree parking suite.
The rear-facing safety features such as blind spot monitoring and rear-cross traffic alert are not included in the base MG ZS EV.
The Atto 3's airbag system includes dual front, side, and curtain airbags, as well as a center airbag.
The Atto 3 achieved a maximum five-star safety rating across all of ANCAP's testing criteria.
BYD has developed a new battery technology called 'Blade Battery' which is claimed to be less likely to catch fire in the event of a collision.
Despite this claim, a few widely-publicized fires have occurred on cars using the Blade Battery technology.
These fires are not unique to the Blade Battery technology and have also occurred in cars using standard lithium batteries in the past.
Lithium batteries have been known to catch fire due to factors such as manufacturing defects, damage to the battery, or exposure to high temperatures.
Toyota Corolla
The Toyota Corolla Ascent Sport Hybrid received a five-star safety rating from ANCAP in 2018.
The car comes with a range of standard safety features, including AEB (automatic emergency braking) with pedestrian and cyclist detection, adaptive cruise control, and lane-keeping assistance.
Other standard features include speed-sign recognition and auto high-beam headlights.
The Corolla Ascent Sport Hybrid is equipped with seven airbags for additional safety in the event of an accident.
For child seats, there are three top-tether points and two ISOFIX mounts located across the second row of the car.
Ownership
BYD atto 3
The BYD Atto 3 comes with a six-year/150,000km warranty, which is shorter than the initial seven-year/unlimited km warranty that was proposed by the brand's local distributor but not implemented at launch.
The Atto 3's warranty period is longer than that offered on a Tesla Model 3 but falls short of the seven-year warranties offered by other electric car brands like MG ZS EV and Kia Niro EV.
The high-voltage components of the car are covered by a separate warranty of eight years and 160,000km, which is more in line with industry standards.
Toyota Corolla
The Toyota Corolla Ascent Sport Hybrid comes with a five-year/unlimited kilometer warranty.
The car also includes a five-year capped-price servicing plan.
Servicing for the Corolla Ascent Sport Hybrid is recommended every 12 months or 15,000km.
The cost of each of the first four services is fixed at $175.
The capped-price servicing plan provides peace of mind for owners, as they know in advance what they can expect to pay for each service.
Conclusion
The BYD Atto 3 and the Toyota Corolla Ascent Sport Hybrid are two different vehicles that have been discussed separately in terms of their features, specs, and performance. Both vehicles have a capped-price servicing plan that provides peace of mind for owners, as they know in advance what they can expect to pay for each service.
Overall, the above conversations provide some insights into the features and performance of these two vehicles, as well as some of the pros and cons associated with them.
Related Post