2023 Toyota Prius specifications are More Relevant and appealing (interior, Cargo, Space)
2023 Toyota Prius specifications are More Relevant and appealing (interior, Cargo, Space)
Clearly shifting priorities to full battery electric vehicles, there is still a place in this world for the Pioneer electrified game changer.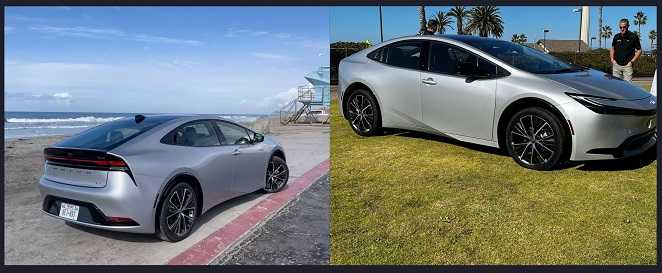 2023 Toyota Prius Hybrid Not only is it still here, it's all new for 2023 Toyota Prius and more relevant and attractive than ever Toyota Prius introduced gasoline-electric hybrids to the world and especially the US in the early 2000s with the Honda Insight, but it was the Toyota Prius 2023 that ultimately proved to be the real staying power hybrid has become synonymous with the term and a fifth in 2023 to help fuel Americans through several fuel crises in its more than 20 years.
Go full battery electric but away from big cities still short supply with EV charging stations one car that can be charging its own battery is a smart choice.
Powertrain
A new 2023 Toyota Prius powertrain that powers the big 2-liter I4 engine starting with the electric motors getting a torque bump to bring total output up to 194 horsepower. That's a huge increase from the previous generation's 121 horsepower Prius. 
Driving Impressions
Integrated all-wheel drive last gen, and it's available again this year fully electric with a dedicated electric motor for the rear axle that boosts torque and total system horsepower to 196.
We had seat time in both front and all-wheel drive. Edition during our initial drive times in Southern California could easily feel that extra power makes highway merging much easier, and the 2023 Toyota Prius more effortlessly maintains speed once up to speed with traffic.
Fuel Economy
Although oddly enough it looked quieter most importantly when equipped with all-wheel drive. With the added power it's still the most fuel-efficient Prius yet, yet official fuel economy ratings for the base LE front-wheel D drive are 57 City 56 Highway and 57 Combined 53 City 54 Highway and 54 for AWD.
Styling
When it comes to styling the 2023 Toyota Prius has always deviated from the norm and usually not for the right reasons, but there's no arguing that it's the best-looking ever. Same five-door hatchback format as always but now an Ultra with an aerodynamic single arc coupe-like profile and large wheels that blend in with most current EVs, It is both wider and lower than the previous Gen 2, whose roof line is close to two inches.
The new exterior design will grab most of the headlines, but we like what they've done inside even things are increasingly modern in both looks and tech features but still highly functional aided by a fair amount of actual physical controls.
Interior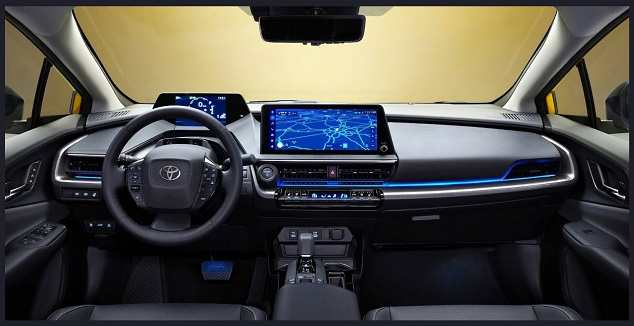 The multimedia system has an 8-inch touchscreen standard, and the Le and XLE trim Limited's 12.3-inch wide screen can be added to the axles with essential driver information now displayed on a sharp-looking 7-inch LCD.
Screens mounted in a large housing behind the wheel similar to Toyota's bz4x front seats are still spacious, but the even more comfortable rear seats have leg room and cargo space.
Pricing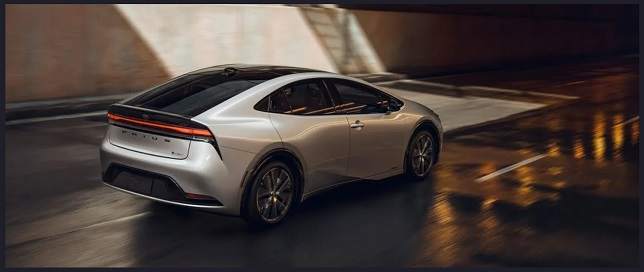 That's actually down 15 percent from 27.4 cubic feet to 23.8, with pricing starting at $28,545 for the base. Climbing to $35,560 for the top Limited all-wheel drive, available with all trims for fourteen hundred dollars later in the year, a Prius Prime plug-in hybrid will add nearly 40 miles of battery, which would be driving around thirty-two thousand dollars to start.
So while there's still a place for gasoline-electric hybrids, Toyota is better served by focusing more on fuel efficiency instead of boosting horsepower by 60 percent while boosting combined fuel economy by just over a mile per gallon.
Conclusion
Giving the Prius better acceleration and high-speed stability to stay competitive with EVs and still keep it the most efficient hybrid on the road makes it more of a winner for us, which is why the 2023 Toyota Prius won our Best Family The car won the Drivers' Choice award and why exactly it will remain relevant for many years to come.
Related Post