2024 Nissan Frontier price, specs, and Release date
2024 Nissan Frontier price, specs, and Release date
The Nissan Frontier has been one of the best-selling trucks in the midsize segment, and with the introduction of the all-new generation a few years back sales have increased up to 22 percent, but even though sales are constantly Rising.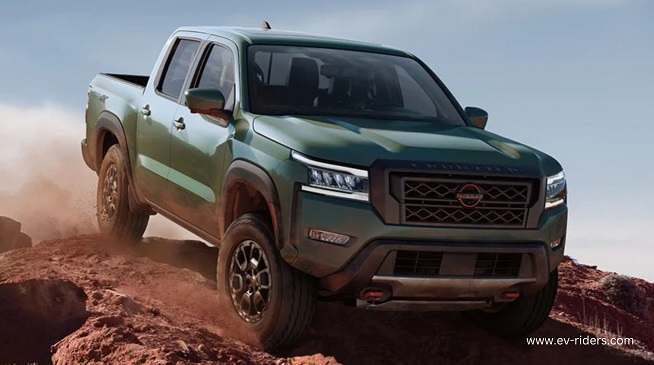 The competition is not taking a break because, in the meantime, Many competitors introduced namely, the Ford Ranger, the Toyota Tacoma, and the all-new Chevy Colorado.
So considering that the competition does not sleep we need to have many new upgrades for the frontier to continue selling well, and luckily for 2024.
There will be a lot of new upgrades for the Nissan Frontier, so if you want to learn more, follow along while we cover how the all-new 2024 Nissan Frontier Wows everybody.
2024 Nissan Frontier Engine and Powertrain options
Powertrain options for the Nissan Frontier have always been small, and Nissan introduces one powertrain and sticks to this powertrain throughout production.
The same case with the current generation, this model will keep using the 3.8 liter V6 naturally aspirated engine in the future, and this engine is powerful and produces about 310 horsepower and 281 pound-feet of torque.
Colorado was already pushing 430 horsepower and massive low-end torque because of its turbocharged 2.7-liter engine, so the V6 in the Nissan Frontier.
Although very powerful lags Behind these new turbocharged powertrains mainly because this model delivers the torque relatively high at the RPM band at 4400 RPM, while the turbo engines deliver maximum torque at 1600 RPM.
So you get the idea why the Nissan engine is somewhat of a dinosaur compared to Modern smaller engines that push a ton of power, but for 2024 we can see a surprise from Nissan.
There's already an engine that Nissan has that is turbocharged and pushes a ton of power, and this is the kr20, which is a 2-liter inline 4-turbo engine that pushes 268 horsepower and 280 pound-feet of torque.
This engine is offered by a Nissan Altima and an Infiniti qx50, It's worth noting that this engine replaced the V6 options in the Nissan lineup, so we could expect this engine to arrive soon even, so for this application tuned for even more performance to satisfy the needs of the Nissan Frontier.
2024 Nissan Frontier New hybrid model
According to many industry experts, the whole industry is headed in a direction if Nissan decides to stick to the V6 naturally aspirated engine.
It'll start to lose sales in the long run, that's why a new hybrid powertrain is already in the works, the same 2-liter turbo engine that we noted previously, but for this application, this engine is slightly detuned to be more efficient and also the work with the electric motor to create power.
The electric motor will get power from a small lithium-ion battery of around 1.1-kilowatt hours, good fuel economy, and more power.
Especially for acceleration, the frontier is perfect for towing, and for the following years, a plug-in hybrid is also reportedly in the works.
This plug-in hybrid should Implement a similar powertrain as the mild hybrid, but this time there will be a bigger battery, bigger battery is a 17.5-kilowatt-hour battery.
They'll give the Nissan Frontier a feel for the autonomy of around 40 miles only in EV mode, this will be pretty much perfect for people who are driving short-distance strips.
You'll be getting excellent fuel economy and unmatched performance.
2024 Nissan Frontier Towing and Payload performance
The new generation of the 2024 Nissan Frontier has always been capable of Towing, and the current model manages to tow a massive 6720 pounds.
These numbers are higher than the Tacoma, which can only tow up to 6500 pounds for the base model, but they're lower compared to the Ford Ranger, which can tow up to 7500 pounds, and the Chevy Colorado, which can tow up to 7700 pounds.
So Nissan is expected to boost these numbers that offer a similar performance as the Ford Ranger for the 2034 model year.
Towing performance for the Nissan Frontier should be around 7500 pounds, according to many industry insiders, this is more than needed for Nissan to keep its Competitive Edge and offer a pickup truck.
That'll the buyers have shifted from full-size pickup trucks due to the constant price hikes of these trucks, so there are a lot more customers that are looking for a mid-size pickup with good performance, that's why this is needed for the Nissan Frontier to be a proper competitor and offer buyers something capable in terms of Towing the payload capacity.
On the other hand, is about 1600 pounds and slightly improved for the 2024 model year, the 2024 model should have a payload of about 2000 pounds considering that the Chevy Colorado can haul a massive 2181 pounds.
This increase in performance is more than needed for Nissan to stay competitive in this segment.
| | |
| --- | --- |
| Brand | Nissan |
| Trims | Frontier |
| Body Type | Pickup Truck |
| Door | 4-door |
| Seating Capacity | 5- passengers |
| Engine Type | 3.8-litre V-6 |
| Power | 310 Hp |
| Torque | 385 lb-ft of torque. |
| Transmission | 9-speed automatic transmission |
| Drivetrain | four-wheel drive (FWD) |
| 0-60 MPH Time | 7.5 Seconds |
| Top Speed | 113 to 120 mph |
| Mileage (Full Tank) | Up to 410 miles |
| Fuel tank capacity | 21.0 gallons |
2024 Nissan Frontier Fuel economy
The fuel economy of the current model of the Nissan Frontier is more than good for a pickup truck of its size, the frontier can get about 18 MPG in the city and 24 MPG on the highway, and 20 MPG combined with the all-wheel drive version slightly lags.
The two-wheel drive can get about 17 MPG in the city and 22 MPG on the highway, and 19 MPG combined when you put these numbers into perspective, you'll see that they're not bad at all, and these numbers should stay for 2024.
If we see a different engine, specifically a hybrid model, we could expect the fuel economy to rise to about 30 to 35 MPG.
We noted previously, if we accidentally see a plug-in hybrid model, there is a big chance that the model will get about 40 miles only in EV mode, which is perfect for people who don't drive more miles.
2024 Nissan Frontier Release date
The release date of the new 2024 Nissan Frontier is 2nd quarter of 2024, and production starts later this fall. For more update you can visit Nissan Official Page.
Read Also- 2024 Nissan Maxima Price, Specs and Release Date
Read Also– 2024 kia sportage price, space, and Release date
2024 Nissan Frontier The new off-road trim level
The current Nissan Frontier provides 3 trim levels these are SSV and Pro X models, what Nissan does not have is a proper off-road model Nissan already offers the Pro 4X.
This model has built-in shocks and other upgrades, but this isn't cutting it anymore for comparison competitors like Ford, and Chevy have their high-performance off-road models.
These are the Ford Ranger Raptor and the Chevy Colorado ZR2 bison, and Toyota also offers a high-end performance vehicle which is the Toyota Tacoma Trail Hunter, so adding new off-road trim to this lineup should be something that Nissan should focus on for 2024.
They need to make a worthy Challenger to Dimension models and a more rugged look, more upgrades to the undercarriage like skid blades better-performing shocks 35-inch tires, and more wheel options.
That is what buyers want these days in Nissan should deliver if they want to keep the sales flowing, so there's a discussion in the Nissan community that we're going to finally see that for 2024 and new off-road trim will be released to the market.
2024 Nissan Frontier Features
Wi-Fi Hotspot
5G Connecting
Safe exit warning
Nissan USB Ports
Music Capability
Audio Sound System
HD Rear Vision Camera
Front and Rear USB ports
Bluetooth connectivity
Premium Audio System
8-inch Touchscreen Display
Wireless Smartphone charging
Android Auto and Apple CarPlay.
Strong engine
9-speed automatic transmission
2024 Nissan Frontier Exterior styling
In terms of the exterior styling of the all-new Nissan Frontier, we can't expect to see revolutionary changes namely because this model was only released two years ago, and seeing Nissan do a major redesign of the Frontier is hardly for 2024.
But there will be some slight changes that'll indicate a 2024 model, so we can see a new redesigned Grille different types of tow hooks, and some small accents here and there, overall only slight changes and not something that'll be complete departure from the current model a bigger redesign can be expected for the 2025 or 2026 model years when this model will show its age.
2024 Nissan Frontier Dimensions
| | |
| --- | --- |
| Length | 210.2 in. |
| Width | 73.0 in. |
| Height | 72.1 in. |
| Wheelbase | 126.0 in. |
| Ground-Clearance | 8.9 in. |
| Curb Weight | 4,708 lbs. |
2024 Nissan Frontier Interior styling and features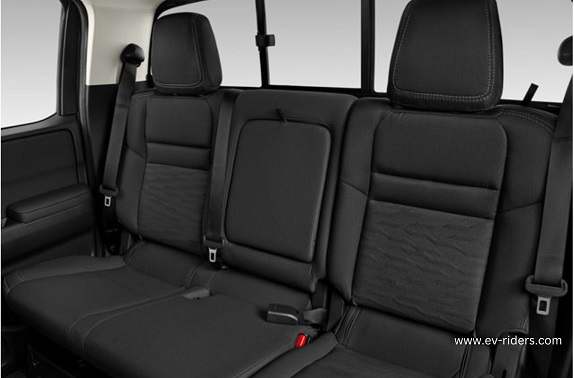 When it comes to Interior styling big changes are not expected to come, this model will keep the same type of Dash and interior pieces, but there should be some changes in the introduction of more quality materials and improvements in technology.
Everyone is bashing Nissan for its infotainment system, and this is the area where they should focus the most for 2024 and deliver much more attractive software to the market.
Luckily there's Apple car play and Android auto integration for those who don't want to use the Nissan infotainment system.
2024 Nissan Frontier Trims and Price
The Nissan Frontier is a pretty affordable model, the base s model starts at $29370, and prices are stay for 2024.
Even though a slight hike in price can also be expected is getting pricier, and we can see a slight bump in price for the 2024 Nissan Frontier, when it comes to the best option our favorite is the crew cab SV model, which starts at $32070, and this is probably one of the best deals out there.
| Trims | Price Range |
| --- | --- |
| S | $29370 |
| SV | $32070 |
| PRO-X | $37,500 |
| PRO-4X | $40,500 |
2024 Nissan Frontier Colors
Exterior Colors
Red
Red Pearl
Tricoat Red Metallic
Tricoat Red Metallic
Cloud White
Blue Pearl
Black Metallic
Glacier White
Code Red
Electric Blue Metallic
Black Pearl Metallic
Liquid Platinum Metallic
Gun Metallic
White Pearl
Back Country Green Metallic
Baja Dune Metallic
Gray Metallic Matte
Ceramic Gray Pearl
Black Obsidian
Chrome Silver Metallic
2024 Nissan Frontier Safety Features
Standard Teen Driver
Standard Tire Fill Alert
Safe Exit Assist
Lane-keeping assist
Lane Departure warnings
rear cross-traffic alert
Anti-Lock Braking System
Driver Attention Warning
Traffic sign recognition
Safety Alert seats
Standard HD Rear Vision Camera
Forward collision warning in the suite
automatic emergency braking
Surround-view parking camera
Intelligent Forward Collision Warning
standard Tire Pressure Monitoring System
Automatic emergency braking
Pedestrian detection
Conclusion
Overall, the 2024 Nissan Frontier promises to be that will fulfill the needs of current drivers wanting a powerful, economical, and technologically sophisticated car. The full specifications are disclosed in a formal presentation, but it matches the high expectations of Nissan fans and pickup truck lovers worldwide.
It will probably turn out that the Frontier fusion of modern and Antiquated design is brilliant, so what do you think of the 2024 Nissan Frontier, let us know your thoughts in the comment box below.
Thanks so much for reading till the end, if you like this article and please comment and Bookmarked www.ev.riders.com for the latest car update.
Related Post