2024 Jeep Gladiator: Price, specs, and Release date
2024 Jeep Gladiator: Price, specs, and Release date
The mid-size pickup truck segment is getting more competitive with the launches of the new Ford Ranger and the new Toyota Tacoma.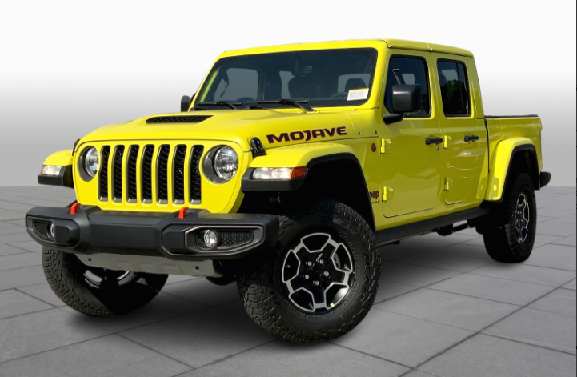 Jeep is putting a big effort into creating something that will match these new models and offers something unique that'll keep the sales flowing and possibly outmatch the current numbers of 77000 units sold for 2022 alone.
The Gladiator Offers safety and design, with a 3.6-liter V6 Gasoline engine, with 4X4 traction. The engine is mated to an eight-speed automatic transmission.
2024 Jeep Gladiator: Projection Headlights, ABS brakes, 4 Airbags + Sides, Emerging Braking System, Electric Windows, Radio, touch screen, heated seats, wireless charger, rear camera.
The 2024 Jeep Gladiator Mojave will be released in 2nd quater 2024, and It is one of the craziest vehicles on the market right now. Gladiator is a newer model. There shouldn't be any major shocks during the third year of manufacturing. 
Anyway, only the hybrid variant is supposedly a novelty. For this reason, we are more interested in the Mojave variant.
Jeep Gladiator pickup
It is a unique edition pickup truck since it is rated for the desert. The Gladiator Mojave has a special chassis and is ideal for quick off-road excursions. Later in 2024, sales of the new Gladiator will start.
2024 Jeep Gladiator Specs
| | |
| --- | --- |
| Brand | Jeep |
| Trims | Mojave |
| Model | 2024 |
| Body Type | Pickup Truck |
| Door | 4-door |
| Seating Capacity | 5- passengers |
| Engine Type | V6 Cylinder 3.6L |
| Power | 285 hp |
| Torque | 260 lb-ft of torque |
| Transmission | 8-speed automatic transmission |
| Drivetrain | All-wheel drive (AWD) |
| 0-60 MPH Time | 7.2 seconds |
| Top Speed | 100 mph |
| Mileage (Full Tank) | Up to500 miles |
2024 Jeep Gladiator Exterior
The Jeep Gladiator Mojave in 2024 will be unique from the standard Gladiator in several respects. Yes, this variation has a wilder appearance, but the Ram Rebel TRX's a wild and aggressive design.
We may argue that Mojave is a bit more untamed and ferocious than the standard Gladiator. Additionally, it provides a variety of distinctive characteristics, such as the chassis, colors, and off-road capabilities.
Stock 33-inch off-road tires and 17-inch wheels are included with the 2024 Gladiator Mojave. And along with the stronger axles, the higher suspension is a further crucial improvement.
Jeep has accomplished the aim of producing a fantastic off-road pickup. Mojave provides 11.6 inches of ground clearance in addition to several cosmetic upgrades.
2024 Jeep Gladiator Dimensions
| | |
| --- | --- |
| Length | 218.0 In. |
| Width | 73.8 In. |
| Height | 75.0 In. |
| Wheelbase | 137.3 In. |
| Ground-Clearance | 11.1 In. |
| Curb-Weight | 4812 lb. |
2024 Jeep Gladiator Dimensions
Interior Upgrades and Technology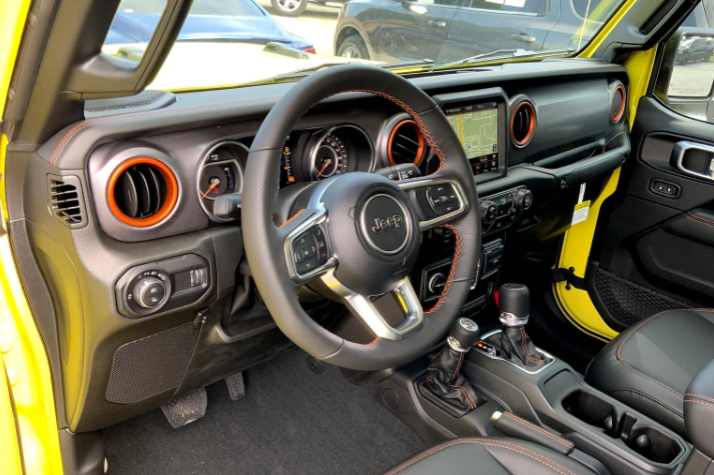 The all-new 2024 Jeep Gladiator is expected to feature a lot of interior upgrades, these upgrades will be revolutionary in part of the mid-cycle refresh for this model.
That will include improved seats and more quality interior materials, a new Dash with soft-touch materials that look premium with nice accent stitching.
Also, the changes will move from the Wrangler to the Gladiator and will finally get an improved infotainment system.
The current Uconnect is very dated, and there will be a big 12.3-inch horizontal display with the newest U connect 5, which is expected to be 5X times faster than the current version used in Jeep models.
In addition to this and higher trim levels, it has a fully digital cluster with all the essential data for the driver. 
2024 Jeep Gladiator Interior Dimensions
| | |
| --- | --- |
| Head-Room (Front/ Rear) | 42.8/ 42.8 In. |
| Leg-Room (Front/ Rear) | 41.2/ 38.3 In. |
| Shoulder-Room (Front/ Rear) | 55.7/ 55.7 In. |
| Hip-Room (Front/ Rear) | 53.9/ 55.9 In. |
| Passenger Volume | 103 cu ft. |
| Cargo Volume | 35.5 cu ft. |
2024 Jeep Gladiator Features
Waze™
Google Maps
Android Auto
Two USB and USB-C ports
Wi-Fi hotspot capability
Audio Sound System
Wireless Smartphone charging
Available wireless Apple CarPlay
Strong engine
Digital dashboard
8.4-inch Touchscreen Display
8-speed automatic transmission
Overall the 2024 Jeep Gladiator will be a nice place to be and offer everybody an unforgettable experience.
Read Also– 2024 Toyota Tundra: Price, specs, and Release date
2024 Jeep Gladiator Release date
According to media reports, the 2024 Jeep Gladiator all Trims is the ultimate off-roader and will start selling in 2nd quarter of 2024, and booking start in the last of December 2023. for more update you can visit jeep official website.
Mechanical upgrades
While all Gladiator load-outs are unique and powerful. Jeep Gladiator 2024 Mojave is designed for high-speed off-roading, so its mechanical layout is different.
First of all, a 4×4 drive system is standard. In addition, Mojave offers an amazing creep ratio, better launch angles, and a two-speed transfer case. A rear-locking differential is also available. The ride is sportier, and the seats get extra grip. That is a useful upgrade, and comfort will be a little better too.
2024 Jeep Gladiator Engine, Power, and performance
The 2024 Jeep Gladiator has a new engine option currently.
New mild Hybrid engine
We have the 3-liter turbo diesel and the 3.6 Liter V6 engines, both engines can be described as dull and boring to drive. 
Especially the 3.6 Liter V6, which is lacking the most important thing for a truck, and that is low-end torque, so for 2024, things are about to change the new model is expected to get the 2-liter inline 4 turbocharged hurricane engine.
Mild hybrid version
This engine makes about 270 horsepower and 295 pound-feet of torque and is come in a mild hybrid version.
That means paired with an electric motor that'll also improve its fuel economy and overall performance, and this engine is paired with an 8-speed torque file automatic that is extremely smooth and pleasant to drive with a new 4 X4 plug-in hybrid powertrain.
But there's more when it comes to the 2024 Jeep Gladiator powertrain options, and this is the introduction of the all-new plug-in hybrid model.
This model is already available in the Wrangler, this new plug-in hybrid will implement the same powertrain as the mild hybrid version, this will be the 2-liter hurricane engine, but one major difference will be the implementation of a bigger battery pack.
The Jeep Gladiator 4X4 is expected to carry a 17.4-kilowatt-hour lithium-ion battery pack that'll allow the Jeep Gladiator to have a range of 370 miles in hybrid mode.
In addition to this, you'll also have 21 miles of range on electric power alone, this powertrain is expected to produce about 375 horsepower and 470 pound-feet of torque and is compared with an 8-speed torque file transmission.
New diesel engine
The new 2024 Jeep Gladiator Mojave has a hybrid powertrain, although it doesn't yet have electricity. This variation has a normal 3.6-liter V6 engine instead. Almost all Jeep vehicles, including crossovers and SUVs, are powered by this gasoline engine. It produces 260 lb-ft of torque and 285 horsepower. There is also a stop-start system available. A 3.0 liter V6 diesel engine is now available for the Gladiator truck.
Hopefully, this powerplant will be a choice for Gladiator, Mojave. A diesel engine has a maximum output of 442 lb-ft of torque and 260 horsepower. Mojave provides even better off-road performance with higher torque. Finally, this variation has a six-speed manual gearbox in addition to an 8-speed automatic gearbox.
2024 Jeep Gladiator Colors
Interior Colors
Exterior Colors
Black
Silver Zenith
Sting-Gray
Firecracker Red
Bright White
Sarge Green
High Velocity
Hydro Blue Pearl-Coat
Limited Edition Earl
Granite Crystal Metallic
Towing capability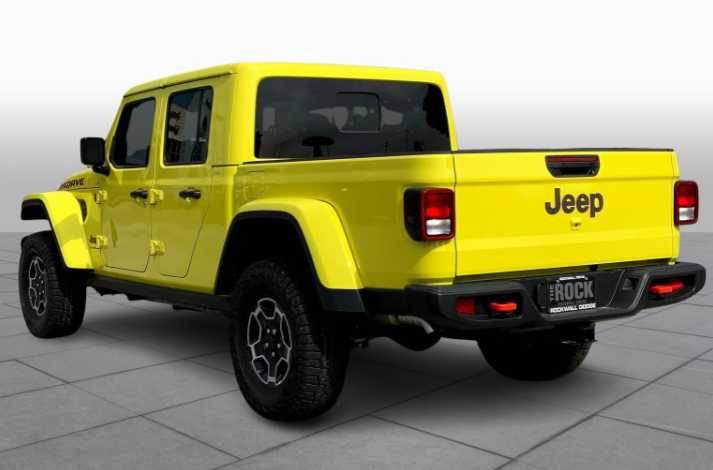 The towing capacity for the 2024 model will depend if you opt for the max tow package, this tow package only comes with the automatic transmission of the Jeep Gladiator, this tow package includes a lot of goodies intended for maximum towing output and the maximum tow performance for the 2024 model is expected to stay the same which is around 2650 pounds.
The Wrangler 4×8 can tow up to 3 500 pounds just like the gas-powered model, so we may presume that the correlation is about to be the same in the case of the Gladiator considering that the new Gladiator hybrid will be available only with an automatic transmission the base sport trim should be able to tow up to 4 500 pounds.
On the other hand, the most capable models should offer a Max towing capacity of up to 7700 pounds.
We would be happy to see more, but the 7700-pound number is probably the limit since all these truck makers offer full-size trucks.
2024 Jeep Gladiator Fuel Economy MPG
Never have any issues Towing heavy loads around fuel economy fuel economy is an area, in which we see a lot of improvements in 2024.
We're going to see a mild hybrid as well as a plug-in hybrid setup for comparison.
The current Gladiator with a 3.6-liter engine has a fuel economy of 19 MPG combined, and a diesel engine with a combined economy of 24 MPG for 2024.
For the mild hybrid model with a 2-liter hurricane engine, these numbers are expected to increase to 23 MPG combined, and for the 2024 Jeep Gladiator 4X4, these numbers should be around 49 MPG.
Read Also–
Read Also– 2024 Toyota Camry: price, specs, features, and Release Date
Trims and Price
When it comes to trim levels, the Jeep lineup is probably one of the biggest across the whole segment, they're simply an abundance of trim levels, and frankly, it's hard to keep up memorizing each one of them for 2023.
There are a total of 9 different trims, these include the sport sport s Willy's Willy sport Overland Rubicon Mojave freedom and high altitude.
In terms of pricing for the 2024 model year, we could expect a similar price as 2023,
The base sport trim will start at $38990, while the sport-s will start at $43185.
Higher-end trims like the Rubicon are expected to start at $52740, the Mojave price $53,000, and the High Altitude to start at $55825.
If we see a 392 Hemi, we could expect this model to begin at $85000, this model will be the most expensive Gladiator ever put into production.
The Hercules with a Hellcat engine, and we can expect this model to cost up to $100000.
| Trims | Price Range |
| --- | --- |
| Sport | $39000 |
| Willys Sport | $43,000 |
| Sport S | $44,000 |
| Willys | $48,000 |
| Freedom | $48,000 |
| Overland | $50,000 |
| Mojave | $53,000 |
| Rubicon | $53,000 |
| High Altitude | $56,000 |
2024 Jeep Gladiator Safety Features
Side Impact Beams
Height Adjustable Seatbelts
Brake Assist
Traction Control
Blind Spot Warning
Rear Parking Sensor
Security system
Panic Alarm
Manual Rear Child Safety Locks
Anti-Lock Braking System
Electronic Stability Control
Front-impact airbags
Mounted Side-impact Airbags.
Airbag occupancy sensor
Automatic Emergency Braking
Pedestrian Detection
Conclusion
The top amazing features of the 2024 Jeep Gladiator, and this truck truly sets new standards.
In terms of design performance, technology, and reliability, whether you're a truck Enthusiast, an adventure Seeker, or someone who values comfort and safety, the 2024 Jeep Gladiator has something for everyone, so what are you waiting for get behind the wheel of this extraordinary truck and experience the thrill for yourself.
If you've read until now thank you very much, please do consider bookmarking www.ev-riders.com for more articles about EVS and the latest car news.
Related Post