Elon Musk Confirms New $25k Tesla Hatchback
Elon Musk Confirms New $25k Tesla Hatchback
Elon Musk has led the EV revolution. Since entering the industry in 2008, the billionaire CEO had a goal of transitioning the world from internal combustion engines to clean electric power.
However, the tech billionaire has a problem tesla are too expensive. But this is all about the change, as he has just confirmed some huge news.
We explain what Elon Musk has just revealed about his plans for a new $25K Tesla Hatchback.
Before we get into the details of what the Tesla CEO has just said, it's important to know that Tesla's official mission is to accelerate the world's transition to sustainable energy.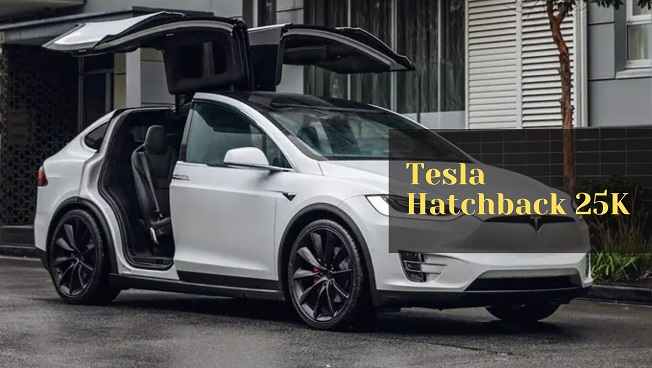 According to a report, Musk claimed that the three key components of a sustainable future are solar and wind energy, electric vehicles of all types, including automobiles, boats, and airplanes, and batteries for energy storage.
As we go to a sustainable energy grid and electric vehicles, then we move to a truly sustainable energy economy, which is where we want to get to as fast as possible, he said, addressing the shareholders.
He believes this is the key to Earth remaining habitable, saying the aim of all this was and remains to expedite the advent of sustainable energy so that we may imagine a very distant future and life would still be nice.
Everyone should think about it. This idea is the rock of the foundation of Tesla's EV empire. So to achieve Tesla's mission, Elon Musk has confirmed that the next revolutionary generation of Tesla cars will start at just 25K $ Tesla Hatchback.
He affirmed that Tesla will take a completely new approach, focusing on cost rather than acceleration and performance to democratize electric vehicles.
Elon Musk revealed that the engineering team at Tesla has shifted its attention to a next-generation platform that will be half as expensive as the Model Three or Model Y platform.
This announcement followed the release of Tesla's third-quarter 2022 financial results.
According to Musk, production volumes for the third generation will surpass those of the Model Y, which is currently the best-selling vehicle in Tesla's lineup.
It will be a completely new architecture, and it'll be about 50% cheaper than what we've been able to do before, he said.
So that's the key thing that's going to enable us to make a very compelling $25K Tesla Hatchback car that's also fully autonomous.
Not only will this make Tesla Hatchback cars much more affordable, but it will also bring self-driving technology to the masses.
The current crop of Teslas is some of the most expensive cars on the market.
The cheapest Model Three starts at $35,000, while the top-aligned Model S Plaid Plus costs a whopping $139,000.
This new generation of cars will be a game changer, as it will make Tesla's technology accessible to a whole new demographic of the buyer.
If Elon Musk can successfully bring down the cost, the path to ed ownership is much more achievable for the average family.
With an average salary in the US. Of $56,310. Most people looking to upgrade their car aren't buying a brand-new one. They're more likely to buy one a few years old to fit within a lower budget.
There aren't any low-cost secondhand EVs in America because they're all newer and more expensive models. Now, let's get into what the new car will look like.
Musk himself stated that the next generation car, which will cost roughly half as much as the Threeway platform, will be smaller and more compact than the Model Three.
Exclusive, speculative illustrations indicate that the future Tesla may embrace a sleek five-door body design.
Numerous design elements from the larger Model Three and Model Y, such as a similar window line, pop-out handles, a grilled face, and a panoramic sunroof.
Led headlights mounted on the front fenders could find their way into the compact hatchback, along with a coupe-style roofline, large diameter wheels, and short overheads.
While elements might be saved for a future SUV sister, assuming such a thing is in Tesla's plan, this new progeny from Tesla could potentially acquire a few crossover style cues that are fairly popular with a target audience.
Given that a hatchback is a pretty specific type of vehicle, we should anticipate a Tesla-type version of something like a Nissan Leaf or Volkswagen ID Three.
Of course, all of the standards Tesla amenities, such as the infotainment system, access to the supercharger network, and more, will be offered in the new hatchback.
What is known is that the car will use Autopilot in some capacity, despite Elon Musk's claim that it will be autonomous.
Though we sincerely doubt that it will attain level five autonomy, where the vehicle takes care of everything and requires no human driver to be there.
Our best bet is that it will be equipped with Tesla's full self-driving autopilot.
Now, let's discuss a crucial detail. The car may be produced at the Gigabyte for the European market, or the Giga, Texas, for the North American market.
The latter choice would qualify for up to $12,500 in incentives intended for locally built EVs, but only if Tesla permits union representation for its U. S. Plant employees.
New Tesla cars, like the Cybertruck and Tesla Semi, are currently being produced in Giga, Texas.
It wouldn't be surprising if the new model would be manufactured at this cutting-edge facility.
Tesla will dominate the manufacturing industry by a wide margin.
That is our aim. According to Elon Musk, Tesla famously invented the Gigapress, which makes use of one piece.
Castings this technology will be a key to significantly reducing the cost of this new model. Meeting the target price of $25K Tesla Hatchback is difficult, given the high level of quality that Tesla aspires to provide, even in its most affordable vehicle.
That takes us to the following price point how will the new model be powered? Musk said that he still sees a route to a potential $70 per kilowatt hour sale, which is 30% less expensive than the estimated price parity number of $100 per kilowatt hour.
However, true reduction comes from inventing new batteries and scaling up production.
Tesla will likely use a new lithium iron phosphate battery in the upcoming model, as its manufacturing cost is much lower.
Tesla has already started to introduce LFP batteries into the shorter-range variants of the Model Three and Model Y sold in China.
The Tesla lithium-ion phosphate battery will be a crucial component of the new entry-level Tesla because of its high cycle life and low cost.
Moving on to the expected range with anticipated advancements in LFP battery chemistry, this smaller model is expected to achieve at least 250 miles, which is sufficient for an affordable and dependable daily driver as a benchmark.
A CATL 55-kilowatt hour LSB battery pack with a 290 1 mile range is offered by the manufacturer in the Model Three.
Tesla's competitors are already considering how to create an affordable electric vehicle that's competitive.
For example, when it debuts in early 2024 with a price of roughly 25K $, the Renault Five, a potential challenger to the new model, will offer a range of 249 miles.
Other prospective EVs in Europe are expected to have similar pricing and range predictions.
Therefore, it's evident that for the new model to remain competitive, it must also have a base price under 25 $0 and a range of at least 250 miles.
Tesla criticized over the years for the long delay between announcement and delivery.
If they continue this pattern, we could see this new model released in 2025 or 2026.
However, some people think that this delay has allowed Elon Musk to focus on building factories, and now he has the engineering and production capacity to flood the market with cyber tracks roadsters, semis, and, of course, this new, more affordable hatchback.
Interestingly, Tesla has not yet revealed the name of its new hatchback, and some media sources have started referring to it as the Model Two, likely because it's less expensive and smaller than Tesla's current entry-level vehicle, the Model Three.
Elon Musk, however, has already debunked that claim, eliminating any possibility that the vehicle could be known as the Model Two.
Tesla may adhere to the name traditions of its prior automobiles. Maybe this time the hatchback would get a completely new term.
As for the rumors, Model H sounds more enticing, as the Tesla hatchback is not quite as catchy.
Although there are still many unanswered questions regarding the Tesla hatchback, it appears that Tesla will provide the same Tesla experience in a vehicle that's both less expensive and smaller than its present lineup.
What do you think of this new design? Do you believe that a $25,000 Tesla would be within the reach of most people? Let us know in the comments if you've watched it until now.
Related Post