New Volvo EX 90 electric price, Features, safety
New Volvo EX90 electric price, Features, safety
That is the Volvo EX 90 electric. It's the biggest, most luxurious, and most powerful car Volvo has ever made. It's also the most high-tech electric car Volvo has ever built. 
So should you cancel your order for a Tesla Model X or a Mercedes EQ S SUV, you can get one of these instead. We will explain everything you need to know about this car.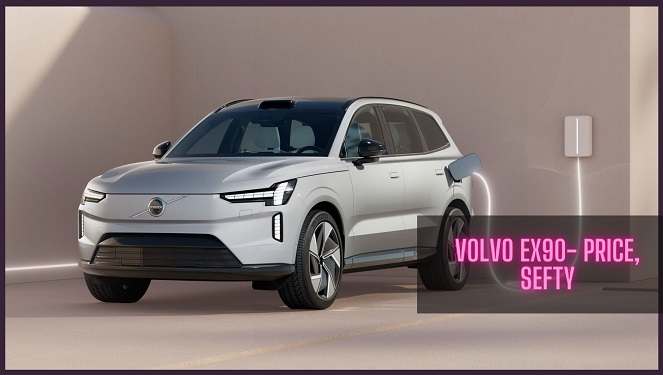 Volvo EX 90 electric– Design
The old Volvo XC 90 was a very smart-looking vehicle. It was stylish but understated. In other words, it was very, very Swedish.
This new Ex Hundred follows the same pattern, although it does get a few important new features.
If a gem car were like a BMW Ex, it would probably come with a huge fake grille at the front. But that's not Volvo's style.
Instead, the Volvo EX 90 electric comes with a very smooth, minimalist front bumper. It strikes a good balance between looking too fussy, like a BMW Xer, and too plain like a Tesla Model X does. 
From the sides, the new X 90 borrows some design features from other Volvo.
The overall silhouette is similar to the current XC 90, so it looks nothing like the smooth, exhausted Mercedes EQS SUV.
The Volvo has flush door handles like on that cold out. But the creases on the bottom of the doors looked very similar to the ones on the XC 40.
Volvo hasn't given theVolvo EX 90 electric any back trim around the wheel arches, the kind that some SUVs have to make them look bigger and tougher. 
Instead, the car has some subtle creases to make the wheel arches look slightly bigger.
Volvo hasn't gone overboard with filly design details at the back, either. The new brake lights loop around the Volvo badge.
It looks even more upright and stately than the old car, almost like it was drawn by an architect instead of a car designer.
Volvo EX 90 electric- Interior
Fava has a knack for making smart-looking interiors with some fairly unusual materials.
Take the V 60, for example. You can get that car with dashboard trims made out of reclaimed driftwood.
The Volvo EX 90 electric is also doing its bit for the planet. Its interior is made using 50 recycled plastic and loads of renewable natural materials. But don't go thinking it's going to look like some kind of hippie commune. 
On the inside, though, the backlit wood trims are lovely, and everything has loads of effortless.
The waterfall-style dashboard comes with a portrait infotainment system like the old XC 90. The forward air vent is a neat touch, and you control almost everything through the central touchscreen.
I'm going to tell you more about that in a bit. You can bet the seats will be immensely comfortable too.
If the recent Volvo is anything to go by. And the front headrests come with built-in speakers for the Baws and Wilkins stereo upgrade.
Volvo EX 90 electric- Infotainment
Tesla has now switched to landscape screens for its latest cars. But Volvo has stuck to its guns and given the new Ex 90 a 15-inch portrait touchscreen, not only that, but you also get a small driver's display just behind the steering wheel.
This layer looks pretty similar to what you get in a Ford Mustang Mackey and gets wireless Apple CarPlay and Android Auto.  
The Ex ID has built-in 5G internet connectivity so you can download extra apps directly onto the car's infotainment system.
The new Volvo X 19 comes with two electric motors as standard.
Volvo EX 90 electric- Motor
One drives the front wheels, and the other drives the rear wheels, meaning that this SUV is all-wheel drive combined, the two motors making 408 torque in entry-level models.
That's almost the same power, but much more torque than you got in the old Pole star-tuned XC 90 T eight. But the XC 90 is old news now.
How does the Volvo EX 90 electric compare to the next generation of electric SUVs? 
The most basic version of this new Volvo has 48 more horsepower than a Mercedes EQS SUV 450. And it also has 82 more horsepower than an entry-level BMW IX 40.
That's not all, though, because performance versions of the Volvo EX 90 electric get beefed-up motors that produce a combined 517 HP. 
That's 6 HP less, though, than you get in a 523 HP BMW X 50. It's also 27 HP less than you get in a flagship Mercedes EQS SUV 580.
That car has 544 HP. Anyway, despite being outgunned by the Germans, the X 90 is still the most powerful Volvo ever built.
Performance
How do these numbers stack up in the real world?
The quickest new Volvo EX 90 electric can accelerate from zero to 62 miles an hour up in four 9 seconds. 
That's three-tenths of a second slower than the BMW IX 50 and the Mercedes EQS SUV 580. Both of those cars can do naught 62 miles an hour in four 6 seconds.
However, haven't even mentioned the BMW IX M 60. That car has 619. It can do naught to 62 miles an hour in just three 8 seconds.
Still, you can't argue the fact that the Volvo is still pretty quick. However, it's not the fastest car in terms of top speed.
It's limited to 112 miles an hour in the name of safety, just like all new Volvos are.
Volvo EX 90 electric- Safety
Speaking of safety, the new Volvo X 19 comes with some brand-new technology designed to help prevent accidents.
Firstly, there are eye-tracking cameras to monitor how long you spend looking at the road ahead. It also monitors your steering inputs to tell if you're getting tired or distracted.
This Big Brother approach means the ex can slow the car down and stop by the side of the road if it thinks that you've fallen asleep.
That's not the only new feature. The bulge on the expedited roof might look like the light on a taxi, but it has just the car's LiDAR sensors.
These improve its ability to spot objects in the road ahead at high speeds and in the dark, handy during long Swedish winters.
Volvo says this means the Volvo EX 90 electric is the first car it's ever built that has all the hardware needed for fully autonomous driving in the future. 
Including an interior radar system that scans the cabin after you leave the car on Earth. Statistics in the US government show that more than 900 children have died since 1998 because they've been accidentally left behind in hot cars.
While the new system is so sensitive, it can tell if a person is breathing inside the car after the driver has gone out.
If it detects someone inside, it will notify you when you try to lock the doors. The car can also switch on its climate control system if someone's been left behind.
Volvo says this will reduce the risk of hypothermia or heat stroke for someone left inside the car.
The system can even monitor the boot to check whether you've left a pet and attended as well.
Practicality
There isn't much choice out there. If you want an electric car with room for seven people, there are a few bands like MPVs, but what if you fancy something a bit posh?
The EQS SUV, and the Tesla Model X. But now you can add the Volvo EX 90 electric to your list. this new car is a proper seven-seater like the old XC 90 was. 
If you don't need to carry seven people, you can fold all the back seats down and have enough space to store 1915 liters of literate.
That's 59 more liters of liturgy and in the current XC 90, it's 185 liters less literate than you can squeeze into a Mercedes EQS SUV.
So that is still top of the charts in terms of liters. Unlike that car, though, the Ex 90 does get a front boot, and there's enough space in there to carry all your charging cables and a small bag, or several liters.
Range
All versions of the new Volvo EX 90 electric come with a 107-kilowatt-hour battery. However, the battery in the Mercedes EQS is 1 larger. It's 108 kilowatt hours. 
Still, the Volvo's battery pack is a touch larger than that of the BMW X, which is 105-kilowatt hours.
The new Ex 90 can drive for around 373 miles on a full charge. How does that compare with other posh SUVs?
It's further than a Tesla Model X long-range can manage that is supposed to be able to do 348 miles. And the variable can eke out a few more miles than the Mercedes EQS SUV 450.
That car's claimed range is 366 miles, according to Mercedes. But the new Ex Hundred can't quite match the range of the BMW IX 50 which is supposed to be able to do 391 miles on a full charge.
Charging
You can charge Ex 90 from ten to 80% full in as little as 30 minutes, using fast public chargers.
That charging rate is on par with other luxury SUVs. But the Volvo offers something they don't buy directional charging.
That lets you use the Ex 90s battery to power other things. I'm not just talking about running a microwave or a coffee machine.
The Volvo Ex 90 has the hardware required to power your whole house. You'll be able to use the car's leftover battery to run your house during peak energy times when the cost of electricity is more expensive.
Then you can recharge the car's battery at night when the energy prices are lower. You can even plug it into another electric Volvo to help strengthen drivers get home.
Price
if you're feeling generous, the new Volvo X 90 will go on sale in the UK very soon. Entry-level twin motor versions will set you back 96255£, which is about 130£ more than a top specification XC 90 plugin hybrid costs today.
You'll need to forget even more if you fancy the twin motor performance model, which will set you back just over 1000£. That sounds like a lot. And it is.
It's about the same price as you'll pay for a BMW IX 50. And it's almost 300 £ less than a Mercedes EQS SUV 450.
Anyhow, I hope you all enjoyed the video. If you give it a like, let me know some other videos you'd like to see.
Related Post