Mg Marvel r electric 2023- Exterior, interior, price, and Autonomy
Mg Marvel r electric 2023- Exterior, interior, price, and Autonomy
Other crossovers in its class that aim to compete with the MG Marvel R include the Ford Mustang Mach-E, the Hyundai IONIQ 5, the Kia EV6, the Nissan Ariya, the Skoda ENYAQ iV, the Tesla Model Y, and the Volkswagen ID.4.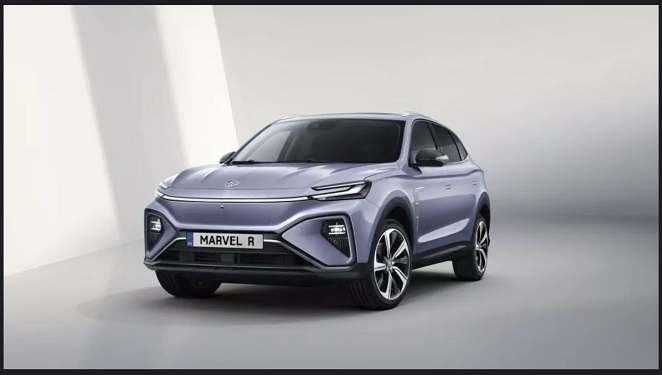 If you were to ask me what I loved best about the MG MARVEL R following our test. Its ability to be a luxurious capacious SUV with quality finishing while yet providing driving agility and power when required. A chameleon powered by electricity.
It's remarkable, especially in what way, that a car the size and height of this MG MARVEL R can draw bends with such agility.
We're discussing a vehicle with dimensions of 467 cm long, 191 cm wide, and 161 cm high, a weight of 1,920 kg (tested version), and 212 kW of power shared among three electric motors (one front and two rear), achieving 0 to 100 km/h acceleration in 4.9 seconds. Isn't that good?
Design of the MG MARVEL R 2023
Let's take about its design first. A concept comparable in size to other SUVs on the market but with its own distinct personality on the front, which conceals the ventilation grill typical of combustion vehicles and sharpens its nose with curved curves and an LED line that connects the present design style of both headlamps.
Other features like retractable handles, gills on the sides, and a panoramic canopy add to the intimate and balanced feel.
MG MARVEL R DIMENSIONS
Length
4674mm
Width
1919mm
Height
1618mm
Wheelbase
2804mm
Ground Clearance
132mm
Boot Space
507L
Wheel Size (Base)
R19
Wheel Size (Top)
R19
The exterior design of the MG Marvel R
The MG Marvel R is a midsize SUV with dimensions of 4.67 meters, 1.92 meters in width, and 1.62 meters in height.
The front of the MG Marvel R is arguably the most remarkable feature of the design, with the first being united between both sides by an LED strip with an almost blind snout, few air inlets, and optical groups separated into two tiers.
The rest of the body is more traditional, with a fine mix of glass and sheet metal proportions, pleasant lines to the eye, and a flowing, extended glass surface.
The industrial trend continues, and the pilots appear to be tied together at the back by an LED strip.
The SUV personality of the MG Marvel R is visible with items such as alloy wheels up to 19 inches in a two-tone finish and various unpainted black appliqués in the wheel arches or underbody.
Interior
The heated and ventilated seats support the lower back nicely, although they appear somewhat firm at first, however lengthy road journeys will show the designer correct.
Complete instrumentation (12.3)screen that is divided into the three-part screen. The navigator is always in the center, so we don't get sidetracked when driving.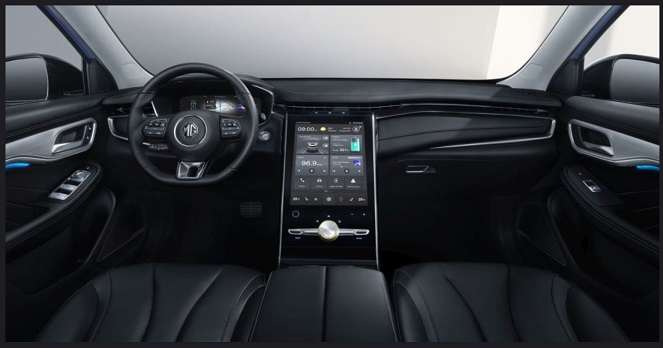 The touch screen is 19.4 inches tall and does not extend over the dashboard, so we must swivel our heads to see the bottom.
It's rather large and lets you clearly split all of the information, such as climate control, settings, sound, and charging. We've noticed that the tactile reaction to your requests is a little delayed, but there's something we should be concerned about. You become accustomed to it.
The volumetric gear shift control and two buttons beneath the screen allow you to select one of three driving modes (eco, normal, or sport) and raise or reduce the degree of regenerative braking.  
Spacious Technology
The top-of-the-line model will be the MG Marvel R electric. An SUV in the C class with a contemporary style and proportions of 4,674 mm in length and 2,804 mm in wheelbase, resulting in a large car inside with cutting-edge technology, including a 19-inch floating touch screen. 4 inches for the MG iSMART infotainment system, including DAB+ radio, Bluetooth, USB connection, Wi-Fi hotspot for connecting mobile devices to the Internet, and Smartphone integration via Apple CarPlay or Android Auto.
Premium Finishes
Take care with the MG Marvel R's finishing. If you enjoy the comfort and luxury of a car's finishes but believe it is only available from the most expensive manufacturers, you will be amazed when you sit in front of its plush and soft dashboard.
From the door handles to the glove compartment trim and finished with the steering wheel, it is a whole set of sensations that make this Marvel R a car to fall in love with.
MG has resolved the capacities with a battle or wheelbase of 280 cm that gives good access to the rear seats and correct separation with the front seat as for the interior space.
The 357-liter trunk is perhaps the must of this SUV, but we can expand it by folding seats up to 1,396 liters.
MG Marvel R Boot Space
Litres
507L
Cubic Centimetres
507000cm3
Cubic Metres
0.507m3
Cubic Inches
30939.17in3
Cubic Feet
17.9ft3
Driving On Route
In the city, the feelings are those of an SUV with a very high and soft suspension, ideal for everyday usage when we need it. Speed bumps do not cause us to contract.
It's so soft and pleasant that when we got on the road and rounded the first hairpin twist gently, very slowly, we thought the car would slide off our noses.
We did so well that the spider web didn't break. We really increased the pace of the turn, which surprised everyone.
The steadiness was remarkable for a vehicle of this type. To attain such agility on the road, we must turn to premium products of the greatest caliber.
Battery and autonomy
In all models, the MG Marvel R has a 70 kWh battery. In our test, we acquired an average usage of 21.5 kWh, which would have allowed us to drive 325 km.
The vehicle's weight, size, and aerodynamics are all right. The ability to charge quickly provides us with a road car that allows us to travel without difficulty.
| Battery | |
| --- | --- |
| Nominal Capacity * | 75.0 kWh |
| Battery Type | Lithium-ion |
| Number of Cells | No Data |
| Architecture | 400 V |
| Useable Capacity | 70.0 kWh |
| Performance | |
| --- | --- |
| Acceleration 0 – 100 km/h | 4.9 sec |
| Top Speed | 200 km/h |
| Electric Range | 350 km |
| Total Power | 212 kW (288 PS) |
| Total Torque | 665 Nm |
| Drive | AWD |
| Home / Destination | | Fast Charging | |
| --- | --- | --- | --- |
| Charge Port | Type2 | Fastcharge Port | CCS |
| Port Location | Right Side – Rear | FC Port Location | Right Side – Rear |
| Charge Power | 11 kW AC | Fastcharge Power (max) | 94 kW DC |
| Charge Time (0->350 km) | 7h30m | Fastcharge Time (35->280 km) | 38 min |
| Charge Speed | 47 km/h | Fastcharge Speed | 380 km/h |
MG Marvel R prices
MG Marvel R Electric is available in three configurations, but even if we pick the most expensive, I tell you that it competes well with its competitors.
Comfort, for €32,980
Luxury, for 37,480
Performance, for €40,980
The price shown is subject to financing and includes current taxes, discounts, and the MOVES 3 plan, which covers scrapping and transportation.
Note- Registration fees and pre-delivery fees are not included.
Safety (Euro NCAP)
| | |
| --- | --- |
| Safety Rating | 4 Star |
| Adult Occupant | 80% |
| Child Occupant | 75% |
| | |
| --- | --- |
| Rating Year | 2021 |
| Vulnerable Road Users | 55% |
| Safety Assist | 80% |
What do you think about the article (Mg Marvel r electric 2023), Let us know in the comments section. 
If you've read until now, thank you very much, so please consider boomark to ev-riders.com for more article about EVS Tesla Ford and the latest car news.
Related Post