The hydrogen car with 1,000 kilometers of autonomy from Hopium, is on the brink of disappearance
The hydrogen car with 1000 kilometers of autonomy from Hopium, is on the brink of disappearance
During the last Paris Motor Show, held in October last year, the French startup Hopium presented one of the vehicles that made the most headlines of any event: the Machina Vision, a sophisticated electric saloon equipped with a hydrogen fuel cell whose Commercial launch is scheduled for 2025.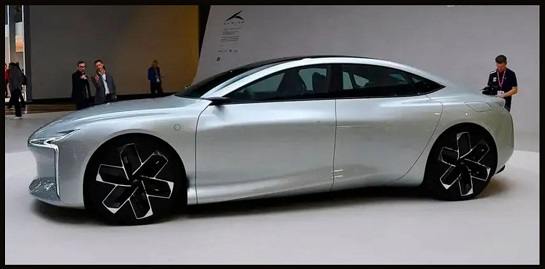 The Hopium Machina Vision boasts some truly striking technical specifications, including a 0-100 km/h time of fewer than 5 seconds and a top speed of 320 km/h from its 500 hp (368 kW) powertrain. According to the company, the vehicle barely needs 3 minutes to refuel the amount of hydrogen necessary to travel 1,000 km.
This ambitious project has the support of Crédit Agricole, the largest retail banking group in France, which at the time announced an order for at least 10,000 units to provide its subsidiary CA Consumer Finance with a fleet of sustainable vehicles from high-end and French origin to offer them on a rental basis.
Taking into account that the Hopium Machina will cost a whopping €120,000, this would equate to a total of €1.2 billion. Hopium plans include building a factory in Vernon (France) with an annual capacity of 20,000 vehicles.
Normandy comes to the rescue of Hopium
Despite this promising start, the dream of the hydrogen car with 1,000 kilometers of autonomy could be cut short before it even started. And it is that the support of Crédit Agricole does not seem to have been enough to get the project afloat since the brand is in a compromised financial situation: in the first half of 2022 alone, it lost 9.5 million euros; Furthermore, its shares have plummeted by 80%.
Compared to the 4.9 million euros in cash that he had in June 2021, he barely had 20,000 euros left in the middle of last year. For this reason, the Normandy region (where the factory will be located) has approved an extraordinary loan of 2 million euros without interest to help the company make the necessary investments to carry out the project.
"Through this exceptional aid that should allow the company to continue its growth in a highly competitive global market, the region reaffirms its desire to support the industrial development of its territory and to have a real ambition for the influence of the hydrogen sector in Normandy", declared Hervé Morin, president of the region.
Related Post