Ford joins Tesla's price war and makes the electric Mustang cheaper in the US
Ford joins Tesla's price war and makes the electric Mustang cheaper in the US
The company lowers its price by up to $5,900 and rules out, for now, doing the same in Europe.
Tesla's general price cut around the world is beginning to have a response. Ford announced on Monday that it lowers the price of the electric Mustang by up to $5,900 in the United States, as reported by Reuters.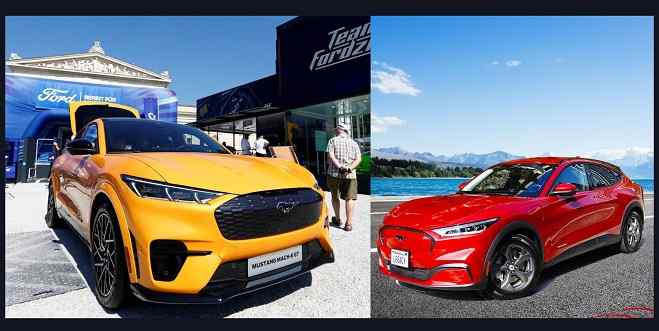 That will allow at least one version of the American company's flagship model to be eligible to receive the aid of $7,500 since the minimum price of the cars that can benefit is $55,000.
Ford has indicated that this reduction will be limited only to the US market and that different alternatives for Europe are being seen. "This announcement is specific to North America.
In Europe, we constantly review our pricing structure to offer the best possible price to our customers.
We have recently launched attractive and competitive offers for the Mustang Mach-E [electric version], and we can give our European customers short delivery times in most specifications," Ford explained to CincoDías.
Dan Ives, an analyst at Wedbush Securities, has pointed out that this announcement is a response to announcements by Tesla, the world leader in the US in the electric vehicle market, and has indicated that he foresees "a mini price war".
According to Garrett Nelson, an analyst at CFRA, "Tesla's price decrease was a big blow to the chances of rival electric cars and the Mustang Mach-E competes directly with Tesla's Model Y."
Unlike Ford, the sales announced by Tesla have not been limited to the US market, where the aforementioned Model Y has been reduced by 20%.
In Spain, for example, the company run by Elon Musk lowered its Model 3 by up to 7,000 euros, which allows this vehicle to be purchased for 46,200 euros, as specified on the automobile website. In addition, his Model Y was lowered by 4,000 euros.
With this reduction, both models are also within the price range covered by the Government's Moves III Plan to help purchase electric vehicles.
These aids, which are of a maximum of 7,000 euros if the client scraps an old car, can only be requested for vehicles of up to 45,000 euros before VAT.
Before, Tesla had already announced several price drops in China as a result of the low sales it had had in the largest electric car market in the world. Tesla cut its prices there twice in the past three months.
The Model 3 can be obtained in China now for 229,900 yuan (31,892 euros) when until recently its price was around 265,900 yuan (36,887 euros). According to Reuters calculations, Tesla has cut its prices in China between 13% and 24% since September. In that market, Tesla registered its lowest level of sales in the last five months in December.
Related Post