General Motors proposal for a folding screen on the dashboard of its electric cars
General Motors' proposal for a folding screen on the dashboard of its electric cars
General Motors has already admitted that its medium-term goal is to return to Europe to exclusively market electric cars. Thus, this advance could reach the Old Continent soon.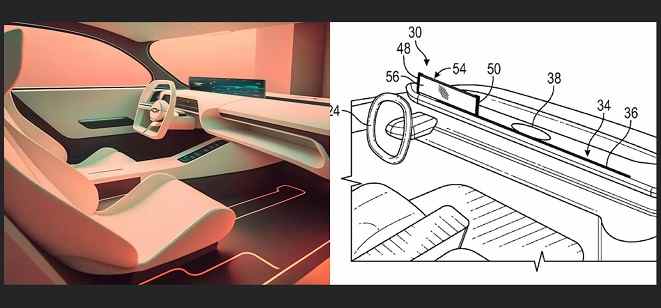 The issue of screens and infotainment systems in electric cars is taking its own path depending on the brand. Some opt for a dashboard with giant screens and a total absence of buttons; on the other hand present more timid alternatives with more concise diagonals. However, the new advance presented by General Motors goes a step further than anything known so far, and this is nothing more than a roll-up screen with which to customize its size and its specific position on the dashboard.
This advance has been registered by General Motors itself in the USPTO (United States Patent and Trademark Office), and the CarBuzz medium has been in charge of bringing it to light. However, this project has a curious fact, and that is that, even though it was initially presented to the public in July 2021, it was not until a week ago that the North American company registered it in the aforementioned Patent department and thanks to this, you can better see all its possibilities.
The technology of folding screens will not only serve the smartphone or tablet industry, but they will also reach the automotive market in one way or another and this could be a possibility. As we have mentioned before many manufacturers focus on presenting panels in various areas of the dashboard, even in front of the passenger seat, which presents a "collapsed" front of screens.
First of all, it will be possible to "turn off" completely and make the dashboard screen disappear something that can be especially good on long solo motorway trips, for example. Although it can also be that the visual panel is placed only in front of the co-pilot's position, in case he wants to watch a movie or find out about anything; It can also be placed in front of the driver himself, in the center of the dashboard, in a "more common" position, or even across the entire space.
The panel has two rollers, one on each side of the screen, and a kind of rail through which it can be moved around the entire dashboard. Its management will be carried out using buttons attached to the center console to give access to its use by any of the users of the front seats.
Although it is barely clear from the images of the patent, the driver would have another panel behind the wheel that is smaller in size than an instrument panel and through which to receive information regarding driving in real time (speed, electric autonomy, etc. ).
Its possibilities of use are focused on providing entertainment to users when the vehicle is charging or, in the case of being an autonomous car, being able to watch a movie while the trip is taking place, for example.
At the moment it is not known when or on which vehicle this patent will be mounted in the future, although current technology itself would already allow it to be carried out.
Related Post